While no restaurant chain has ever seen a meteoric rise quite like Chipotle, a select few are proving you don't need to serve 6-ton burritos to achieve fast-casual stardom. Predicting this type of success isn't easy, but there are tell-tale signs: a bulletproof concept, smart expansion strategy, and practical use of tinfoil are all solid indicators that a new chain might soon arrive at a corner near you. These are our best bets, ranging from tiny local chains that've yet to step outside their hometowns to well-established regional players that still have plenty of territory left to settle.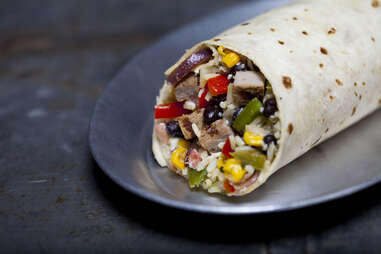 Est. 1992, Iowa City, IA
Number of locations: 65
What they do: Burritos with fresh tortillas and ingredients that are thoroughly mixed together with what they call "Bob the Tool"
Why they might blow up: They carve out their own section of the burrito-market pie by upping the ante on ingredients and combating one of the food group's biggest pet peeves, uneven distribution of filling wealth.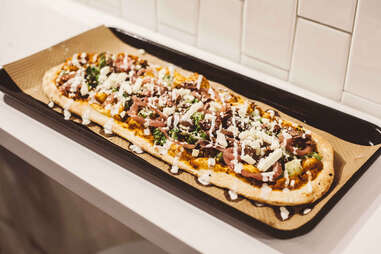 Est. 2010, Washington, DC
Number of locations: 10 (5 coming soon)
What they do: Oblong pies with creative sauces, luxe toppings like 39-day aged pepperoni, and cheese made in-house
Why they might blow up: The right combination of attitude, efficiency, and house-made cheese. & all of these 10 things.
Est. 1998, San Francisco, CA
Number of locations: 4
What they do: Sausages made for the craft beer lover
Why they might blow up: The rising tide of the craft beer industry is certainly helping to float these sausages. Plus, they've already got footholds in Williamsburg and New Williamsburg (Oakland).
Est. 2010, Portland, OR
Number of locations: 8
What they do: Quarter-pounders of natural beef on brioche buns out of an open kitchen, with sides of truffle fries and root beer floats
Why they might blow up: The tiny/tall burgers are a delightful contradiction, natural beef is totally in, and people go nuts for the homemade catsup. Plus, it's local enough to be endearing, but broad enough of a concept to be scalable. And the Portland birthplace automatically earns it cool points.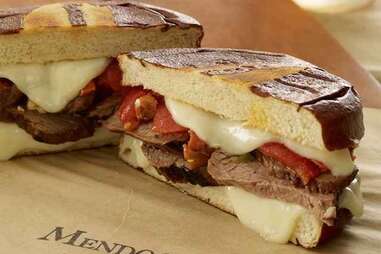 Est. 2006, Los Angeles, CA
Number of locations: 9
What they do: Unique upscale sandwiches you won't find anywhere else
Why they might blow up: The sandwich concept has been done to death, but a playful attitude towards menu innovation sets them apart. After all, no one's local sub shop does ethnic spins like Peruvian steak, pork belly bánh mìs, or not-so-fried chicken. A loyal-as-hell following makes this prime for expansion outside their home state of California.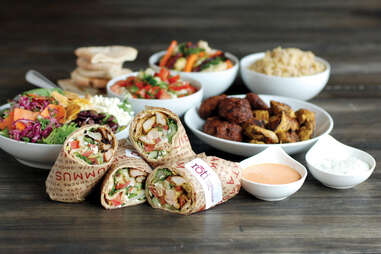 Est. 2007, Chicago, IL
Number of locations: 20 (1 coming soon)
What they do: Old World approach to Mediterranean food with new-school focus on traceability and high-quality ingredients
Why they might blow up: The food is recognizable, but with enough trendy ingredients to attract the foodie sect. And they've already hopped East to New York and DC, proving the concept can work outside of a Chi neighborhood environment.
Est. 1994, Palm Springs, CA
Number of locations: 26
What they do: Meat substitutes for folks who usually accept no substitutes
Why they might blow up: Five states have already tasted the (faux) Oklahoma Bacon Cheeseburger, so it's only a matter of time until it spreads further.

Est. 2001, New York, NY
Number of locations: 27
What they do: Assembly-line salads for people who don't like salads
Why they might blow up: They offer a guilt-free option that actually appeals to meat lovers and is the ultimate non-judgmental office lunch.
Est. 1987, Santa Barbara, CA
Number of locations: 102
What they do: Chipotle-style burritos with a punk-rock attitude
Why they might blow up: To some extent they already have, but there's still plenty of room to grow. Chipotle might've paved the way, but for those that see the shiny aesthetic of Chipotle as a deterrent, Freebirds' rock-and-roll spirit is an appealing alternative. And it doesn't hurt that they just hired a former Chipotle exec to help steer the ship.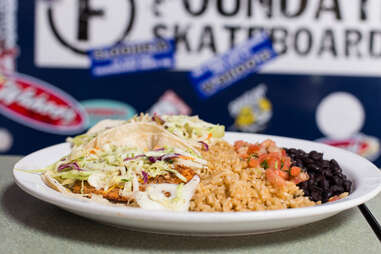 Est. 1988, Costa Mesa, CA
Number of locations: 50+
What they do: Fish tacos with a surfer mentality
Why they might blow up: The crowded fast-casual Mexican food landscape is devoid of a seafood option. Plus, fish tacos are healthier than their picadillo'd or fajita'd counterparts, and they've yet to storm the East Coast.
Est. 2011, Boulder, CO
Number of locations: 2
What they do: Naples-style pizza with an obsessive focus on consistency; updated Old World techniques with new-school tech like infrared ovens
Why they might blow up: Nobody's done Neapolitan pizza on a large scale, and more importantly, they've got backing from Chipotle themselves. If anyone can out-Chipotle Chipotle, it's Chipotle.
Dan Gentile is a staff writer on Thrillist's National Food and Drink team. He wanted a Chipotle burrito so bad while writing this. Follow him to carnitas at @Dannosphere.