The Next Chipotle: 12 Small Chains That Might Dominate the World in 2014
Veggie Grill
Veggie Grill
There are few industries in America as glutted as the chain-restaurant market, but, luckily for fledgling eateries, gluttony loves company.
And while fast-casual restaurants are a dime a dozen, only a few ever expand beyond those dozen stores. So, here are 12 up-and-coming eateries that range from local favorites shying away from the chain label to concepts carefully crafted for worldwide satiation, all of which might one day be as ubiquitous as Chipotle.
LYFE Kitchen
Est. 2011, Palo Alto, CA
Number of locations: Four now, six more coming soon
What they do: Quick, healthy food engineered by a pair of Oprah's chefs with an emphasis on efficiency and the latest cooking/POS technology implemented by a former president of McDonald's.
Why they might blow up: It's got New American flair without the pretension, inclusive gluten-free/vegan options, and a former president of McDonald's.
Hopdoddy
Est. 2010, Austin, TX
Number of locations: Four now, three more coming soon
What they do: House-ground, antibiotic-free Black Angus burgers paired with local beers and milkshakes that are totally worth $5.
Why they might blow up: The original location often commands an hour-long wait, showing that there's an immense demand in the burger landscape for a slightly higher price-point with ingredients and creative combinations that warrant the extra bucks.
Veggie Grill
Est. 2007, Irvine, CA
Number of locations: 23
What they do: Plant-based food in meaty clothing
Why they might blow up: It's a guilt-free option for the health conscious who still want their chicken wings, even if they're made of tempeh. And their comfort food menu doesn't scare away meat-eaters.
Protein Bar
Est. 2011, Chicago, IL
Number of locations: 14 now, seven coming soon
What they do: Quinoa-heavy, grab-and-go health food that halves the calories without sacrificing taste.
Why they might blow up: Their bar-ritos fulfill that Chipotle craving, but won't tempt you to eat two meals worth of carnitas at once.
Piada
Est. 2010, Columbus, OH
Number of locations: 19 now, two more coming soon
What they do: Build-your-own Italian wraps, pastas, and salads filled with unconventional proteins like hot peppered calamari and fennel and herb-laden Italian sausage.
Why they might blow up: When it comes to applying fast-casual principles to Italian food, pizza's dominance has caused brands to forget about other Italian delicacies. But there'll always be a demand for pasta, especially when topped with meats you couldn't cook at home.
Potatopia
Est. 2011, Edison, NJ
Number of locations: Three now, with franchise expansion planned for 35 states
What they do: Dress everyone's favorite carb in jackets of fresh sauces and bow-ties of meat
Why they might blow up: It's time for the potato to evolve from side dish to the main course.
Verts Kebap
Est. 2011, Austin, TX
Number of locations: Nine now, four more coming soon
What they do: Berlin-style doner kebaps
Why they might blow up: Despite immense popularity in Europe, the doner kebap has never gained much chain traction because of low-profit margins and Mom & Pop scaleability issues. Vert's aggressive expansion plan aims to bring the global street food to American audiences. Also, Berlin is sooo hot right now.
Blaze Pizza
Est. 2012, Irvine, CA
Number of locations: 12 now, 21 more coming soon
What they do: Assembly line pizza with recipes from one of the top dough-boys in California
Why they might blow up: A dedicated pie-tosser walking customers through the creation process is a concept that's never been successfully scaled. But the blazing fast 180sec ovens mean you'll probably be in and out in 30mins or less.
Boloco
Est. 1997, Boston, MA
Number of locations: 23
What they do: Globally-inspired burritos stuffed with everything from chicken tikka masala to Bangkok Thai chicken.
Why they might blow up: The burrito market is ripe for a disruptive fusion concept that wraps increasingly popular world flavors in familiar tin-foil packaging.
Modmarket
Est. 2011, Boulder, CO
Number of locations: Seven now, three more coming soon
What they do: Pizza, salads, and sandwiches using local and organic ingredients
Why they might blow up: This Colorado-born chain is growing at a fast clip statewide due to the sexy coupling of high-quality ingredients and affordability. Menu items range from a super-healthy superfood salad (kale! quinoa! another trendy ingredient!) to a less healthy/more delicious chipotle steak sandwich. A new location will soon debut in the Denver International Airport, which should help spread Modmarket's gospel nationwide.

BurgerFi
Est. 2011, North Palm Beach, FL
Number of locations: 43 now, 20 more coming soon
What they do: "Farm-to-tray" burgers with meats like 28-day dry-aged brisket, Kobe beef hot dogs, buns branded with their logo, and a side of craft beer.
Why they might blow up: People love a good "secret menu" and B-Fi's got a slew of semi-secret offerings like Urban Fries (Parmesan, herbs, and garlic aioli). And their carbon footprint is as responsible as the type of people you probably don't like. The mix of gluttony and sustainability is already proving a success to the tune of $200mill in annual sales and the title of the fastest-growing chain in America.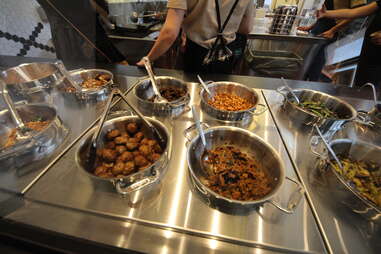 ShopHouse
Est. 2011, Washington, DC
Number of locations: Six
What they do: Thai and East Asian cuisine using Chipotle's assembly line model
Why they might blow up: ShopHouse has the biggest claim to being the next Chipotle, because it was literally founded by the same guy. Its status as heir to the throne might've disqualified the chain from this list, except that it's filling a genuinely under-served market of Asian food-lovers whose appetite for authenticity, consistency, and speed can't be satisfied any other Wei.

Dan Gentile is a staff writer on Thrillist's national food and drink team. Only time will tell if his next Chipotle picks pan out, but rest assured that his last Chipotle pick was a carnitas burrito and it was totally spot-on. Follow him to reheated lunches at @Dannosphere.