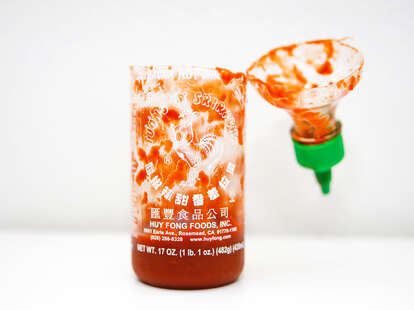 It's good to be king, but no reign lasts forever. Especially once you start to get cocky, which is certainly a way to describe a company whose founder says there's something wrong with you if you don't like his product. Or if the product has a rooster on the bottle. And Huy Fong Sriracha has both!
In search of the next Sriracha, we combed the canon of condiments to find 14 sauces that deserve space in your fridge, and given a bit of luck, might someday end up on T-shirts, socks, and boxer briefs. Read on to learn about everything from funky ethnic imports to barrel-aged artisan creations. Your eggs will never be the same.
The details: Co-op grew out of a Chicago youth entrepreneurship non-profit, then became so beloved that they splintered from the organization and started taking their sauces to crazy new heights, like the stand-out Barrel sauce, which features fermented Japonais and Anaheim peppers that have been barrel-aged and finished with locally roasted coffee.
Why it might blow up: The combination of underdog status, a wide product line, and artisan touches like barrel-aging.

The details: Emblazoned with the type of falcon from which the sauce gets its name, this lime-spiked Latin sauce is the current crown jewel of the Ohio-based sauce empire CaJohns.
Why it might blow up: It was crowned best in class at the 2014 Louisiana Hot Sauce Competition. And those cats know their spice.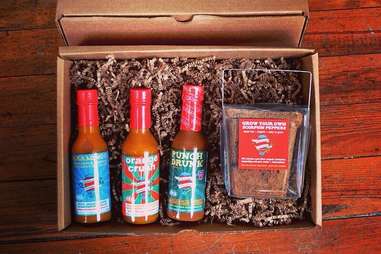 The details: The food bloggers behind HSHG began their sauce operation after their garden yielded a surplus of peppers. Now those fields are overflowing with hundreds of ghost pepper, habanero, and lemon-drop plants, which fuel sauces like their Orange Crush, cut with citrus and carrots.
Why it might blow up: They've already found success on the foodie circuit in the form of a quirky indie gardening book, and their farm-to-bottle mentality is like music to the ears of organic eaters.

The details: The early days of Dave's Gourmet were marked by a rebellious streak: he actually made a sauce so hot it was banned from competitions. But after 13 years, he's cooled off and created one of the most innovative heat-delivery systems ever made: a sprayable sauce with an adjustable spice level.
Why it might blow up: The revolutionary tech has already earned Dave a ton of national press.
The details: A single Mom from Alaska spent 20 years perfecting the recipe for her wing sauce before taking it to the masses.
Why it might blow up: In the sauce's first two months on Alaskan shelves, it sold over 1,000 units, and it's also been a critical favorite, taking home first place in the Asian category at the Louisiana Hot Sauce Expo.
The details: The 'Vark launched in Portland in 2004 by storming farmers' markets, which in Portland means just about every market. Their habanero sauce straddles the line between Tex-Mex and Caribbean, with a heavy dose of roasted tomatoes. They're also peddling a drunken garlic black bean sauce that's like the evil twin of Sriracha.
Why it might blow up: It's on the tables of 100 restaurants in Portland and has a cultish following.

The details: Although the name might be in bad taste, the sauce isn't. Cutting the habanero spice with banana and pineapple gives this a tropical edge. (Insert banana joke here.)
Why it might blow up: The name means this could quickly become a staple in the pantry of fraternities and guys who are fans of novelty T-shirts, but the flavor has actually got some serious cred with awards like first place from the National Barbecue Association.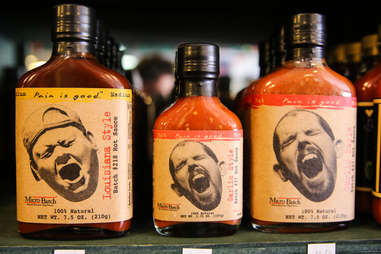 The details: The self-proclaimed "sultans of sizzle", Original Juan operates out of a 60,000sqft factory where they crank out an impressive array of sauces ranging from their own Sriracha to Jamaican-style hot sauce.
Why it might blow up: The packaging might not be as adorable as Huy Fong's signature rooster, but it's hard to ignore the screams of agony pictured on it. Also, they wisely make their own versions of all the most popular sauce archetypes.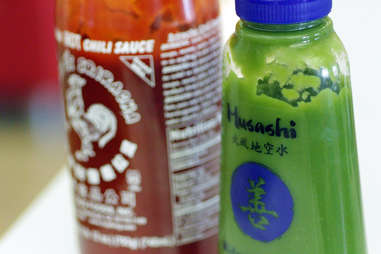 The details: In addition to bringing the first very spicy mayo to the US, Musashi is making a strong play on the hot sauce market with a Japanese version of Sriracha powered by green serrano peppers.
Why it might blow up: Because it has actually defeated Huy Fong in a super-serious taste-test.

The details: 20 acres of organic Pennsylvania farmland produce the firepower for the Electric Pepper Co.'s volcanic sauces, which range from the award-winning, blisteringly hot Ghost Pepper Bhut Kisser to the honey-infused Bee Sting.
Why it might blow up: They've got a deep roster of sauces that encompasses several imprints, all searchable on their site by pepper. The quality's there, as evidenced by taking home Golden Chili honors at the Fiery Food Challenge.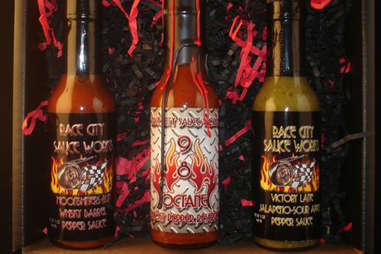 The details: Race City is the winningest hot sauce maker in the state of North Carolina with over 80 international awards to their name. They're known for their mastery of unconventional ingredients like absinthe, and for embracing super-spicy peppers like Carolina Reaper.
Why it might blow up: Strangely, they've made their way onto the shelves of Bed, Bath & Beyond, so future national retail expansion seems inevitable.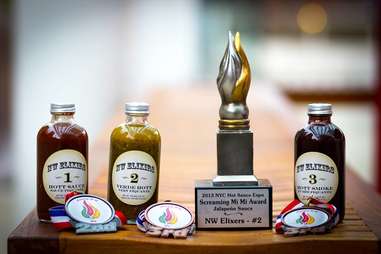 The details: NW Elixirs is another Portland-based sauce-slinger that creates chef-driven sauces that just say no to preservatives like xanthan gum, and yes to awards from hot sauce festivals across the country, including a first place finish for their Verde at the NYC Hot Sauce Expo. In addition to the green stuff, their Thai chile Bangkok Hott and Hott Smoke barbecue sauce are powerhouses.
Why it might blow up: Their artisan nature earns big endorsements from chefs like Marcus Samuelsson.

The details: Voodoo Chile Sauces out of Leesburg, VA makes some serious fire -- including their own version of Sriracha using the Indian Kashmiri pepper -- but their most popular sauce is the bacon-flavored Porcus Infernum.
Why it might blow up: Of course because of the bacon, but also because they've worked hard to dial in this recipe so it's not just a novelty sauce.
The details: Since its launch in 2013 in Austin, TX, Yellowbird has become a staple in the fridges of spice-hungry Austinites. It's made with carrots, onions, habaneros, and a slew of all-natural spices, giving it a complexity that the cock can't touch.
Why it might blow up: Austin's a hotbed of hipness, the graphic design is on-point, and the sauce is as versatile as it is delicious.
Sign up here for our daily Thrillist email, and get your fix of the best in food/drink/fun.
Dan Gentile is a staff writer on Thrillist's National Food and Drink team. One bottle of Sriracha was harmed in the making of this story, but it was almost empty anyway. Follow him to clean green caps at @Dannosphere.