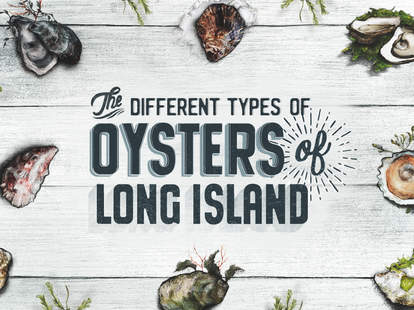 The Official Infographic of Long Island's Many Oysters
Long Island has a lot to offer, from beaches, berries and breweries to eclectic cuisine, coffee and cold pizza. But perhaps the best thing to come out of Long Island are the plethora of those delicious slippery, salty, briny bivalves: the oyster. Long Island is home to more than just the popular Blue Point varietal, there are many more breeds native to the island for you to choose from. And we've created a handy guide, so you can familiarize yourself with these pearls of the ocean from their texture and coloring to their sweet or salty flavor finish.
And nothing goes better with these half-shells than an ice-cold beer, so we've included pairings from Long Island's own Blue Point Brewery. Want to know why those pairings work so well together? Check out the taste and pairing profiles below the infographic. 
More Information on Blue Point Pairings
As told by the Blue Point brewers...
Blue Point Oysters and Toasted Lager
Toasted Lager is a crisp American-style Amber Lager that pairs perfectly with the moderate brine of Blue Point oysters. The sweetness of the malts complements the meatiness of the oyster while the subtle hops cut through the brininess.
Widow's Hole and Hoptical Illusion
Hoptical Illusion IPA has plenty of hops to stand up to the intensely salty Widow's Hole. The hops are added to this brew in five different ways which allows the essence of the hop to burst through.
Pine Island and Mosaic Session IPA
Try pairing the Pine Island oysters with Mosaic Session IPA. This West Coast style IPA has huge tropical flavors with a serious citrus/grapefruit aroma that will bring out the rich fruity golden raisin finish of Pine Island oysters.
Montauk Pearls and Old Howling Bastard
This Barley Wine has a robust, malty caramel flavor balanced with a generous amount of hops. With hints of pine, caramel, apricots, raisins, and dates, it has a complexity that pair perfectly with the clean, slightly sweet taste of Montauk Pearls.
Peconic Gold and New York Oyster Stout
This salty and brisk oyster with a smoky iron tang is complemented by the roasted chocolate notes of the Blue Point New York Oyster Stout. The medium-bodied stout has slight espresso notes, mineral hints from the oyster shells, and a slight salinity that is accentuated when paired with raw Peconic Golds.
Fisher's Island and Blueberry Ale
Our Blueberry Ale may unleash a lively berry aroma but a lot of people are surprised to find it just drinks like a refreshingly well-balanced Golden Ale. And at only 4.5% ABV, you can have a couple without having a blueberry overload like most fruit-forward beers. The crisp seasonal ale is perfect for the crisp clean aftertaste of Fisher's Island. Most oysters have a land component but Fisher's Islands aren't earthbound.