Paid Content For
YETI Coolers
The Only Regional Barbecue Guide You'll Ever Need
Paid Content For
YETI Coolers
There's only one thing more American than apple pie: barbecue. And it's not just American because it represents hard work and dubious healthfulness. It's also American because nobody can quite agree on how it's supposed to be done. For as long as there's been slow-cooked meat, there have been arguments over which regional style is best. Texans know brisket, but you can't deny Eastern North Carolina hog, or Alabama white sauce. We put together an impartial breakdown of the major styles. It's on you to hit the road and form some hotly contested opinions.
MEMPHIS
Memphis has given us so much music -- Johnny Cash, Aretha Franklin, and Justin Timberlake -- but the true soul of its city might still be its smoked meat. The first player was Bozo's Hot Pit Bar-B-Q, founded by Thomas Jefferson "Bozo" Williams (no, not that Thomas Jefferson). He set up his Mason shop in 1923, a half an hour outside Memphis, and the joint's still open despite being called Bozo's (it was also a filming location for the Cash biopic Walk the Line).
The meat: Pork ribs and pulled pork sandwiches are classic Memphis, but don't be surprised if yours comes with a local twist: slaw. German immigrant Leonard Heuberger of the now iconic Leonard's Pit Barbecue launched his mustard and vinegar-based cabbage slaw as a way to "stretch" supplies one afternoon when the meat ran low. The combo's so good, it rivals peanut butter and jelly, milk and cookies, spaghetti and meatballs -- you get it. It's tasty.
The sauce: Actually isn't always sauce. The city prides itself on dry rub, arguably one of the most distinct aspects of Memphis-style 'cue according Memphian Clint Cantwell, of Grillocracy fame. Every joint will have its own recipe, but common ingredients in a rub include salt, pepper, garlic, and paprika. While there are "wet ribs" in Memphis, slathered with sauce, many (including Cantwell) believe dry rub really truly lets the meat shine through.
The old school icons: Heuberger of Leonard's Pit Barbecue, without a doubt. Then there's Rendezvous founder Charlie Vergos, who opened his doors in 1948, turning a coal chute into a barbecue pit that still fuels the city's most widely known smoked meat establishment.
The new school favorites: Memphis-style is so well liked, it's becoming available all over the country. Pappy's Smokehouse in St. Louis is just one of the joints throwing down Memphis-style in the Midwest. And you might assume that Memphis Barbecue Co. is… in Memphis, but World BBQ Champion Melissa Cookston has three locations, and not a single one is in Tennessee: Horn Lake, Mississippi, Fayetteville, North Carolina, and the monster suburb of Dunwoody, Georgia.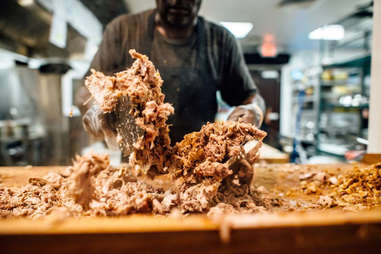 EASTERN NORTH CAROLINA
Eastern NC does barbecue extremely old school. Whole hogs, vinegar, pepper, and spices. That's why John Shelton Reed, author of Holy Smoke: The Big Book of North Carolina Barbecue, prefers it to the state's western style. "This is what barbecue was 200 years ago," he says of the Caribbean-rooted cooking practice. Because tomatoes weren't popular or easily accessible back then, they weren't used in the sauce. And because they weren't used back then, true to tradition, Eastern NC doesn't use 'em now.
The meat: It's whole hog or bust in Eastern North Carolina.
The sauce: Stir in the vinegar with cayenne, black pepper, red pepper, salt, and sometimes water. Or just drink the water because you'll be sweating your (Boston) butt off in front of that pit.
The old school icons: Pete Jones, who opened Skylight Inn BBQ in 1947. The restaurant remains a regional standard today. And B's Barbecue, which, like many BBQ joints, closes for the day when it runs out of food. Until B's recently got a phone, the only way to know it was closed would be a sign on the door -- though theoretically whoever showed up hungry right after you could skip the sign and just read the disappointment on your face.
The new school favorites: Just last year Sam Jones, grandson of Pete, opened Sam Jones' BBQ to help preserve the Eastern NC tradition. Wyatt Dickson of Picnic (Durham) is breaking it. He's got his whole hogs down so perfectly, he's free to experiment with other items like soft-shell crab sandwiches, not to mention on-fleek social media.
WESTERN NORTH CAROLINA
The style, also known as Lexington or Piedmont, focuses on pork shoulder, and originated during World War I for one simple reason: whole hogs are really freakin' heavy -- upwards of 200lbs, about 72 percent being "dressed weight" or "carcass weight," aka "edible". Basically, barbecue was sold on the street in pop-up stands, and nobody wanted to schlep around 144lbs of pig.
The meat: Unlike whole hog, pork shoulder cooks faster and soaks up more flavor, allowing for more hungry mouths to be fed faster. "Red slaw" or "barbecue slaw" is also a staple of Lexington-style 'cue. Swapping out mayo for ketchup also means it doesn't need to be refrigerated too quickly.
The sauce: Vinegar, salt, red pepper, and dare we say… ketchup or tomato makes up the sauce in Western NC. It maybe be less refined, according to some eastern neighbors, but you can't have red slaw without it.
The old school icons:Lexington Barbecue, aka "The Honey Monk," was founded in 1962 by Wayne Monk and is the birthplace of the style. How Wayne got the nickname "Honey" is definitely something you should inquire about when you order.
The new school favorites: Little Richard's (Winston-Salem; slogan: "Eat mo' pig") isn't exactly new; it was founded in 1991. But we were talking about World War I a second ago, so…
SOUTH CAROLINA
When it comes to South Carolina 'cue, it's all about the mustard -- a practice given to us by the German immigrants whose names still ring through the town today, as restaurants like Bessinger's, Shealy's, and Hite's continue to serve up "Carolina Gold" on succulent meat.
The meat: Whole hog, pit-smoked, chopped up, and sauced.
The sauce: While in parts of South Carolina you can find a peppery, tomato, or ketchup-based sauce or just a simple vinegar and pepper concoction, the region is known for its aforementioned mustard mix. Carolina Gold is mixed with vinegar, brown sugar, and other spices.
The old school icons: Maurice Bessinger, who practically invented the mustard sauce; Jackie Hite's Bar-B-Que (Leesville)
The new school favorites: With three locations (Sullivans Island, West Ashley, and Downtown), Home Team BBQ is quickly becoming an institution in SC, with creativity in the kitchen setting it apart from others. In 2007 Alabama white sauce wings were incorporated into the menu, and the chefs continually experiment with pastrami, charcuterie, and even smoked seafood. Meanwhile, Lewis Barbecue is making a huge name for itself in Charleston, where native Texan John Lewis relocated to pursue his love of smoked pork (there's still beef brisket on the menu though -- you can take the pitmaster out of Texas…).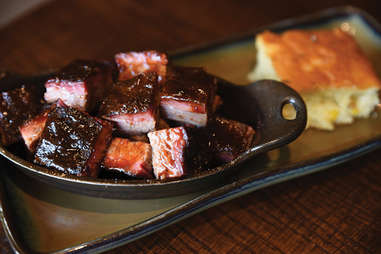 KANSAS CITY
While Texas is known for its brisket and Alabama for its white sauce, Kansas City 'cue doesn't focus on just one thing. It's inclusive, and this practice can be traced back to its founding father Henry Perry. Known as "Father of Kansas City Barbecue," he began smoking meats in 1907 and nothing was off limits; opossum, woodchuck, and raccoon were all available in addition to beef, and came wrapped in newspaper for just 25 cents. And he shared his smoking secrets with the next generation so barbecue in Kansas could live on long after he passed.
The meat: You won't find much raccoon being smoked over oak and hickory anymore, but Kansas City doesn't discriminate when it comes to meat and sides. Brisket, pork shoulder, pork ribs, chicken, and most importantly, burnt ends, make up just some of the mains. And don't forget the sides like baked beans, fries, and of course, slaw.
The sauce: The most famous sauce in the city was developed by Arthur Bryant. The restaurateur began working for Perry and eventually took over the business in 1946, after Perry's death and Arthur's brother Charlie's retirement. The vinegar-based sauce is so tart and tangy, no one's been able to recreate it. The grainy texture is thanks to curry, cumin, cayenne, pit drippings, and god knows what else (anything that tastes that good, who cares).
The old school icons: Perry and the Bryant bros put the town on the map, but don't dismiss Gates Bar-B-Q (multiple locations). Around the same time the younger Bryant took over, Arthur Pinkard (who also worked under Perry) joined forces with George Gates and opened Gates and Sons Bar-B-Q. Today, its multiple locations -- and iconic sauce -- are a reminder of the city's storied past.
The new school favorites: National barbecue champ Rob Magee's Q39 is just toddler-aged, but his 30-plus years as a classically-trained chef shine through in every plate. It's upscale as far as 'cue goes, but who says it can't be? (Well, some people do, but no matter.) Mike Nickle is the young pitmaster at BB's Lawnside Bar-B-Que, where the burnt ends come with a side of live blues. The joint also serves up "BBQ sundaes" with slaw, pulled pork, sauce, and more (let's skip the whipped cream and sprinkles though…).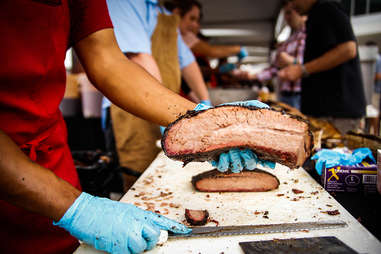 CENTRAL TEXAS
Just one weathered pit connects the two biggest names in Central Texas 'cue. When John Mueller, heir to the Louie Mueller barbecue dynasty, was forced to close his short-lived John Muellers B-B-Q in 2006, word spread that his 1,400lb pit was left in the backyard. His old employee, Aaron Franklin, bought it for $1,000 and soon became one of the biggest names in the Lone Star State -- and the world.
The meat: Brisket, brisket, brisket -- but pork ribs and beef ribs are popular, too.
The sauce: Depends on where you go. At Louie Mueller's it's a simple blend of ketchup, margarine, onion, salt, pepper, and water; Cooper's (Llano) does it a little differently with ketchup, vinegar, black pepper, water, lard, and brisket drippings.
The old school icons: Louie Mueller (Taylor) has the smoker going all day every day -- so much so that its skylight is completely blackened as a result. It's been open since 1949 and was the first BBQ joint to be recognized by the James Beard Foundation.
The new school favorites:Franklin's (Austin) has quickly risen to the top of the 'cue kingdom. Franklin is a James Beard winner, an author, and has even served President Obama -- who bought lunch for the entire, infamous line after he expedited his own order back in 2014.
EAST TEXAS
"Texas barbecue is a feisty mutt," Robb Walsh writes in his book, Legends of Texas Barbecue. It's a misconception that it's just brisket, just beef. East Texans love pork ribs, sausage -- meat. And they sure as hell know how to smoke it; they've been serving it up just as long as any other region with just as much skill, fervor, and flavor.
The meat: Tender beef and pork (chopped instead of sliced and often served on a bun), pork sausage, and beef hot links.
The sauce: Heavy on the hot sauce. Barbecue in East Texas was brought by the Southern African-American community, and smoking the meats -- and slathering them with tangy hot sauce -- disguised the more affordable, less desirable cuts of the animal.
The old school icons: You can't talk East Texas 'cue without mentioning Stanley's Famous Pit Bar-B-Q (Tyler). It's been serving the community for over 50 years, but since taking over in 2006, Nick and Jen Pencis have made welcome changes including adding dinner service, installing a full bar, and providing live music. Pat Gee's (Tyler), named after its late founder, Mack Henry "Pat" Gee, opened in the early '60s. Now operated by his sons, Billy Walker and Arthur Gee, it's still a town favorite. You'll sweat its iconic sauce (a tomato-based vinegar mix) out of your pores while trying to guess the secret ingredient in the potato salad.
The new school favorites: Young pitmaster Jordan Jackson stepped up to resurrect Longview establishment Bodacious Bar-B-Q in 2015 after his father, original founder Ronald Lindsey, fell ill in the years prior. It's been a hugely successful passing of the pit.
ALABAMA
Every state on this list loves its 'cue, but it's possible Alabama loves it… a little bit more. 2015 was declared the "Year of Alabama Barbecue" by the state's department of tourism, and for 365 days locals celebrated BBQ chicken, hogs, and white sauce. (Not like they didn't already, but this made it official.)
The meat: Pork shoulder and pork ribs, but chicken tastes the best with the famous white BBQ sauce.
The sauce: You can't leave Alabama before tasting white sauce on smoked chicken. You just can't. It dates back to 1925 when "Big Bob" Gibson opened his joint in Decatur. Mayonnaise, vinegar, and pepper originally, today variations can include apple juice, apple cider vinegar, salt, and even horseradish. And nearly everyone in Alabama spreads it on well… nearly everything.
The old school icons: "Big Bob" Gibson, clearly. Today world champion pitmaster Chris Lilly is keeping Big Bob Gibson BBQ as popular as ever. And, open since 1984, Miss Myra's Pit Bar-B-Q (Birmingham) is a must-stop for moist chicken, green beans, slaw, and more. But save room for dessert; we hear the banana pudding is some of the best ever.
The new school favorites:Saw's BBQ (Homewood) does Southern cooking done simple. Since 2009, owner Mike Wilson has been drawing a crowd from all over the nation. His non-denominational menu features items from all different 'cue styles.