How to Cook a Romantic Date-Night Meal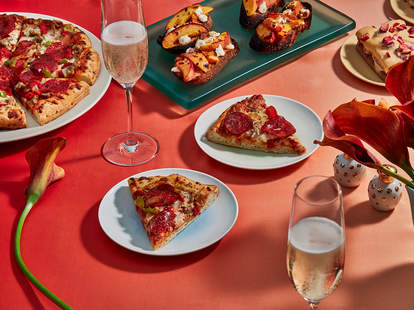 P.Deevakul/M.Pierini/S.Strangio
Nothing says "I really like you" quite like cooking someone a meal. An hour or two spent in the kitchen can show you care more than a night at some fancy restaurant ever could. Of course, if your meal isn't quite up to snuff, it can also mean, "Uh, maybe we should see other people…." To make sure you're properly communicating all those heartfelt feelings, we partnered with DiGiorno to create a foolproof menu that lays their pizzeria!® Supreme Speciale pie (and all your cards) on the table.
Since everyone loves pizza (seriously, have you seen any dating profiles lately?), it's impossible to disappoint with piping hot pie, especially one topped with Italian sausage, premium pepperoni, red and green peppers, and caramelized onions. Elevate the evening by pairing a couple of slices alongside an appetizer of broiled peach tartines with goat cheese, a dessert of strawberry-short tiramisu, and two glasses of prosecco -- because when it comes to date night, mixologist Pamela Wiznitzer, creative director of Seamstress NY, says, "Bubbles are never a bad choice."
She recommends Ruffino prosecco (which won't break the bank) to instantly set the tone of the evening. Plus, Wiznitzer says the "bright bubbles and dryness of the wine will help to cut through the spice and multi-layered flavors of the pizza and work nicely alongside the tartine and tiramisu."
Here's how to put it all together...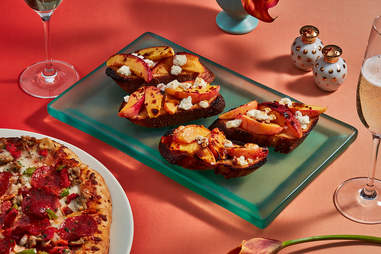 P.Deevakul/M.Pierini/S.Strangio
Broiled Peach Tartines with Goat Cheese
Before you pop the pizza in the oven, start things off with this simple and refreshing toast -- which you can prepare just minutes before your S.O. arrives (when you inevitably find yourself running behind schedule). Not into peaches? Nik Sharma, the brains behind the weekly San Francisco Chronicle column "A Brown Kitchen," says you can swap them out for nectarines, plums, or even fresh figs in his recipe. All that matters is that the sweetness of the fruit paired with the creaminess of the cheese will have you looking like you're about to win MasterChef.
INGREDIENTS:
4 slices (1-inch thick) French bread, toasted
2 tablespoons extra-virgin olive oil
2 firm ripe peaches
2 tablespoons fresh goat cheese, softened at room temperature
1 teaspoon ground coriander
1 teaspoon red chile flakes
½ teaspoon freshly ground black pepper
2 teaspoons sea salt flakes
2 tablespoons balsamic vinegar
DIRECTIONS:
Set a wire rack at the upper-third level (about 6 inches from the top) of the oven and set the oven to the broiler setting.
Line a baking sheet with aluminum foil and brush each slice of bread with about a teaspoon of extra-virgin olive oil.
Cut each peach in half and discard the stone in the center. Quarter each peach half and place them in a medium mixing bowl. Add the remaining olive oil, cheese, coriander, chile, and black pepper and toss gently to coat.
Divide the mixture evenly between the 4 slices of bread by carefully placing them on top of each slice. Sprinkle ½ teaspoon of the salt flakes over each tartine and broil in the preheated oven for about 2 to 2 ½ minutes until the bread starts to brown on the sides and the peaches just start to caramelize.
Remove from oven and drizzle the tartines with balsamic vinegar and serve immediately.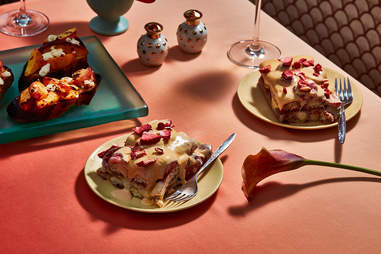 P.Deevakul/M.Pierini/S.Strangio
Strawberry-Short Tiramisu
No meal -- and certainly no date -- is complete without dessert. Ben Mims, author of the cookbook Sweet & Southern, says his strawberry-short tiramisu (which features strawberry shortcake flavors in tiramisu form) is super simple, but will definitely impress. The only thing that could make this course any sweeter is if you feed each other. Now that would be too cute.
So now that your date is fed, has a glass of sparkling wine, and you pulled off the evening flawlessly… don't you think it's time to go in for that kiss? Sorry, sorry. We'll leave you two alone.
INGREDIENTS:
½ cup granulated sugar
¼ teaspoon kosher salt
8 large egg yolks, at room temperature
Finely grated zest and juice of 1 orange
Finely grated zest of 1 lemon
1 cup wild strawberry liqueur, such as Fragoli
½ cup ruby port
¼ cup fresh orange juice
1 ½ teaspoons vanilla extract
One 17-ounce container mascarpone cheese, at room temperature
30 ladyfingers (two 7-ounce packages)
1 pound strawberries, hulled and sliced
1 packet freeze-dried strawberries or strawberry-flavored gelatin (optional)
DIRECTIONS:
Combine the sugar, salt, egg yolks, orange zest, and lemon zest in a bowl and beat on high speed of a mixer until tripled in volume, pale yellow, and the consistency of loose mayonnaise, at least 5 minutes.
Meanwhile, whisk together ½ cup of the strawberry liqueur, the port, orange juice, and vanilla extract in a shallow dish until combined.
Once the egg yolk mixture is ready, add the remaining ½ cup strawberry liqueur and the mascarpone, and beat on low speed until the egg mixture is smooth.
Briefly dip each side of 15 of the ladyfingers in the liqueur mixture then arrange them side by side in a single layer in a 9-by-13-inch baking dish. Scatter half the strawberry slices over the ladyfingers, then pour over half the egg mixture and smooth it with a rubber spatula. Repeat soaking and arranging the remaining ladyfingers on top, followed by the remaining strawberry slices, and finally, the remaining egg mixture, smoothing the top.
Sprinkle the top of the tiramisu with either finely crushed freeze-dried strawberries or a spoonful of strawberry gelatin, if you'd like. Refrigerate the tiramisu for at least 2 hours to set before serving.