This Crowd-Pleasing Menu Is Perfect for Your Next Viewing Party
P.Deevakul/M.Pierini/S.Strangio
With the battle for the Iron Throne raging on Sunday nights and the fall TV premiere season on its way, there are plenty of reasons to get the crew together to watch an episode (or seven). But because the main event here is what's on the screen, you're going to want a dinner that's so easy to prepare, you don't miss any good parts stuck in the kitchen.
To accomplish that, we teamed up with DiGiorno to create a party menu based around their pizzeria!® Primo Pepperoni pie, because few things go together better than pizza and good TV. (Plus, you don't have to stress about the delivery guy arriving late in the middle of the show.) The rest of the recipes -- a veggie platter with serrano-herb yogurt dip and ice cream cookie sandwiches -- are also made to share, perfect for fueling post-show discussions about which two characters you're shipping this season.
As for libations, the strong flavors of the spicy pepperoni and the yogurt dip call for a wine that's bold enough to complement them. Pamela Wiznitzer, mixologist and creative director at Seamstress NY, suggests a medium-bodied Montepulciano for its spice notes and hints of cherries and blueberries. Plus, it's an Italian varietal, which helps round out the pizza-based meal. The wine, as well as the whole menu, is designed to be crowd-pleasing, so that the only thing you'll have to worry about is remembering where you left the remote.
P.Deevakul/M.Pierini/S.Strangio
Vegetable Platter With Tapenade and Serrano-Herb Yogurt Dip
Dips are a no-brainer for a house party, especially because they offer so many options in simple, small bites -- and provide something to snack on while the pizza is in the oven. Nik Sharma, who pens the weekly San Francisco Chronicle column "A Brown Kitchen," created a salty, umami-packed tapenade that will certainly usurp the place of popcorn, plus a serrano-herb yogurt dip for a lighter, earthy flavor. The best part? You can use both to dunk your pizza crusts in later.

Yield: 1 ½ cups each. Serve with fresh vegetables such as cauliflower and broccoli florets, whole grape or cherry tomatoes, endives, and baby carrots.
INGREDIENTS:
½ pound black olives, pitted and drained
2 anchovy fillets
1 garlic clove, peeled
1 tablespoon freshly squeezed lemon juice
2 tablespoons capers, drained
2 tablespoons extra-virgin olive oil
¾ teaspoon freshly ground black pepper
1 tablespoon chopped flat-leaf parsley
1 cup Greek yogurt
1 serrano chile pepper (deseeded if you want it less hot)
1 cup packed fresh basil leaves
1 tablespoon fresh lime juice
2 tablespoons maple syrup
½ teaspoon salt
DIRECTIONS:
Place the olives, anchovies, garlic, capers, olive oil, and ½ teaspoon pepper in the bowl of a food processor and pulse for a few seconds on medium speed to get a coarse paste. Taste and adjust the seasoning if necessary. (You might not need to add any salt as brined olives, capers, and anchovies are salty to begin with.)
Transfer to a serving bowl and garnish with the parsley leaves. 
Place all remaining ingredients in a blender and pulse on medium-high speed for a few seconds until you get a smooth and creamy sauce. Taste and adjust seasoning if necessary.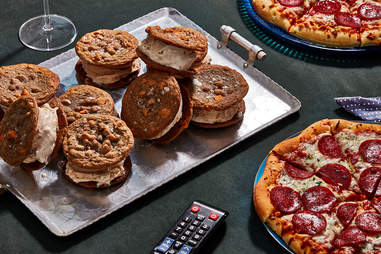 P.Deevakul/M.Pierini/S.Strangio
Smoked Salted Caramel Cookie Ice Cream Sandwiches
While making ice cream sandwiches from scratch may seem tedious at first glance, these cookie masterpieces can be made ahead of time and frozen so your dessert is done well in advance of the party. Plus, this recipe from Ben Mims, author of the cookbook Sweet & Southern, lets you cheat by using store-bought ice cream with your homemade cookies. And hey, you won't even need to buy dessert plates. (Just double up on the napkins so no one drips on the couch.)

Yield: 2 dozen sandwiches
INGREDIENTS:
2 ¼ cups all-purpose flour
1 teaspoon baking soda
½ teaspoon kosher salt
1 ½ cups packed dark brown sugar
1 teaspoon vanilla extract
1 cup (2 sticks) unsalted butter, at room temperature
2 large eggs, at room temperature
2 cups Kraft caramel bits (or butterscotch chips or toffee bits)
Smoked flaky sea salt, such as Maldon or San Francisco Salt Co.
4 to 6 pints vanilla, caramel, or vanilla-caramel swirl ice cream
DIRECTIONS:
Heat the oven to 375°F. Line 2 baking sheets with parchment paper or foil. Combine the flour, baking soda, and kosher salt in a bowl and whisk until evenly incorporated.
Combine the brown sugar, vanilla extract, and butter in a bowl and beat on medium-high speed of a mixer until creamy and smooth, 1 to 2 minutes. Add the eggs, one at a time, and beat well, until smooth. Add the dry ingredients and beat on low speed until the dough just comes together. Add the caramel bits and stir until evenly combined.
Using a 1-ounce ice cream scoop or a mounded tablespoon, drop 12 balls of cookie dough onto each prepared baking sheet, spacing them at least 2 inches apart. Sprinkle each cookie dough ball generously with smoked sea salt and bake until the edges are just set but not dark brown, 8 to 10 minutes. (This makes a soft cookie, which is ideal for freezing in ice cream sandwiches; for a crispier cookie, bake them a couple of minutes longer.)
Let the cookies cool on the baking sheets for 1 minute, then use a metal spatula to transfer them to a wire rack to cool completely. Once the baking sheets have cooled to room temperature, repeat dropping balls of the remaining cookie dough on the sheets, sprinkling with smoked sea salt, and baking.
Once all the cookies are cooled, sandwich half the cookies to the other half with scoops of ice cream. Arrange the ice cream sandwiches on a baking sheet and freeze for at least 1 hour to set before serving.