You may look at a combination Pizza Hut and Taco Bell and think, "Man, Das Racist made great music in 2008," but we look at it and think, "Man, what if we turned the Personal Pan Pizza and the Nacho Cheese Doritos Locos Taco into one heart-stopping bite of fast food?" So yeah, we did that:
Recommended Video
Timothy DeLaGhetto and David So Light Up Houston's Hops n' Hot Sauce Festival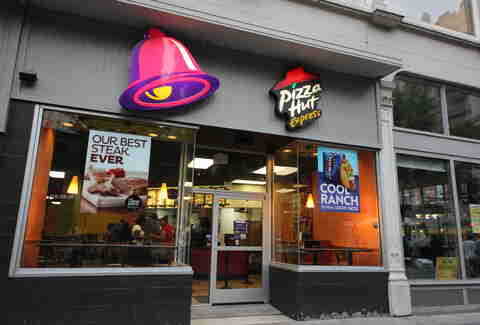 I hit up my local Pizza Hut/Taco Bell and asked the employee behind the counter, "Can you put a taco in a pizza?"... a question that in retrospect sounds kinda creepy, but she was not fazed. She'd clearly been asked this before. "We can't," she replied. "Contamination." I asked what the heck that meant. "Contamination," she repeated. "Who are you -- Dustin Hoffman in the hit movie Outbreak?!!?!", I didn't shout, because I'm respectful and was worried she hadn't seen the film. But that didn't stop me from creating the GREATEST FAST FOOD INNOVATION OF ALL TIME when I got back to my table.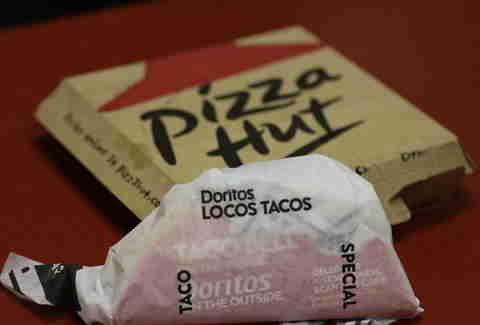 Get ready, friends -- you're about to do the food sex.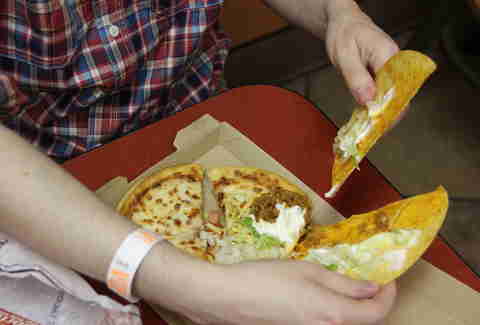 I scraped all the stuff from the inside of the taco supreme (taco meat, lettuce, tomato, cheese, sour cream) onto two slices of Pizza Hut. The pizza would act as my new taco shell.
After gently folding the two slices into the shape of a tortilla with all the taco filling safely inside, I broke apart the Nacho Cheese chip/shell and sprinkled it on top. Like a modern day hunter-gatherer, I wasted no part of the taco. I'm basically like a freegan, who actually bought all his stuff.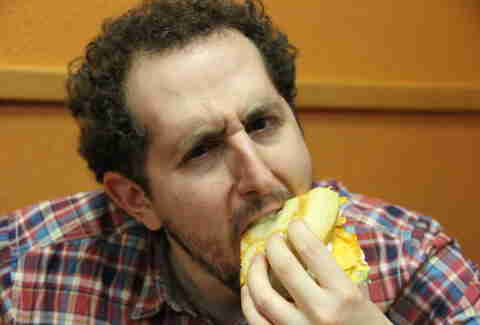 I look confused here, mainly because I was confused. My mouth did not know what was happening to it. There were flavors I recognized as "Italian" (cheese, marinara sauce), "Mexican" (seasoned meat, shredded lettuce), and "American" (Doritos, food that was developed by food scientists and processed in the same factory where they make jorts and freedom).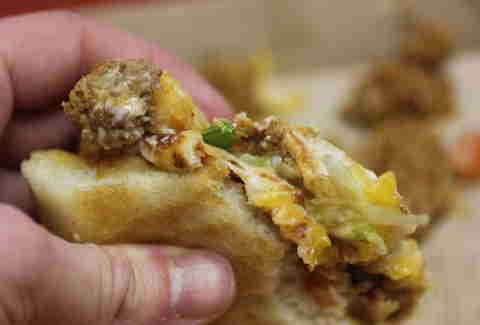 Personal trainers recommend you eat this and then do a ton of interval training and star jumps.
This got messy. Here's my final verdict: if you're in a combination Pizza Hut/Taco Bell, you should spend the $6.46 to get both a pizza and a Doritos Locos Taco. And then eat them separately. But if you're in a time crunch (!!) and you wanna YOLO like you've never YOLOed before, order 'em both and make the Pizza Hut x Doritos Locos Taco. Just don't ask the employees to make it for you.