If there's one thing guys love more than cold pints of beer, it's the soft, supple sight of two perfectly shaped pulled pork sliders.
Just kidding, it's boobs.
But combine boobs and brews with pulled pork sliders, and you have an idea that can launch hundreds of thousands of trips to the local strip mall. ​Hooters may be the quintessential "breastaurant" -- those strip club-like eateries with just a little more clothing, and a lot more emphasis on the quality of their chicken wings -- but there are many more delicious, kind of creepy, double-entendre-laden options out there for hungry/leery gentlemen... and even an option for the ladies! Where did these things come from, though? And who actually enjoys these places other than this guy??
Keep your hands where we can see them, and enjoy the story of the breastaurant.
Recommended Video
Rapper Big Boi Tries Atlanta's Best Mac & Cheese
Unsurprisingly, Hooters was the first breastaurant
Like all sleazy and wondrous things, Hooters was birthed in the great state of Florida by six Clearwater businessmen with low expectations. They even launched on April Fool's Day, fully expecting it to be a massive flop and an incredibly expensive joke. But as it turns out, people respond well to burgers and attractive women in outfits that struggle to cover most American Girl dolls.
Though the chain has changed hands over the past four decades, it's expanded to a veritable cheap-eats empire, with 425 stores worldwide. Factor in calendars, merch, and the now-iconic waitress get-up, and you have a global phenomenon rarely seen in the chain-restaurant world. It now tops over $1 billion in annual sales, and holds a special place in your creepy Uncle Lou's heart.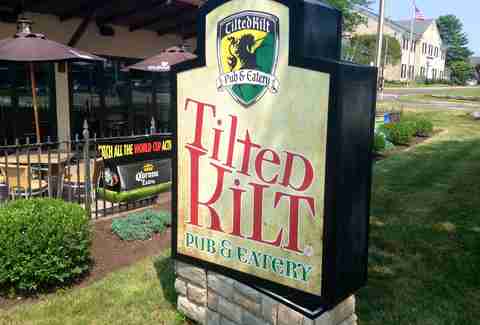 Now there are countless knocker-themed knockoffs
If something isn't broke, don't fix it. And if something works, copy it incessantly. The formula those six Florida businessmen came up with -- girls, food, and beer -- has been transposed to countless other restaurants.
A few of these have found niche success in their own right. Tilted Kilt -- using the guise of Celtic heritage -- features young ladies in provocative "kilts" (that look uncannily like Catholic school girl uniforms), and serves a slightly upscale version of a Hooters menu. Founded in 2003, Tilted Kilt is approaching 100 locations nationwide.
Nothing says "sexy smart" like a 19-year-old in a pint-sized plaid kilt with matching bra!
Twin Peaks is another rapidly expanding "breastaurant" that cheese-tastically promises "scenic views" alongside its moderately priced bar food. In 2014, it exceeded $240 million in sales -- though it's probably best known for the infamous Waco shootout that occurred on its premises in 2015.
Other well-known breastaurants include: Bombshells, Bone Daddy's, Ojos Locos, Bikinis Sports Bar & Grill, and my personal favorite (but not really), Redneck Heaven.
Also, we'd be remiss not mention bikini coffee bars... which I guess would be called "breastistas"? Although that just doesn't have the same ring to it. 
Even a recession can't slow down boob-centric eateries
Though the appeal of the breastaurant is fairly obvious, at least to an undersexed 17-year-old at an all-male military school, it is a little surprising to find out just how damn popular these eateries are.
Even during the recent recession, breastaurants like Twin Peaks and Tilted Kilt were two of the few businesses in general (not just in the restaurant world) to actually expand and flourish. 
"It starts with comfort," Darren Tristano, executive vice president of Technomic, a food-industry consulting firm in Chicago, told Entrepreneur. "These concepts are growing by offering a different level of service and attentiveness."
Hm. By "different level of service and attentiveness," does he mean fake-smiling through "do you come with my dinner?" jokes and excessive (but platonic) bicep touching?
In the same piece, Tilted Kilt CEO Ron Lynch confided he knew exactly what his restaurant was selling, and didn't shy away from it. "We make no bones about it -- that's what brings people in," he says. "We sell on sex appeal, but we are sexy classy, sexy smart, or sexy cute. Not sexy stupid or sexy trashy."
Nothing says "sexy smart" like a 19-year-old in a pint-sized plaid kilt with matching bra!
In reality, the appeal of these spots remains simple: you can do the exact same thing you'd do at a place like Buffalo Wild Wings or TGI Friday's (eat something decent while watching the game), but you can also keep an eye on the waitress who is definitely flirting with you. Why lie to your wife by telling her you were at dinner, when you really went to the strip club, when you can actually go to dinner at what is essentially a strip club?
Though some vehemently oppose breastaurants... obviously
As a 12-year-old boy, one of my goals in life was to eat at Hooters. My mom -- who is thoroughly against the idea of Hooters, as many mothers probably are -- refused. So, my dad took me once when she was on vacation. I spilled an extra-large Coke all over my pants (insert your own jokes) and I never went back. 
My mom doesn't stand alone in her disapproval, as many feminist groups decry these booby chains for their objectification of women and overall seediness. And I mean, yeah... obviously. 
Once, a dude was caught tuning his own piano in the men's room.
In this Salon piece, writer Tracy Clark-Flory profiles a 2010 incident where Sally Hughes, head of the Cardiff Feminist Network in (you guessed it!) Cardiff, Wales, publicly protested a new location of the boobtastic chain.
"We want to say 'no' to Hooters and sexism in our city. We believe that Hooters would objectify woman and we're concerned that a Hooters in this area of Cardiff will contribute to sexual harassment of women in the city... There are big groups which come to the city for stag parties and other events, and we want to make sure the rights of women in the city and women working at Hooters are protected."
Much to Hughes' chagrin, the Hooters did in fact open as planned. But after a few brief, sexy years, it permanently shut down. A small victory for feminism, and a large defeat for the pervy dudes of Wales.
What does an ex-Hooters waitress think about her past career?
Amy Sterne, a five-year veteran of Hooters, told me that working at Hooters was "the most fun job she's had in her life."  She's moved on to greener and less scantily clad pastures, but Amy has had a few jobs in the service industry, at places besides Hooters -- but she estimates that her tips were 20%-30% higher while donning the ubiquitous orange short-shorts.
Surprisingly, she said a large percentage of the clientele that dropped into her Crystal Lake, Illinois location were couples, and even families.
"There were a lot of what you'd expect, older men that might be considered 'creepy,' but then there were a ton of families there, too... just grabbing an inexpensive meal." 
Though sometimes the women involved didn't seem totally down with it. "You could definitely tell some of the women were a little uncomfortable... like they didn't want to be there. And they probably didn't."
And, she can only recall a few instances where anything totally pervy happened. Once, a dude was caught tuning his own piano in the men's room, another time a customer made some lewd comments. Nothing too crazy. Overall, Amy thinks people go to Hooters for more than the hooters. 
"For guys, coming to a place like Hooters isn't just about staring at boobs. It's about a little attention from an attractive woman. A lot of the regulars were older, and frankly didn't seem like they had many prospects. This was just their outlet to be around members of the opposite sex, in a close setting.
"And some people really do come here just for the food."
And finally, something for the ladies
In April of 2015, Dallas eatery Tallywackers opened its doors with the goal of bringing the Hooters experience to a female contingent. If you choose, you can view it in all its banana hammock glory, right here.
Though I might not let my own son work at Tallywackers, I do appreciate the people out there fighting the good fight, making sexual objectification of service-industry workers an equal opportunity. 
After all, why should guys have all the fun?
Sign up here for our daily Thrillist email, and get your fix of the best in food/drink/fun.
Wil Fulton is a staff writer for Thrillist. He just finished filling out his Tallywackers application. Follow him: @wilfulton.