The top 10 BBQ festivals and competitions in the country
Sure you can spot a fake BBQ joint, but can you find the best 'cue around? Pro tip: You don't really need to learn how. Because the barbecue world is about as competitive as -- and far more delicious than -- the Super Bowl, there are a whopping number of BBQ festivals and competitions where you can watch the best of the best (and a slew of phenomenal amateurs) cook everything from lamb to whole hogs. And then you can eat it and know it's actually gold medal-worthy -- if you're counting, we've already made two incredible sports metaphors, and we're barely 100 words in.
These are the barbecue gatherings that are totally worth a trip and an expanding waistline:
International Bar-B-Q Festival (Owensboro, KY)
May 9th & 10th, 2014
Kentucky's 'cue styles are as unique and delicious as you'd expect from a state that stakes its rep on drinking a stiff Bourbon while wearing a giant hat. Mutton (that's lamb to everyone outside the state/UK) is the meat of choice, and burgoo, a spicy stew of mutton, pork, or chicken, is frequently served in KY's barbecue joints. Even if you had no idea what either food was a second ago, you'll be more than familiar after this fest, where each team is required to cook 300 chickens, 600lbs of mutton, and 60gal of burgoo. If you head here on Saturday, you'll grab tastes of all those foods from the teams' pits.
Bottom line: Mutton and burgoo are two BBQ specialties you won't find anywhere else.
Memphis in May World Championship Barbecue Cooking Contest (Memphis, TN)
May 15th-17th, 2014
With over 82 tons of pork cooked during the weekend, this mile-long cook-off boasts the Guinness title of "largest pork BBQ in the world". The competition doesn't offer samples, but vendors are set-up so you can taste the pork, not just smell it. WCBCC also offers BBQ fans the chance to judge; the Kingsford Tour of Champions requires a judging orientation and a hefty judge's packet, so you'll get a bit of training under your belt for proper pork shoulder tasting.
Bottom line: Learn how to taste like a pro, so you can knowledgeably eat your way through all the other fests on the list.

Big Apple Barbecue Block Party (New York, NY)
June 7th & 8th, 2014
Seventeen of the top pitmasters in the country --smokers like the famous Ed Mitchell from Durham, NC and Chris Lilly of Alabama's Big Bob Gibson's BBQ -- bring the barbecue that made them famous to NYC. Tents line the perimeter of Madison Square Park, and each group sells a few of its signature items, while a beer area, live music, and temporarily unannoyed New Yorkers fill the inside of the park.
Bottom line: New York may have its own BBQ these days, but it never hurts for the original tastemakers to bring their wares to the Big Apple.

Blue Ridge BBQ & Music Festival (Tryon, NC)
June 13th & 14th, 2014
Carolina barbecuers stand out by cooking close to the embers or coals and sticking to pork -- typically whole-hog. The Blue Ridge fest honors those traditions with a Kansas City Barbecue Society sanctioned event (it's the official organization for BBQ competitions) that has the typical categories like pork, ribs, and brisket, plus a huge whole-hog throwdown. Besides sampling everyone's food, you can also visit the Cooker Store, where teams' sauces and rubs are sold. Wash down all that BBQ with some sweet blues, country, and bluegrass-inflected music.
Bottom line: You'll be sampling some of the best whole-hog cooking in the country, with a beautiful Appalachian Mountain backdrop.
Safeway Barbecue Battle (Washington, DC)
June 21st & 22nd, 2014
Pennsylvania Ave turns into the less historic, more delicious BBQ Boulevard for one weekend each June. There's a slew of events, but the star is a KCBS BBQ contest with $40,000 in cash on the line; contestants are judged on pork shoulder, pork rib, beef, and chicken. Safeway sponsors a free samples tent from noon-6pm both days so you don't have to just be tempted by the BBQ scents, and Robert Randolph headlines the 30-band line-up.
Bottom line: The US Capitol looks even better with a huge plate of award-winning brisket in your hand.
TMBBQ Fest (Austin, TX)
September 14th, 2014
Texas Monthly, the same Austin-based mag that boasts the enviable position of BBQ Editor, throws a fest of epic proportions centered around its list of the top 50 BBQ spots in the world. And by world, they just mean Texas, so line-ups always include some of the biggest names in the brisket world, like Lockhart's, Pecan Lodge, and Franklin's. All at one festival.
Bottom line: BBQ-lovers plan trips specifically to these far-flung brisket heavens -- but this fest puts them all in one field together.

Joe's Kansas City Open Contest (Kansas City, MO)
October 5th, 2014
The American Royal (a group that promotes all things agrarian for young people) hosts a four-day-long event of epic proportions. There's an open BBQ competition with over 500 teams, a massive invitational that brings upwards of 100 crews, and a BBQ expo so you can browse the best smoking gear on the market after you're inspired by all these go-getters.
Bottom line: You may actually get overwhelmed by the amount of barbecue happening here. But you won't, because that's not a thing.
Jack Daniel's World Championship Invitational Barbecue (Lynchburg, TN)
October 25th, 2014
"The Jack" is like the Super Bowl of barbecue, and the odds of you participating are just as low: To even be eligible to compete, you have to have won a competition with 50+ teams in the running or have won a smoky contest that had over 25 teams and was designated a state championship. Then names are chosen from all of those qualifiers to determine who actually gets one of the prestigious invitations.
Bottom line: Drinking Jack while watching your neighbor grill isn't nearly as cool as watching the best pitmasters in the country smoke pork ribs and shoulder, brisket, and chicken near the distillery.
World's Championship Bar-B-Que Contest (Houston, TX)
February 26th-28th, 2015
While the rest of the country deals with the Winter blues, Houston is busy flaunting the epitome of all things Texas: the Houston Livestock Show & Rodeo. And the World's Championship Bar-B-Que Contest is, obviously, the warm-up event. Around 300 competitors cook over three days, trying to win the title in everything from brisket to Dutch-oven dessert. You get a chopped beef sandwich with a GA ticket, and there's live music every night, plus craft beer for sale.
Bottom line: Come for the brisket in the state that knows how to smoke it best; stay for the rodeo.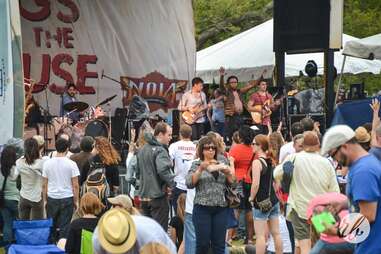 Hogs for the Cause (New Orleans, LA)
March 2015
Around 80 teams of professional chefs and newbies fight for the top titles in whole-hog, ribs, pork butt/shoulder, and the whatever-part-goes porkpourri. Go ahead, soak up the greatness that is the word porkpourri. Participants offer up samples in exchange for donations, which -- like your entry ticket -- go toward pediatric cancer care. The music line-up is always impressive (Hurray for the Riff Raff and The Hold Steady were two of the 2014 bands), and beers and mixed drinks are readily for sale.
Bottom line: This is basically a massive cocktail party -- there's even an award for the team that throws the best Friday night party -- with exceptional barbecue.
Liz Childers is a national food/drink editorial assistant, and she wants to travel the BBQ circuit as a groupie for a championship team. Contact her at @lizchilders1 if you need more fans for your 'cue team.