The 9 Unhealthiest Chain Restaurant Meals of 2015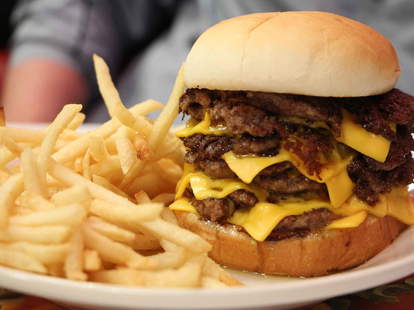 How's your year looking? Still haven't stuck to that diet you attempted to start in January, huh? It's okay, there are more important things to worry about -- like making a point to eat only the best, most highly caloric food, of course.
The Center for Science in the Public Interest has released a list of the worst chain restaurant meals of the year; "worst" having nothing to do with how these meals taste -- as they are undoubtedly delicious -- but rather, how bad they are for you. To win an "Xtreme Eating award," dishes had to be around 2,000 calories (a whole day's worth of food, but like, who's counting?).
The Cheesecake Factory made the list twice, but the ultimate offender is Red Lobster's "Create Your Own Combination" meal; if you choose the Parrot Isle Jumbo Coconut Shrimp, Walt's Favorite Shrimp, and Shrimp Linguine Alfredo to go with the Caesar salad, French fries, and a Cheddar Bay Biscuit, you're looking at 2,710 calories, 37g of saturated fat, and 6,530mg of sodium.
See the full list below, ranked from lowest to highest calorie count (to ease you into the pain):
9. Warm Apple Crisp 
The Cheesecake Factory
Calories: 1,740
 
8. Chorizo Fiesta Omelette 
IHOP
Calories: 1,990
7. Pineapple Upside Down Master Blast
Sonic
Calories: 2,020
6. "2 For $12 Pick & Choose" meal
Uno Pizzeria & Grill
Calories: 2,190
5. Louisiana Chicken Pasta
The Cheesecake Factory
Calories: 2,370
4. Herb Roasted Prime Rib
Outback Steakhouse
Calories: 2,400
3. 3 Meat Plate
Dickey's Barbecue Pit 
Calories: 2,500
Matt Lynch/Thrillist
2. 7x7 Steakburger 'n Fries with a chocolate fudge brownie milkshake
Steak 'n Shake 
Calories: 2,530 calories
1. "Create Your Own Combination" meal
Red Lobster
Calories: 2,710
Lucy Meilus is a staff writer for Thrillist and proudly consumes more calories in a day than most people she knows. Yes, this is a challenge. Follow her on Twitter at @Lucymeilus and send news tips to news@thrillist.com.