The Week in Gloriously Unhealthy Foods: June 8th-14th Edition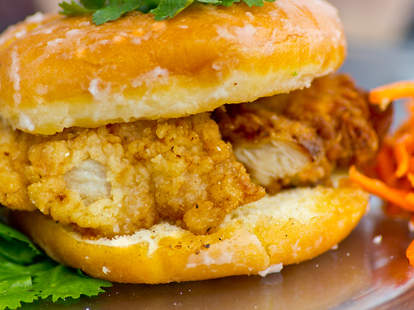 You've made it through another week. And look at you. You look great! So it's time to reward yourself with all of the craziest culinary concoctions from across the Thrillist world. As an added bonus this week, many of these here treats come from the mind-bendingly gut-busting San Diego County Fair. Somehow, those people actually look great!
Philly Cheesesteak Potstickers
Carson House, Los Angeles
Philly cheesesteaks are a great late-night food. Potstickers are a great late-night food. Philly cheesesteak potstickers are the... perfect late night food? Why yes, yes they are.
Um, did we mention they've got crayfish mac 'n cheese?
The Texas Tater Twister
San Diego County Fair, San Diego
Buckle in, this one's a doozy: You take a spiral-cut potato, fry it (obvs), sprinkle it with the topping of your choice (lemon pepper, garlic Parm, seasoned salt...), curl it around a footlong sausage, and dip it in your pick of dipping sauces (ranch, nacho cheese, BBQ). This. Is. America.
The stick makes this a one-handed treat, meaning you've got one hand free for their waffle-coated, syrup-drizzled corndog (!)
"The Sublime" Fried Chicken Donut Sandwich
People's Food Truck, Atlanta
It's called "The Sublime" because it cranks out classic West Coast ska punk will take you to a whole 'nother other level of happiness. Who knew that such a feeling could be as simple as fried chicken sandwiched between two grilled donuts?? (We all did. Duh.)
Check out their monstrous steak po' boy
Maple Bacon Ice Cream
Oddfellows, New York City
To make this divine gift from heaven, they infuse maple ice cream with bacon fat (!) and then top it with bits of candied bacon and pecans. You'll be screamin' for this stuff like a toddler when you see the size of the chunks of bacon in this stuff.
They also have ice cream with CORNBREAD in it?!?
Krispy Kreme Sloppy Joe
Chicken Charlie's at the San Diego County Fair, San Diego
It is the beautiful and simple combination of two of the most fatteningly greasy treasured food traditions in the world: Sloppy Joes and glazed donuts. One taste, and you will be A) covered in beef, sauce, cheese, and sugar, and B) asking Chicken Charlie if he is willing to be the godfather of your child.
That very same fair featured a maple-bacon donut the size of your face