The world's first interactive Cronut- (and Cronut impostor-) finding map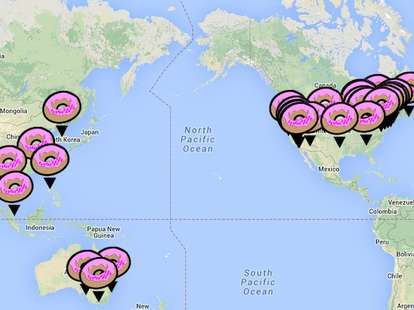 You know the Cronut story: it all started in New York, but almost immediately, knock-offs began appearing in fryers all around the country and beyond. First, San Diego fell. Chicago, Los Angeles, Philadelphia, and London all followed. They've miniaturized into "Cronut holes" that've been spotted in Shake Shack's concretes, and they've even invaded our dreams, causing us to hallucinate all sorts of other magical pastry hybrid possibilities (dangels, anyone? Anyone?!?).
These international faux-nuts (Singapore, represent!) might go by all sorts of un-trademarked names -- from Doughssants, to Croissnuts, to Cro-Nots -- but the flaky, cream-filled gut-bombs are undeniably Cronuts, which is why we decided to make an interactive Google Map plotting all the places you can get them. Most of these locations can be traveled to in less time than it takes to wait for one at Dominique Ansel on an NYC weekend morning (especially now that DA's back at it with the Magic Souffle).
Zoom and drag to your deep-fried heart's content -- clicking on any delicious Cronut icon will get you all the details on that particular Cronut/place:
View Cronuts Around the World in a larger map
WHERE ALL THESE SUCKERS ARE
Dominique Ansel Bakery, New York, NY T
The one, the only, the trademarked: the original Cronut.
Clafouti Patisserie et Cafe, Toronto, ON, CA
This Toronto bakery tossed the "doughnut" bit and instead paired buttery croissant with something even better -- Oreo cookies. Behold, the Crookie.
Potito's Bakery, Philadelphia, PA
Potito's Bakery is cooking up Do-Cros: enormous cinnamon croissants that are chopped in half, slathered with cream filling, and topped with sweet icing.
Swiss Haus Bakery, Philadelphia, PA
The civilized bakers at Swiss Haus coined their elegant creation -- one of the best faux-nuts we've seen -- the Cro-Creme.
Donut Bar, San Diego, CA
If you thought combining croissants and doughnuts was revolutionary, check out the bakery that's doing just that... in a square shape!
La Boulangerie, Chicago, IL
The crognet is the move at both outposts of this Chi-town bakery: a simple, flakey, Boston cream 'nut with custard filling.
West Town Bakery, Chicago, IL
Encounter the doughssant, a Long John-style pastry that's slim, but still packed with layers of flaking pastry and cream filling.
Alliance Bakery, Chicago, IL
This vanilla bean-filled and rose glaze'd Kronut looks legit, and tastes even legit-er.
Glazed and Infused, Chicago, IL
One of Chicago's original imitators! These Scotty's Hotties look just like the real thing, minus the icing... unless you get the ones that're dunked in vanilla glaze and rolled in sugar crystals.
DK Donuts & Bakery, Santa Monica, CA
Santa Monica's long-standing doughnuttery crafted their own version of New York's fancy doughnut. This one's sliced in half and filled with cream, and it comes in many diabetes-inducing flavors such as whipped cream, strawberry, and Nutella.
MoVida Bakery, South Yarra, Australia
The Dossant arrived in Australia filled with cinnamon cream and drizzled with chocolate.
The Cake Shop, Woodbridge, UK
The Cronuts here are split in half and drenched in glaze.
The Cake Hag, Atlanta, GA
Get yer Atlanta-style Doughssants here -- the adorably lumpy version of the original here are injected with cream, sprinkled with brown sugar, and topped with house-made peach puree.
The Broadmoor Hotel, Colorado Springs, CO
The first thing you'll notice about the Broadmoor Donut is that it lacks the Cronut's signature cream filling, but the flaky pastry and cinnamon and raspberry flavors still make this one a tasty treat.
Chocolate Crust, Washington, DC
DC's impostor Cronut is all glammed up with hazelnut cream, fluorescent pink icing, and a sprinkling of pistachios.
Semi Sweet Bakery, Los Angeles, CA LA's Crullant is closer to cruller than croissant, but it's still been deemed light, sweet, and totally satisfying. Le Petit Bakery, Brooklyn, NY Manhattan's rival borough swiftly launched their own contender into the Cronut ring with these "Squats" -- square-ish pastries that come in lots of ridiculously awesome flavors such as chocolate/maple/bacon. Amadeo Lleonart Vica, Barcelona, Spain Viva el Cronut. The Catalan version eschews Ansel's trademark and is a spitting image of the real thang. Swiss Pastry Shop, Fort Worth, TX These Texas-sized Doissants are pumped with chocolate-almond filling. Azucar, San Diego, CA What do you get when you stuff Malibu rum filling, coconut icing, and vanilla-sugar dusted almonds into an insane, Cuban, croissant-doughnut hybrid? The Cray-nut. Gregory's Coffee, New York, NY Don't wanna wait in line at Ansel's? Hop up to any of NYC's Gregory's Coffee outposts and snag a $4 Croissant Doughnut. Mille-feuille Bakery Cafe, New York, NY Dominique's downtown neighbor is churning out "French Donuts", including one drizzled with chocolate. Dessert Club, ChikaLicious, New York, NY This one takes the Cronut for the weirdest hybrid spelling -- the Dough'Ssant -- and we'll gladly take some of the tasty things, which're filled with lemon cream and topped with a splash of fruity glaze. The Herb Box, Scottsdale, AZ The Dossants at this Southbridge bakery come in such tastebud-exploding flavors as blueberry cheesecake and cannoli. Sugar Twist Bakery, Bakersfield, CA The New Yorkers here won't curse you out or steal your wallet -- they'll just fill you up with flaky pastry rolled in sugar. Dunkin' Donuts, Seoul, South Korea Dunkin' Donuts succeeded in being the first global chain to reproduce the Cronut, christening it the New York Pie Donut and launching it in the Gangnam nabe of Seoul, South Korea. Is Cronut world domination imminent? Wildflour Cafe + Bakery, Taguig City, Philippines The chef at this Manila bakery had a batch of Ansel's Cronuts flown to her so that she could reverse engineer them. Rinkoff Bakery, London, UK London's first Cronut import is called the Cro-Dough, and comes in decidedly Brit flavors, like fresh cream with chocolate. Duck & Waffle, London, UK This Dosant is a literal combination of a croissant and a doughnut: freshly baked croissants are stuffed with cream filling and sprinkled with sugar and chocolate. Sportello, Boston, MA The most recent flavor of the Hub's Dossants were topped with strawberries and stuffed with cream. Posh Bagel, San Francisco, CA The Bay Area's first Cronut knockoff arrives in the form of the Cro-Not, from regional wholesaler Posh Bagel. Le Coeur De France, Manila, Philippines This Filipino Croughnut mixes things up with a savory parmesan cheese flavor alongside a sweet cream & berry joint. Da Paolo Gastronomia, Singapore Da Paolo's Crodos come filled with "silky fresh coconut creme", topped with coconut shavings, and, on special occasions, decorated with the Singaporean National Day design(!!). Swissbeck, Central Hong Kong These pretty faux-nuts come in lemon, blueberry, chocolate, and (revolutionary!) white chocolate. Cafe Mozu, Bangkok, Thailand The mint-yogurt Croughnut has been placed on the breakfast menu at this swank hotel eatery for the forseeable future. Adriano Zumbo Pâtisserie, Balmain, Australia AZP's Zonuts really take it up a notch with such haute flavors as apricot & poppy seed and praline. Jennys Gourmet Bakery, Eastwood, Australia Get cookies 'n cream topped (and filled) Cronut knock-offs at this down-undah bakery. Maritime Pasty Co., Halifax, NS, Canada The Halifax-ian take on the Cronut resulted in the Croissnut, which comes fried in grapeseed oil and flavored with the likes of lemon and chocolate. Spudnuts Donuts, Canoga Park, CA The Canoga Park Spudnuts is slinging Doughssants filled with custard and glazed with Nutella. Circle City Sweets, Indianapolis, IN CCS is slingin' Dossants that don't look cream-filled but are still selling out. The Sweetest Things, Cincinatti, OH This bakery's Doughsants are slimmer and more doughnut-y than others, but they're still mad addicting. Holtman's Donut Shop, Loveland, OH The Doughsants at this OH shop come drizzled with raspberry sauce. Bruce's Cheese Emporium, Greenport, NY BEC created an entirely new hybrid: the Sconut, a scone-doughnut combo studded with raisins and drenched in vanilla.