The world's largest foods, including an 8-foot pizza and a 5-ton lasagna
Since the dawn of time, man has challenged himself to ridiculous feats of eating. Sometimes, he gets a t-shirt on the wall. Other times, he gets his name in a record book for wasting ridiculous amounts of food in the name of glory. And heart disease, probably. But, while no one could possibly clean their plate of them, the following dishes prove that man is always striving to go beyond what seems possible. And, indeed, that striving is glorious. Also, there's a really huge meatball!!
World's Largest Cheesecake
In a magical feat that made housewives the world over desperate to go to rural New York, Duff "Ace of Cakes" Goldman descended on Lowville's Cream Cheese Festival to create a 6900lb monster of sugar, cheese, and graham crackers that represented a world record. Even more impressive, it was a rare occasion where he made a cake that can actually be consumed.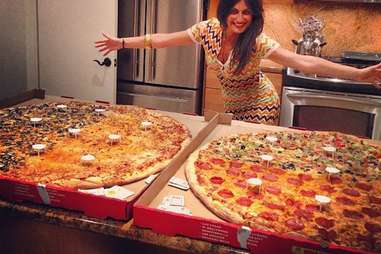 World's Largest Deliverable Pizza
How big is this gigantic pie from Big Mama's & Papa's in LA? At 4.5x4.5ft, this pizza requires a customized delivery vehicle just to send it to your house. It's enough to feed half of the Duggar family or one Louie Anderson, depending on who tries to jack the truck first.
World's Largest Lasagna
For a country that has a history of malnourishment, Poland really went big on this gigantic, Garfield-baiting lasagna, which clocked in at 5.29 tons and 10,000 individual servings.
World's Largest Commercially Available Hot Dog
Tired of just cramming 30 7-Eleven Big Bites into a baguette and calling it a day? Head online and order the cleverly named Big Hot Dog, a Ron Jeremy-emasculating 7lb frank that's 16in long, 4in in diameter, and rocks 40 servings. Naturally, it's from Chicago, and at about $200 comes with a gigantic bun and more ketchup and mustard than Ron used on the set of Naughty Hot Dog on a Stick II.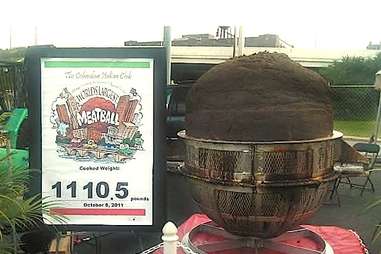 World's Biggest Meatball
Concerned that The Situation was tarnishing the good name of meatballs, the Columbus Italian Club took it upon itself to create the world's largest meatball, a 1110.5lb wad of meat, which is coincidentally the same amount of spray tanner used in the first season of Jersey Shore.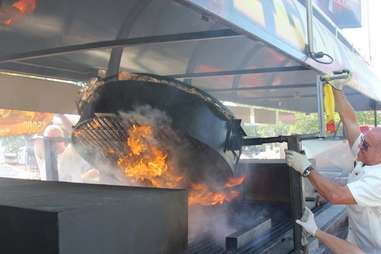 World's Biggest Commercially Available Burger
The folks at Juicy's Outlaw Grill in Corvallis, OR had to build the world's biggest mobile grill to make this sucker, which contains 777lbs of grilled meat that's flame broiled and served up on a colossal bun. The grill gets carted around on a semi, and you will too when you pass out from eating too much meat.
World's Largest Commercially Available Pizza
The perfect caterer for any TMNT convention, Texas's Dirt Road Cookers entered the record books by allowing anyone with the stomach and the scrilla to order this 8ft monster, which they'll load up w/ everything from pepperoni to brisket to a ton of cheese that spent a lot of time in the shredder.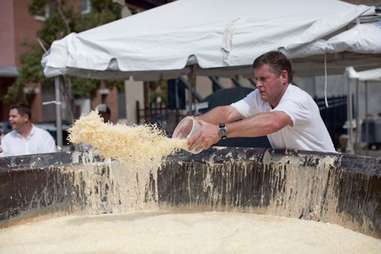 World's Largest Bowl of Mac n' Cheese
When New England cheese co-op Cabot Creamery sets its sights on glory, it doesn't back down. Not content with creating the world's largest bowl of mac n' cheese -- a 2469lb monster with 575lbs of cooked mac, 286lbs of cheese, and 56lbs of butter in the mix -- the group washed down that auspicious achievement this year with a 400lb smoothie for good measure.
World's Largest Plate of Nachos
The Texas-based North Star Church pulled off a miracle of its own by creating a 3555lb plate of cheesy nachos to serve up to its parishioners. "And lo, it was good", somebody probably said while wiping cheese off his chin.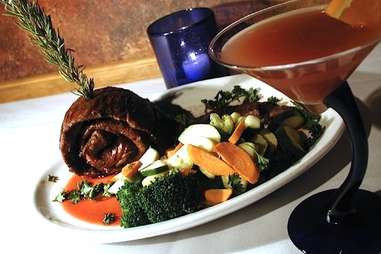 World's Longest Steak
A Frenchman technically owns the record for the world's longest steak, since he once carved a 90in meat strip. But in terms of commercially available meat strips, Tango Argentinean Grill & Tapas in Naperville, IL is the big bull, offering up a 32in skirt steak rolled up to look like the world's most delicious piece of Bubble Tape.