Whether you're at a house party, in the parking lot of a show, tailgating, or just randomly hanging out in a densely populated alleyway at night, nothing brings people together quite like sparking up and getting a circle going. But there's a catch: bringing people together doesn't necessarily mean said people are fantastic. These are the worst people to share pot with, drawn like guitar-strumming, movie-ruining moths to the cannabis cherry.
Recommended Video
Roasted Red Pepper Deviled Eggs: Perfect for Parties, Grandma-Approved
The Puff-Puff Politico
The minute the smoke hits her lungs, she hijacks every conversation in order to give you statistic on the incarceration rate for marijuana users, antiquated laws, and financial impact that legalization had on states where it's now legal. Yeah, she saw The Revenant last weekend, too. Can you believe that Wyoming still doesn't have legal weed? A little "kind salve" would have definitely helped DiCaprio's gaping neck wounds, you know.

Swamp Mouth
Every time the joint or pipe goes to this guy, it automatically absorbs enough liquid to sustain an entire plant for at least a month. Even worse, dude LOVES Funyons.

The Storyteller
As if suddenly hoisted upon the stage of a Ted Talk, this cat spins long, elaborate yarns with more characters that Magnolia, gesturing wildly as he goes on, leaving wisps of smoke twisting in the wind while never stopping to breathe, let alone pass the jay. The twist at the end of the story? He's smoked the entire joint while he was yammering.
The Old Dude
He's somebody's uncle, or former teacher, or maybe your dad. And while he's super chill and relaxed and once met Gregg Allman and was at Altamont when shit got crazy, his very presence is making everybody extremely uncomfortable for no good reason.

The Exaggerator
How high is he right now? So fucking high! How bad does he have the munchies? So bad that he's been staring at the same pile of snack foods for at least 20 minutes while loudly declaring how high he is. Has anybody ever been higher? Why yes. It was him. Every day since he started puffing.

The Collector
He has no idea where your brand new glass pipe went, so just stop asking. You probably misplaced it. The next time you see him, he will have a pipe that looks suspiciously like yours. But don't worry. He's had it since, like, forever.

The Nostalgic
One puff , and he's immediately back in high school, talking about the time that he and Boner and Scudd ripped a gravity bong before the most epic Panic show ever. Man, those were the days. You have no idea who Boner and Scudd are, despite having known him since kindergarten. And it wasn't a Panic show. It was Umphreys.
Butterfingers
Her feet are constantly surrounded by broken glass or extinguished joints, as if her fingers sweated KY. She inexplicably insists on standing directly in the closest source of moisture -- usually a puddle of beer she spilled -- just to make sure no accident is redeemed.

The Lurker
You think you remember seeing this dude in the background of the party. But you don't remember inviting him outside. Yet, suddenly, he's materialized in your circle. He is neither rude nor friendly. He neither smiles nor frowns, instead nodding approvingly while following the joint's progress around the circle. When it's all over, he's gone in a cloud of smoke -- like your joint -- never to be seen again.

The Solo Artist
Lighting up the joint casually, as if it was a cigarette, he nonchalantly stands in the crowd, talking, gesturing, puffing... but never passing. The minute your piece comes out, however, he's the first person to get in line.

The Hacker
Fact: pot makes you cough. Sometimes a lot. But general logic would dictate that a coughing fit should include said stricken soul momentarily excusing himself from the group rather than continuing the conversation as if he's not barking lung butter into your face as if mimicking a pit-bull when the mail man shows up.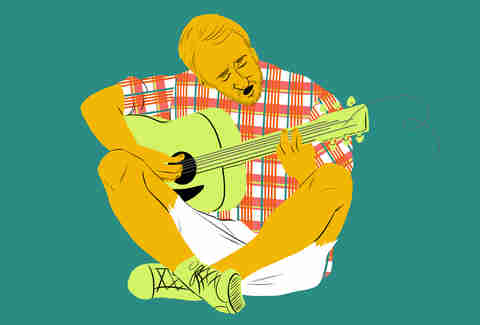 The Guitar Slinger
How this dude happens to have access to a poorly tuned acoustic guitar at any given point in time is a mystery, but we're guessing he stashes it in a similar way as Link stashes his raft in Zelda. He insists on playing any time, any place, and knows all of Bon Iver's catalogue. Because he is Bon Iver.

Emilio Estevez
While we're sure there's an Emilio Estevez out there who'd be a goddamned pleasure to blaze up with (probably the dude from Repo Man… definitely not Gordon Bombay), the absolute worst of the Emilio Estevezes is the one who smokes on screen: Breakfast Club jock Andrew Clark. Spazzes are the worst. Especially when they decide marijuana is actually speed and start punch-dancing while working out. Dude can shatter glass by screaming. This does not bode well for your pipe.

The Weed Snob
"Yeah, this batch of Agent Orange isn't nearly as good as the last batch," he says before asking where the weed came from, what its CBD content is, and whether it was treated with any chemicals. He is quick to correct you when you refer to your weed as anything except "cannabis" and once met the editor of High Times... before it sold out. He has no weed on him. Ever.

The Creeper
He's not doing it on purpose, just kind of staring right at you. Maybe he's just zoning out. Maybe he has a lazy eye. Maybe he's just got a thing with -- Jesus, maybe he IS looking at you. Can he… hear your thoughts?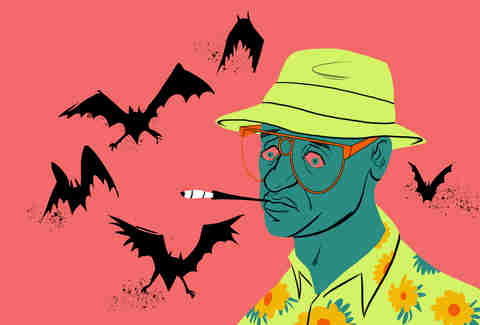 Raoul Duke
Yes, we've all read Fear and Loathing. No, we're not convinced that the weed you just smoked was so potent that you need to be flailing around like a cartoon character and mumbling about waves cresting and shit. Now head back to Bat Country.

The Bug
He doesn't usually smoke. Now he's had two hits and Jesus Christ, were those sirens? Is this stuff laced? He's pretty sure it's laced. He's gotta get out of here. Fast.

The Leap Frog
His motto: Puff, puff, pass... then sneakily move down two people and repeat the process, all while pretending he's just making the rounds and being extra friendly.

Rick
Go home, Rick. You're high.
Sign up here for our daily Thrillist email, and get your fix of the best in food/drink/fun.
Andy Kryza is a senior editor at Thrillist who has never touched the reefers, so stop asking him MOM. Follow him to your missing pipe @apkryza.