These are the 13 best places to eat classic chicken and waffles
Southerners are quick to lay claim to anything that could feasibly be served at a Waffle House, but, sorry all you below the Mason-Dixon Line guys: this sweet-and-savory combo is a Harlem invention concocted, like all great foods, for late-night, probably-tipsy inhalation when indecisive diners couldn't figure out if it was time for dinner or breakfast. We've all been there. Regulars at Wells' Diner -- it sat around the corner from the Apollo Theater and got its post-show crowd -- migrated the soul food dish across the country, ensuring Americans everywhere can get fat on these 13 classic incarnations.
Gladys Knight's Chicken and Waffles (Atlanta, GA)
Sure, the Empress of Soul earned her moniker by belting out Motown classics, but her soul food dominance doesn't hurt her claim either. The "Midnight Train" features four golden-fried wings -- cooked according to her grandmother's recipe -- and a hefty waffle. You can order it anytime but, if you happen to take a locomotive trip to Georgia in the wee hours of the morning, it will taste better.
Tupelo (Cambridge, MA)
You could keep things classic and sophisticated by holding the bourbon syrup, but you're already in Cambridge so, you know… classy enough. Plus, the smoky molasses taste balances the flaky, fried chicken crust and the sweet waffle.

Longman & Eagle (Chicago, IL)
The hipster gastropub has a hefty, golden-fried beauty on its menu. The classic gets a bit of Southern charm from sweet potato and pork belly hash -- just in case you're looking for more greasy goodness.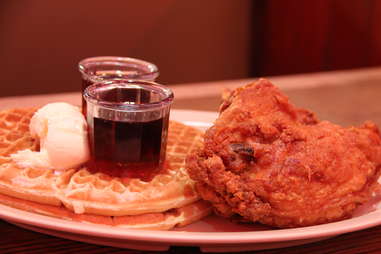 Roscoe's House of Chicken and Waffles (Los Angeles, CA)
The carb-loaded dish first migrated from Harlem to LA (where it presumably became blonder and more relaxed) with Herb Hudson, a Wells' regular. The waffle aficionado spread the word amongst his Motown and TV friends, and his place quickly gained the following that Wells' had with Harlem's stars. Also, Will Smith liked to reference the crisp half-bird in Fresh Prince, so it has a lot going for it.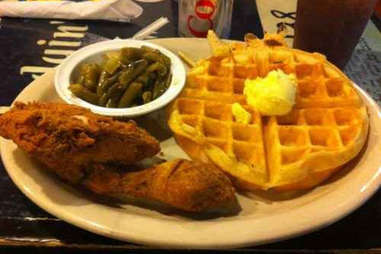 Miss Polly's Soul City Café (Memphis, TN)
This one-stop soul food-shop is smack in the middle of the Beale Street strip because, well, nothing sobers you up after a night on this bar-laden road quite like an extra-fluffy waffle soaking up fried chicken grease. You won't be walking with your feet 10ft off of Beale after that.

Yardbird(Miami, FL)
Just to remind South Beach that they win the most Southern title for the area (not that there's much competition in lower FL), the James Beard nominated spot throws a little spiced watermelon onto the plate. Guaranteed to be the best/only fruit you'll have all day.

Hattie B's Hot Chicken(Nashville, TN)
The Sunday-only special is deceptively casual, showing up for brunch tucked into a red-checkered basket with a few waffle triangles. But Hattie B's famous tongue-tingling batter is a sharp (and delicious) kick to the taste buds.
Sylvia's Restaurant (New York, NY)
This soul food joint's in the same 'hood as the original chicken and waffles restaurant, and Sylvia's sticks to that classic recipe. If you have room after the super-crispy chicken and fluffy waffle, there's also chitlins. Because why not?
Amy Ruth's (New York, NY)
Harlem's other Southern standby dubs each of its sweet-and-savory concoctions after community members -- the move here is "The Rev. Al Sharpton" for the traditional fried bird. If you're actually looking for a preacher who can dramatically yell the news at you, turn on MSNBC.

Lois the Pie Queen (Oakland, CA)
Not unlike the Raiders, the crispy chicken breasts lack the spice to get the job done solo, but sliced with a nibble of fluffy waffle and sweet syrup, it's an, er, touchdown in sweet-and-savory greats. If you're feeling particularly indulgent, the restaurant's name is no joke. Grab a whole pecan pie to go.
Miss Delta (Portland, OR)
As far as the classics are concerned, the praline butter-schmear is a bit like the new-money family who moves into the old part of town, but then turns out to be the family that all the old, boring folks grow to love despite the excessive flash.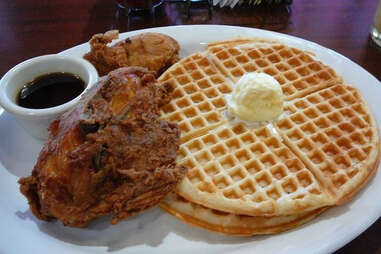 Gussie's Chicken and Waffles (San Francisco, CA)
Like any cook with Southern roots who is worth their bacon grease, this chef's peddling her grandmother's well-bred recipes. Her grandma Gussie was born in Milledgeville, GA, and lives in Jersey City, the brunt of all jokes, which also happens to be near the dish's birthplace.
Goody Goody Diner (St. Louis, MO)
Just in case this St. Louis landmark's smaller order of half a fried chicken and a Belgian waffle isn't enough food, you can make it a "supreme" meal and with two eggs and grits, rice, or hash browns. Go with grits. Then go back to sleep.
Liz Childers is a food/drink editorial assistant at Thrillist. She's busy fattening up on her native Southern food in order to survive winter in the frozen tundra that people call NYC. Follow her to fried food @lizchilders1.