Food & Drink
Sponsored by
These Burger Combinations Will Take Your July 4th Cookout to the Next Level
Sponsored by
It's officially grilling and picnic season, and while everyone else will be serving up the same over-seared burger patties with the same soggy lettuce and the same mushy tomatoes, we're here to make sure you don't fail your next round of cookout guests. At Thrillist, we love new twists on old classics -- and burgers are no exception. To find out how to elevate summer burger recipes ahead of the July 4th weekend, we asked some of the best chefs around the country how they spice things up (both literally and figuratively). Don't be scared off by the extravagant toppings, they're all totally replicable at home. Here are this summer's must-try combinations to take your July 4th barbecue to the next level.
Pimento Cheese + Dill Pickle
There's no arguing that the picante, creamy goodness of pimento cheese goes well with just about anything. Atop a flaky cracker, it's the perfect nostalgic summer snack; atop a burger, it's a game changer. Between the richness of mayo, the spice of pimentos, and the sharpness of a good cheddar, it's all you really need. In San Diego, Cafe 222's Chef Terryl Gavre suggests this perfect combination, both simple to make and complex in flavor profile -- just the way a summer staple should be. Toast your bun of choice, sear your perfect meat (Chef Gavre uses a small amount of SPAM in her 85/15 blend for extra flavor and fat) or portobello patty, and pile on some crowd-pleasing, garlicky pimento. Top that off with dill pickle slices to give it a refreshing crunch, and enjoy.
Gorgonzola + Pear + Walnut Aioli
The sweet and savory combination of gorgonzola with crisp pear is even better when combined with perfectly-prepared beef. Chef Jim August of Chicago's Stretch Bar & Grill recommends this refreshing take on a pear and bleu cheese salad, ideal for any summer table. Made up of a mix of cuts (this one has chuck, brisket, and short rib), the patty is topped with a sweet-poached pear, caramelized onions, thick-cut applewood smoked bacon, arugula, and a hearty, crunchy walnut aioli served on a toasted brioche bun. This might just be the fanciest -- and most delicious -- July 4th barbecue your friends have ever seen.
Nachos + All the Fixings
Nachos are a guaranteed crowd pleaser. The combination of beef, beans, cheese, creamy guac, and crisp onions all piled on a tortilla chip instantly makes any party better. Chef Daniel Diaz of San Diego's 1950's-themed Corvette Diner agrees -- which is why he created the Macho Nacho Burger: a beef patty topped with lettuce, guacamole, jalapeños, red onion, tortilla chips for crunch, nacho cheese, jack cheese, and jalapeño mayo. When replicating for your July 4th barbecue, customize the burger with your favorite brand of tortilla chips and guac (or even make your own). It'll really make the combination sing.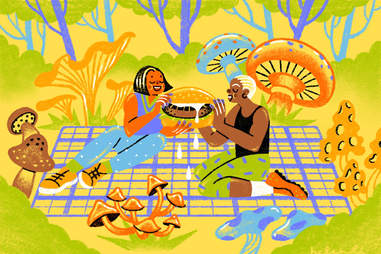 Helen Li
Portobello + Havarti
Mushrooms make a perfect topping on any burger, but when they take center stage as the protein, it changes things up entirely. Executive Chef and CEO of Dahl Restaurant Group Lisa Dahl calls this "The Ultimate Vegetarian Filet" for good reason. When grilled just right, the plump portobello can mimic both the flavor and texture of a regular meat burger patty, and is a great option for vegetarians and cookout guests aiming to watch their cholesterol levels. In this recipe, the grilled portobello cap, caramelized onions, creamy Havarti cheese, and chipotle aioli all complement one another without being too overpowering.
Beet + Chevre
Chef Dahl's got more veggie options up her sleeve, and this one's particularly versatile because it works with meat, too. First thing's first: When cooking outside, make sure your grill is the perfect temperature (375-400 °F). This makes all the difference in searing the perfect burger, whether it's veggie or meat. "No combination can stand a chance if the coals aren't evenly arranged and tempered," says Chef Dahl. To go meatless, substitute the patty with a thick slice of beet; charring it on the grill gives it a perfect crunchy-on-the-outside, juicy-on-the-inside texture that's similar to beef. Season your beet patty with pomegranate teriyaki and top with chevre, organic arugula salad, and pickled red onions. If you're going for a meat patty, try a 50/50 mix of beef and lamb (Chef Dahl recommends seasoning the meat beforehand with a little Worcestershire sauce and Dijon mustard for an added flavor kick), then add the seasoned beets and chevre on top.
Advertisement
Courtesy of Twisted Tea
Who says you need to wait until after dinner to have a little dessert? Instead, sweeten up your July 4th cookout by serving Twisted Tea's Donut Burgers with Twisted Tea Icing. After seasoning and cooking the burger patties to your desired temperature, slice the donuts in half to make the ultimate buns. The best part? The icing is easy to make; all you need to do is whisk together 1 cup of powdered sugar and 1 oz. of Twisted Tea Original in a small bowl until smooth. Once assembled (and topped with bacon if you're feeling adventurous), simply drizzle the icing and serve with an ice cold Twisted Tea.

©2019 TWISTED TEA BREWING COMPANY, CINCINNATI, OH. PLEASE DRINK RESPONSIBLY. CONTAINS ALCOHOL
Strawberry Glaze + Habanero Cream Cheese
We know what you're thinking: Cream cheese and strawberries have no place on a burger! But don't knock it until you try it. Combining the robust flavor of seasoned ground beef with spicy cream cheese and sweet, refreshing strawberry will ensure a flavor explosion your guests have never experienced at a BBQ before. This is the brainchild of Chef Paul Pincus of Legends Tavern & Grille and is made up of an 80/20 Angus beef patty, caramelized onions, strawberry glaze, crispy bacon, and habanero whipped cream cheese. Served on a toasted brioche bun, it's the ultimate balance of sweet, savory, and spicy.
Helen Li
Scrapple + Fried Egg + Hollandaise
This one's for you Pennsylvanians out there, as this burger pays fitting homage to a regional breakfast favorite. A type of savory pudding made of hog offal, buckwheat flour, and spices then pan-fried, Scrapple is certainly an acquired taste, but Chef Rob Mullen of Philadelphia's Campbell's Place in Chestnut Hill loves to add it to his burgers. He emphasizes that the key to a great burger's base (i.e, the patty itself) is achieving the right lean to fat ratio (80 percent lean and 20 percent fat). This results in a perfectly juicy burger to top with this tasty ensemble. Prepare the egg any way you like (sunny-side up adds that nice gooey yolk factor), then add some pre-made Scrapple, or make your own if you're feeling adventurous. Finally, top with a pat of homemade Hollandaise; it's the savory bow atop an umami-rich gift.
Hot Dogs + Relish
Summer grilling presents several questions: Burger or hot dog? Cheese or relish? Mustard or Ketchup? The answer, of course, is to simply not choose, but instead combine them all. Eggslut's famed chef Alvin Cailan recommends topping your burger with sliced hot dogs toasted to perfection on the grill, your favorite cheese, onions (caramelize them for extra flavor or chop them fresh for an added crunch), relish, ketchup, and mustard. If July 4th were a food, it'd be this dish right here.
Scallops + Teriyaki
Chef Cailan also brings a more portable take on surf 'n' turf to the picnic table. While this one might require some forethought, the end result is more than worth the extra effort. (Plus,  seafood always elevates a dish). Here's what we're working with: grilled scallops sliced thin, a delicate teriyaki glaze, beef patty, Japanese pickled cucumbers, and soy sauce mayo. Since you should never have scallops baking in the sun before eating, you'll want to make sure you buy them fresh that day from your local seafood market and keep them well-chilled (never frozen) until they're ready to throw on the grill. You'll also want to prepare your cucumbers and sauces ahead of time, so all you'll have to do is grill your beef and your scallops, and assemble everything before serving.
Now that you've got a few tasty options in the back pocket, try one (or more) of them out this July 4th. Your guests will be begging for the recipes… once they're done devouring every bite.