Things chefs say: 18 secrets from the kitchen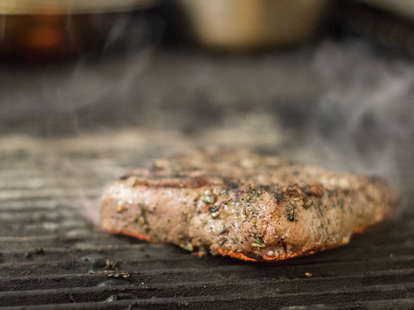 The kitchen speaks its own language, much of which wouldn't be allowed on network television or on the webpages of very good-looking men's Internet publications. But amid the cursing, trash-talking, and more cursing, there lie pearls of kitchen wisdom implemented by chefs to educate, motivate, and gently berate their motley crews.
We asked a group of distinguished chefs and restaurateurs to share the maxims that they use most in their kitchens. Read on for a crash course in making things once, the dangers of ripeness, and going to hell.
"Stick to steel. It will save your career."
Kris Morningstar, Terrine (Los Angeles, CA)

"No matter how bad you may feel, get up, show up, dress up, and never, ever give up."
Tim Love, Lonesome Dove and Restaurant Startup (Dallas, TX)

"The goal is not to ensure that everything is right. The goal is to expose everything that is wrong."
Erik Battes, Morimoto (New York, NY)

"Do right when no one is watching."
Brendan Collins, Waterloo & City and MTV's House of Food (Culver City, CA)
"When you're green, you grow, and when you're ripe, you rot."
Chaz Brown, Seoul Chicken (New York, NY)

"Treat it like it's yours, and one day it will be."
Jesse Schenker, The Gander (New York, NY)
"Take your time, and hurry up!"
Candy Argondizza, L'Ecole and International Culinary Center (New York, NY)
Dan Gentile
"Don't drink the profits."
Jimmy Carbone, Jimmy's No. 43 (New York, NY)
"'The chef on duty will constantly point out the time, name the next project, and finish with 'push!' The entire team then calls it back. It is a simple one, but it gives me goosebumps every time."
Jorge Hernandez, Qui (Austin, TX)

"'No mames'. This means 'don't suck'. It's probably the number one thing I've heard in every restaurant I've worked in or owned. It's kind of like 'station' in Bill & Ted's Bogus Journey -- it can mean anything from 'damn' to 'you're kidding' to 'whatever'."
Chris Cusack, Down House (Houston, TX)
Dan Gentile
"We sell heat, not fire. The sizzle, not the steak. It's about the whole experience."
C.K Chin, Swift's Attic (Austin, TX)
"We're going to hell, and I'm driving!"
Steven McHugh, Cured (San Antonio, TX)
"Leave it alone. More is not more. Keep it simple and sexy."
Ed Brown, Lincoln Center Kitchen (New York, NY)

"'Lavorar bene o lavorar male fa lo stesso tempo.' To do a job well and to do it poorly takes the same amount of time."
Ruggero Gadaldi, Beretta, Delarosa, and Pesce (San Francisco, CA)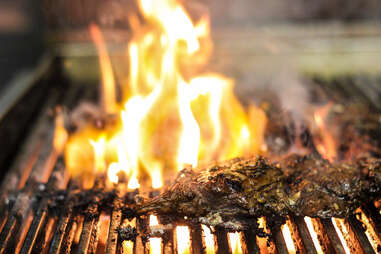 Dan Gentile
"If it's brown, it's done. If it's black, you're done."
Daniel Holzman, The Meatball Shop (New York NY)

"Think about the process."
Levon Wallace, Proof on Main (Louisville, KY)
"Make it nice, not twice."
Jimmy Bannos Jr., The Purple Pig (Chicago, IL)

"I say 'make it your bi**h'. Butchering those chickens takes too long? 'Make it your bi**h'. That omelet won't roll right? 'Make it your bi**h.'"
Isaac Miller, Maven (San Francisco, CA)
Dan Gentile is a staff writer on Thrillist's National Food and Drink team. His favorite restaurant maxim is "get out of here, we're working", which he hears quite regularly. Follow him to awkward yells of "behind!" at @Dannosphere.