Even if you've never seen his shows or read his books, you know a few things about Anthony Bourdain. His reputation as a former hard-partying chef who left that scene to eat exotic foods on the Travel Channel and CNN precedes the foul-mouthed New Yorker. But even if you know he doesn't mince words, do you actually know the man? We hit the archives to bring you interesting facts on Bourdain's family, his early pay scale, and his deep-seated hatred of Billy Joel. It'll make you gain a whole new appreciation of America's sarcastic uncle.
1. His first kitchen job was at a wedding... and he saw the chef having sex with the bride
At the tender age of 17, Tony entered the field as a dishwasher for a wedding reception. Later on in the evening, he spied the bride and chef having sex by the garbage. Obviously, he was sold.
2. His big break came from The New Yorker
While he was serving as chef at Les Halles, Bourdain composed an insider's expose on the kitchen scene. Then, in a state of (self-admitted) inebriation, he submitted it to The New Yorker. He never expected anything to happen with it, but the magazine reached out and "Don't Eat Before Reading This" hit the April 19th, 1999 issue. The most memorable bit was Bourdain's revelation that any fish ordered on Monday is likely four days old... and possibly not even refrigerated. People quote it so much to this day that Bourdain's convinced it's going on his "fucking headstone." Along with many colorful expletives, we're sure.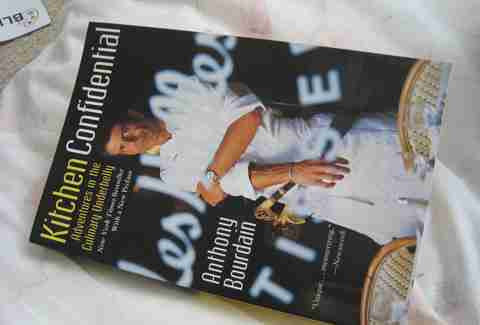 3. He got $50,000 for Kitchen Confidential
Shortly after the New Yorker article exploded, a publisher offered Bourdain $50,000 to expand it into a book. That may seem laughable now, but in 1999 Bourdain was making $850 a week at his job -- and forget about health insurance or paying off his AmEx credit card debt. So he jumped at the chance, and it was a good thing he did, because Kitchen Confidential kinda killed it. The book spent 44 weeks on the best-seller list, was translated into 22 languages, and made Bourdain into a media star.
4. But before that, he was a mystery novelist
His writing is not limited to the popular quintet of Kitchen Confidential, A Cook's Tour, The Nasty Bits, No Reservations, and Medium Raw. (Fine, we'll also count Les Halles Cookbook.) In 2012, Bourdain came out with his first graphic novel, Get Jiro! But long before that, before he was even Bourdain™, Tony was a mystery novelist. He published his first one in 1995. It was called Bone in the Throat, and it was about murder-y chefs. (The reviews were not kind.) After Kitchen Confidential took off, he followed up with Gone Bamboo. In 2003, The Bobby Gold Stories dropped. He also wrote an "urban historical" called Typhoid Mary in between all that. But if you don't feel like doing the reading, no sweat: A movie adaptation of Bone in the Throat (starring Chuck Bass from Gossip Girl) is on the way.
5. Writing runs in the family: His mom is a New York Times vet
Pierre and Gladys Bourdain spawned this foul-mouthed bundle of joy. While Gladys was a stay-at-home mom as Tony was growing up, she eventually returned to the workforce as a copy editor for the New York Times. As for Pierre, he worked for record labels, putting in time at several companies during his career, including CBS Records. They have another son, Chris, who works for a Scandinavian brokerage firm. He sometimes shows up on his big bro's shows, like in this episode of No Reservations.
6. His career goals were set when he tried oysters... at the age of 10
Bourdain says his path was laid during a formative family trip to France. (In case you couldn't tell from the name, Tony's dad was French.) Young Bourdain had a sense of culinary adventure from an early age -- while he was on that vacation, he tried anti-kid cuisine like escargot. But it was an excellent oyster that had the biggest impact on him, and helped nudge him towards cooking.
7. He used to fire people for playing Billy Joel
Like everything else, Bourdain is opinionated about music. If he loves a band, he might dedicate a book to it (he did that for the Ramones with The Nasty Bits). But if he doesn't, he might fire people for daring to listen to its tunes. When he was a chef, Bourdain used to say it was a fireable offense to play or be seen enjoying Billy Joel songs. Yet despite his utter loathing of the Joel catalog (even "A Matter of Trust"??), Bourdain insists he's cool with Billy. He's had dinner with him! And told him how much his music sucks.
8. His IMDb is hilarious, with shows like Yo Gabba Gabba! and The Simpsons
You know Tony's starred on Parts Unknown, No Reservations, The Layover, and A Cook's Tour. You've probably also caught him on Top Chef or The Taste. But his Hollywood resume goes slightly off the rails starting around 2010, when he popped up on Yo Gabba Gabba! as "Dr. Tony" (witness that marvel above). He'd later cameo on The Simpsons, spend time with the Miami Ink crew, appear on the Nickelodeon show Sanjay and Craig, and play a parody of himself on Archer. But seriously, watch the Dr. Tony stuff.
9. His wife is an MMA star, can kick your ass
Bourdain is married to Ottavia Busia Bourdain, the lady in this photo. But don't let the smile fool you: Ottavia could knock you out cold. She's a mixed martial arts fighter who's competed in the International Brazilian Jiu-Jitsu Federation Open, and trains just about every day.
10. He's really into acai bowls
Like his wife, Bourdain is into martial arts, specifically jiu-jitsu. So while it doesn't seem likely that the culinary bad boy, who has made his name slurping down fatty, nasty bits, would have something in common with the California wellness crowd, Bourdain love acai bowls. It's a habit he picked up from his Brazilian instructors, who rely on the Amazonian miracle fruit to help heal from training. And he loves them so much he included a recipe in his new cookbook, Appetites.
11. He doesn't care for craft beer
It may be surprising that someone so attuned to good food doesn't care about how all things taste. But Bourdain is not a fan of craft beer. More than that, he thinks that craft beer culture is antithetical to the purpose of a bar. He recently told Thrillist, "I'm in some sort of brewpub. What's good? But I looked around: The entire place was filled with people sitting there with five small glasses in front of them, filled with different beers, taking notes. This is not a bar. This is fucking Invasion of the Body Snatchers. This is wrong. This is not what a bar is about."
Sign up here for our daily Thrillist email, and get your fix of the best in food/drink/fun.