10 Things You Didn't Know About Jack in the Box
Named for the most terrifying toy of your childhood, Jack in the Box has spent the better part of the 20th century conquering the West Coast. And while you might be familiar with their Super Bowl commercials and their late-night munchie campaigns, are you really up on their explosive, Star Trek-filled history? Unless you spent some time playing their mascot Jack in high school, we're guessing no, but that's okay, because we've got the CliffsNotes right here. Plenty of fast-food founders can brag about having a Bentley, but only Jack in the Box's guy owns a coveted spot on Richard Nixon's enemies list.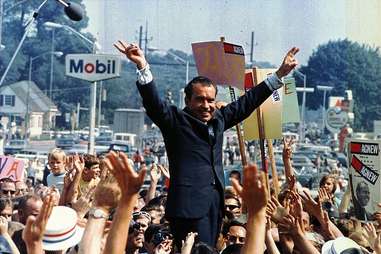 1. The founder was on Nixon's "enemies list"
Robert O. Peterson opened the first Jack in the Box in San Diego in 1951. He'd go on to have a long, illustrious career full of interesting footnotes -- he got a City of Paris Medal of Honor! He was in naval intelligence during WWII! But by far the wildest was his appearance on the infamous "enemies list" compiled by Nixon's White House administration. Peterson apparently landed there because of some donations he made to Democratic candidates, which is ironic, since the man was a registered Republican.
2. He also married San Diego's first female mayor
That'd be Maureen O'Connor, who is unfortunately known for less sterling achievements nowadays.
3. And he was super into the sea
Peterson was known for being a generally philanthropic guy, but one of his most notable beneficiaries was UC San Diego. The man was the school's largest individual donor (they eventually gave him his own building on campus), and much of that cash went to a very specific area of interest: oceanography. Peterson gave several significant gifts to the school's Scripps Institution of Oceanography, bankrolling a lot of Professor John D. Isaacs' research. That guy was apparently looking into stuff like icebergs and ocean pollution, but we have to assume off-books he was also taking Peterson on expeditions in search of Nessie.
4. The burgers originally cost $.18
Of course, this was in the 1950s, when dimes, nickels, and pennies were not yet worthless garbage.
5. They blew Jack up in a 1980 ad campaign
For years, the company mascot "Jack" existed mainly as kitschy drive-thru decoration. When the marketing brass decided to revamp their image, they left old Jack behind by blowing him the hell up in an ad campaign -- which also featured an old lady with an insatiable bloodlust. Jack was phased out of the intercoms and other branding, and wouldn't return until the early '90s, when he appeared in the "Jack's Back" campaign seeking vengeance.
6. They have a secret-menu shake
The regular Jack in the Box menu offers an Oreo Cookie Ice Cream Shake. But if you go slightly off-books and ask for mint Oreo, you'll be rewarded with a refreshing green shake that thankfully bears no traces of kale.
7. The mascot comes as Pez dispensers and antenna toppers
Jack in the Box has really moved some merchandising units. Their mascot is available as Pez dispensers, bobbleheads, action figures, and antenna toppers -- which are apparently the main draw. The chain's produced 32 million toppers to date, though sadly not all of them come in this unsettling Dia de los Muertos theme.
8. They're total Trekkies
Shout-out to the Picard-loving Jack in the Box junkies who managed to collect all four Star Trek Generations collector's cups.
9. Their stock is showing up Chipotle and McDonald's
Yahoo Finance recently looked at the stock for Jack in the Box, Chipotle, and McDonald's and found that, while things were close with Chipotle, Jack was the more impressive one across the board. That's in no small part due to another fast-food chain they own: Qdoba. The Chipotle competitor is apparently giving its parent company a major boost on Wall Street, proving yet again that burritos are always the safest investment.
10. This dude from Pulp Fiction stars in their sexual harassment training videos
Even if you're not familiar with Phil LaMarr's voice work on Futurama or sketch work on MADtv, you at least gotta know him as that unfortunate dude Marvin from Pulp Fiction. But before he was shot in the face by John Travolta (still luckier than Idina Menzel), he was the star of a sexual harassment training video for Jack in the Box... that they still use to this day. It was shot in 1991, but we still have to hope there's a subplot about inappropriately complimenting your coworker's Big Kahunas.
Kristin Hunt is a Food/Drink staff writer for Thrillist, and wonders if everyone on Nixon's enemies list met up once a year to party and scheme. Follow her at @kristin_hunt.