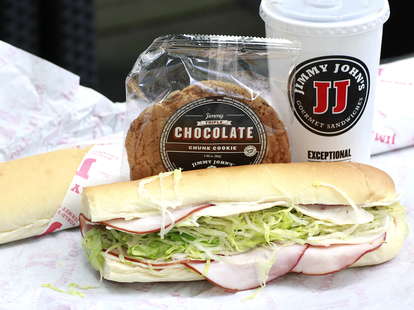 Andy Kryza/Thrillist
Andy Kryza/Thrillist
Sometimes, you want a sandwich, but you just don't want to commit to going outside for the sandwich. That's why there's Jimmy John's, the "freaky fast" chain that's been delivering subs to college students and cold-cut hoarders since the '80s. While you might have substantial knowledge of Jimmy Chips, do you have all the intel on the company's Guy Fieri and Drew Brees connections? You will once you read our report. You'll also be giving thanks that Jimmy John Liautaud didn't go with his original business plan.
1. The company was founded by 19-year-old Jimmy John Liautaud
When young Jimmy John Liautaud graduated high school, his dad gave him two options: join the army or start a business. Since Papa Liautaud promised $25,000 toward his son's potential venture, Jimmy John took the cash and set out into the service industry. As you can see in the photo above, he ended up with a national chain and at least one pie, so he made the right choice.
2. It was originally going to be a hot dog stand
At first, Liautaud was dead set on selling franks. He spent the Summer of '82 touring the Chicago hot dog scene for insight, but quickly learned he needed more cash to make his stand happen. His dad wasn't budging at $25k, though, so he switched to a sandwich model after he stumbled upon a place that was selling subs and beer out of a cooler. He figured he could do the same thing, only without the beer. Which shows amazing foresight, since many JJ's patrons often pregame before their Turkey Tom.
3. They couldn't even afford ice at first
The inaugural Jimmy John's in Charleston, IL was so bare-bones -- like, in-a-garage bare-bones -- it featured just one used fridge, an oven, a meat slicer, and a freezer. Since there was no cash leftover for an ice machine, soda was exclusively served neat -- though of course, you were welcome to BYO ice cubes.
4. The "marketing strategy" was handing out food on the street
Billboards were a little out of teen mogul Liautaud's budget, so to build buzz, he literally loaded his arms up with sandwiches and prowled the streets looking for hungry new clients. Apparently the local college kids thought he was hilarious, and loved how little he charged, so they started frequenting the shop.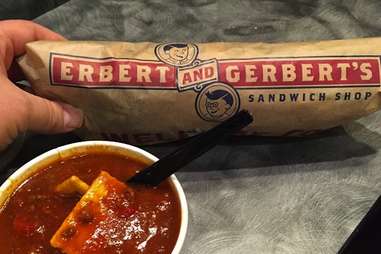 5. Jimmy's cousins are also sandwich entrepreneurs
Sandwich skills run in the Liautaud family. Jimmy John's cousin Mike Liautaud is the brains behind Wisconsin spot Milio's, while another cousin, Kevin Schippers, started up Erbert & Gerbert's Sandwich Shop. At this rate, they might wanna consider adopting an Italian sub as their new family sigil.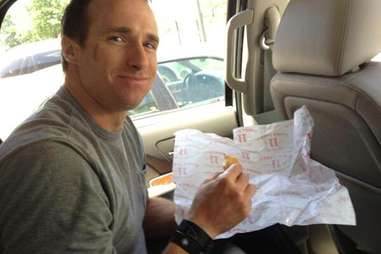 6. Drew Brees is obsessed with the place
If there's anyone who loves Jimmy John's more than Jimmy John himself, it's Drew Brees. The Saints quarterback first became infatuated with the place when he was an undergrad at Purdue. He always ordered the #9 Italian Night Club, and he was apparently so dedicated to that sandwich that he made it his jersey number. He later opened five franchise locations in the NOLA area. He plans to open up to 20 more. But he's not the only one with a debilitating JJ's addiction...
7. So is Mitt Romney
Throughout his 2012 campaign, Mittens gave Jimmy John's tons of shout-outs. It was constantly on his tour bus and even in smaller vehicles, as seen in the video above. Could JJ's become a stumping spot in 2016? Better start keeping an eye on Ted Cruz's sandwich orders.
8. They went the extra mile for a man's last meal
In 2012, a Missouri Jimmy John's got a frantic request from Jeannie Marmaud. The lady was trying to get a tuna sandwich for her husband John, who had begged her for JJ's and was also sadly losing his battle with cancer. She didn't have a car and lived outside the delivery zone, but Jimmy John's sent a driver over with the food anyway. When the delivery girl got there, she refused Jeannie's money. John passed soon after that, and Jeannie called the store's owner personally to thank her for going beyond the call of duty.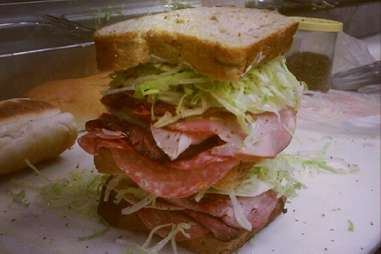 9. The secret menu includes Noah's Ark and Chuck Norris
Want double meat on your Gargantuan? That's a Noah's Ark. Don't care about the double meat, but want some GD tuna and bacon on that Gargantuan? Ask for a Chuck Norris. Craving a pure, unadulterated bacon sandwich (we're talking six bacon strips on a roll)? See if the vets can make you a Slim BLT, the most secret of all Jimmy John's secret menu items.
10. Jimmy John and Guy Fieri are BFFs
Liautaud has been on Fieri's Diners, Drive-ins and Dives, and even named the guy in his ice bucket challenge. He also got some social media editor to refer to Fieri as his "brotha from anotha motha" on Facebook, so you know he owns property in Flavor Town.
Kristin Hunt is a Food/Drink staff writer for Thrillist, and would like to know why no one informed her about the Slim BLT. Follow her to small indignities at @kristin_hunt.