10 Things You Didn't Know About Noodles & Company
Chipotle tends to dominate any discussion of Denver-based, fast-casual chains. But just because Chipotle has 5lb burritos doesn't mean you should ignore the city's other national food star: Noodles & Company. Founded just two years after Steve Ells' juggernaut, Noodles & Co. has never quite played by the rules. It's Italian, and also Japanese, and also Thai, and also 'Merican, thanks to the beloved Wisconsin Mac & Cheese. Find out how the company's brazen strategy has played out over the past two decades below. You'll walk away with an in-house recipe, but, sadly, no French toast. Unless you're in Toronto.
1. The founder put in time at Pepsi and Oscar Mayer first
When Noodles & Company founder Aaron Kennedy set out to start his fresh fast-food chain in 1995, he wasn't some food industry greenhorn. The man had served as a product and brand manager for Pepsi-Cola prior, and a marketing research assistant for Oscar Mayer before that. It's unclear if his responsibilities included manning the Wienermobile, but we hope he got in at least one spin.
2. A bad review nearly sunk it
After putting down roots in Denver, Noodles & Company decided to open a second shop a few states over. But it was not prepared for the hell a Wisconsin State Journal critic was about to unleash on the Madison location. While the writer praised the store concept, the compliments ended there. He proceeded to trash just about every item in the place, and soon after the article dropped, so did sales. Two months after the fact, it was just barely covering food and labor (rent and utilities took a backseat) and the end seemed nigh. But the company instead seized the opportunity to revamp, and the streamlined model soon brought Noodles & Company back from the brink.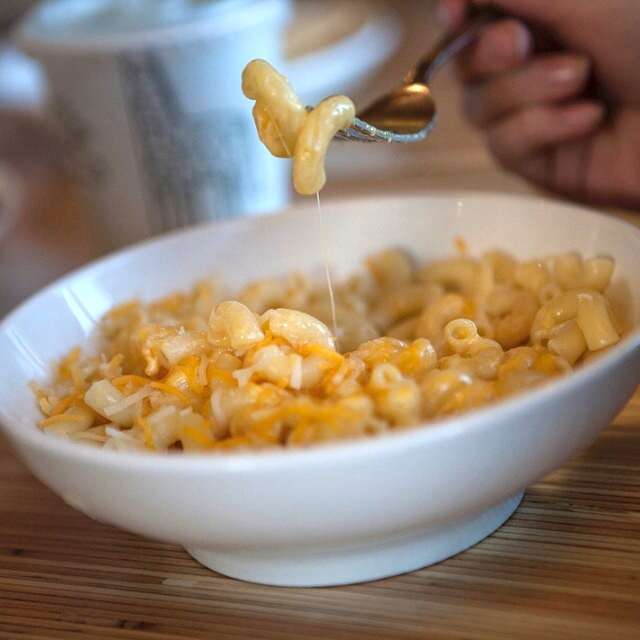 3. The Wisconsin Mac & Cheese is the most popular dish
People clamor around the signature mac more than any other item -- the proof is in the 50 million servings it's dished out since Noodles & Company first launched.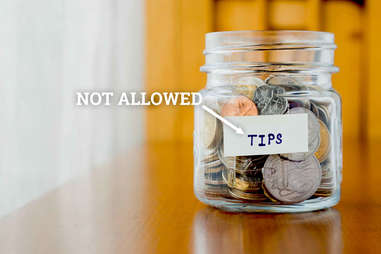 4. The CEO thinks no tipping is the key to its success
Kevin Ruddy straight-up said the reason Noodles & Company keeps expanding is because of the no-tipping policy, which gets customers in and out quicker and keeps prices low. Guess he's been hanging out with Tom Colicchio.
5. You can make the Bangkok Curry at home
The staff has demoed the recipe on enough localnewsaffiliates at this point that frankly, it's embarrassing you haven't learned this yet.
6. The sauté line is where it's at
When asked for recommendations, a (supposed) Noodles & Company employee encouraged customers to head for the Pesto Cavatappi, Indonesian Peanut Sauté, and Whole Grain Tuscan Fresca on the "sauté line." It's apparently fresher than the side of the place with the Steak Stroganoff, Alfredo MontAmore, and (hold us) Wisconsin Mac & Cheese.
7. It's serving breakfast in Canada
The recently-opened Toronto outpost is not only the first international location, but the first Noodles & Company to serve breakfast. The spread includes Mediterranean- and Asian-style wraps, English muffin sandwiches, and French toast, but don't hold your breath about trying it stateside anytime soon. The brass says there are no plans to add a permanent breakfast menu in America and that it exists in Canada simply because it aligns more with the public's eating habits. This implies Canada loves breakfast more than us, so nation: start working on your pancake patriotism.
8. It recreated the Lady and the Tramp scene
In an inspired bit of Valentine's Day-themed marketing, Noodles & Company recast the Lady and the Tramp spaghetti sharing scene with real-life dogs. These pups didn't romantically slurp one strand together, but they were pretty pleased with the meatballs. And, of course, the accordion player.
9. Menu casualties include the miso soup and diced ham
In an interview with The Denver Post, Noodles & Company founding chef Ross Kamens poured one out for the homies that were cut from the original menu. Among them? Miso soup, spicy peanut cold noodle salad, and a diced ham "add-on" that people used to put on the mac.
10. People have written songs about it
We didn't say they were good ones.
Kristin Hunt is a staff writer for Thrillist, and wishes her career allowed her to feed dogs spaghetti. Follow her at @kristin_hunt.