To the uninitiated, the first thing you didn't know about paczki ("poonch-key") is what the hell they are. To those who go rabid for them every Fat Tuesday, the only question is: "Why can't I sate my hunger for these things?" The little Polish jelly donuts -- a rite of passage in cities with high Polish concentrations -- pack 400-500 calories and 25g of fat into a sugar-coated beast the size of a hockey puck. In preparation for Lent, millions are sold in mere hours. They're even the namesake of their own holiday. But there's so much more to them than sugar, fat, and revelry. Here's the skinny on what could make you fat.
Recommended Video
The Best Cheap Chicken Slider in DC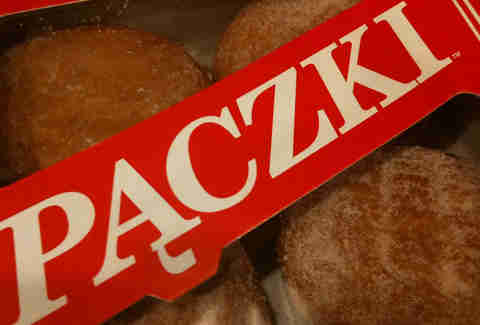 1. They began as a way to avoid food waste
Like many things in Poland, paczki have roots in Catholicism. They were created as a way to use up all the available sugar, eggs, butter, lard, and other goodness before Lent, during which folks give up an indulgence for 40 days. We're not sure how all the medieval Hustlers were put to use.
2. They used to be savory
The paczki's roots date back to the Middle Ages, when they were filled with pork fat and fried in lard.
3. They united the classes
During ancient celebrations, the rich dined on roast game and other delicacies. Peasants let loose with cabbage and jellied pigs' knuckles. Paczki, however, were the common ground between the upper and lower classes, with rich and poor alike gorging on them.
4. They were revolutionized by a royal ugly dude
It was Polish King August III -- a monarch who was way more interested in kicking it around Europe and eating as much as he could than in ruling -- who is often credited with the paczki ditching savory for sweet. That's because he hired a bunch of French cooks to do their thing in his castle. He was, naturally, kind of a big dude.
5. They're a huge reason to party
In Polish-heavy Midwestern cities like Detroit, Cleveland, Green Bay, and Chicago, Fat Tuesday is known as Paczki Day. During the holiday, local bakeries sell tens of thousands of fresh pastries in the morning, with people lining up around the block to get them. There are also parades, eating contests, drinking, and a lot of naps. Basically, Paczki Day is like Mardi Gras, except the dudes' boobs are bigger.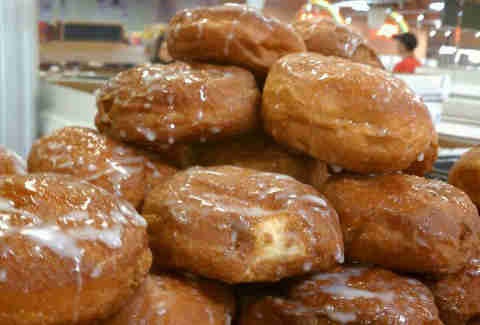 6. They are consumed for sport
The paczki-eating record stands at 23 pastries in 15mins, held by a dude in Hamtramk, MI (a mostly Polish town within Detroit). That's approximately 11,000 calories and 550g of fat.
7. They have small amounts of booze in them
Much like the folks who wake up early to bake them fresh, most paczki have a little bit of grain alcohol in them. The spirit helps the pastry avoid absorbing too much fryer grease.
8. Hipsters are getting in on the paczki game
Common paczki fillings include plums, lemon, chocolate, and raspberry. Others include rose-petals -- a common ingredient in Polish cuisine -- and maple bacon -- a common ingredient in hipster cuisine.
9. There's a movie about them
In 2004, Army Armstrong Films released Paczki: The Movie!, a documentary about paczki making in Lorian County, Ohio (trailer here!). Army Armstrong also produced such classics as Hollywood Comes to Vinalhaven, Ancient Futures: Learning from Ladakh, and the owl documentary Who Lives In Your Backyard.
Andy Kryza is Thrillist's national eat/drink senior editor, and his last name is the reason "Y" is sometimes a vowel. Follow him to a Polish bakery at @apkryza.