10 Things You Didn't Know About Popeyes
When you come from NOLA, crazy backstories are kind of par for the course. But even the city's fast-food joints have histories that make BW3's figure skating background look commonplace. The Popeyes tale rests on Al Copeland, a larger-than-life chicken mogul known for his (literal) showboating, lavish weddings, and public fights with vampire ladies. Seriously. We also threw in a few stories about the chicken chain's trademark jingle and famous fans, but you're going to want to read that whole Copeland saga below in order to fully appreciate the wonders of Popeyes chicken. We can only imagine the shenanigans he's getting into with JFK and Howard Hughes in the sky as we speak.
1. The chain is named for Gene Hackman, not the sailor
Everyone assumes Popeyes is named for the cartoon character, but the honor actually goes to a fictional '70s detective. Founder Al Copeland named his place for Gene Hackman's character from The French Connection, Popeye Doyle, basically because he liked the dude's style. And considering Doyle provided the blueprint for every modern car chase scene, we can't argue.
2. The founder got his start in donuts
Copeland entered the food biz at the tender age of 18, when he opened a Tastee Donut franchise. He had to sell his car for the start-up capital, but he was able to turn the place into a profitable shop -- which is pretty impressive, considering he didn't even finish high school. Copeland stuck with Tastee Donut for several years, until he noticed the KFC next door was crushing it and ditched fried dough for fried chicken.
3. Copeland lived large
Once he was making money off Popeyes, Copeland leaned hard into the playboy lifestyle. He was known for racing powerboats and cruising around New Orleans in Rolls-Royces. He had four insanely lavish weddings -- including one where he set off heart-shaped fireworks and commissioned the Popeyes helicopter to scatter rose petals. Also, the Times-Picayune apparently once referred to him as Louisiana's "homegrown Liberace," which leads us to believe he had an extensive collection of fur coats and candelabra to boot.
4. He also loved Christmas
Move over, Clark Griswold. If you're looking for the undisputed king of Christmas displays, you gotta hand it to Al. The man put together insane displays with over half a million lights in his front yard for years -- in fact, they caused so much traffic that his neighbors sued in 1983, so he staged the stuff offsite for several years, until a toned-down version returned to his estate in 1991. But Copeland channeled his holiday spirit in quieter ways as well. Every year, he underwrote gifts for 1,000 needy children. The presents were delivered on Christmas Eve signed by Santa, who's starting to look a little miserly compared to this jolly millionaire.
5. But hated Anne Rice
You don't get to Copeland's position without making a few enemies, but Al's most famous feud was pretty hilarious. Noted vampire novelist Anne Rice had it out with Copeland in 1997 over one of his non-Popeyes restaurants, Straya, which she thought was tacky. It seems she was especially pissed because she had her main vamp Lestat disappear into the building (back when it was a car dealership) in her book Memnoch the Devil, so she did what any normal person would do: took out full-page ads in the local newspaper bashing the place and updated her voicemail messages to nasty rants about Straya. Copeland took out a full-page ad in response, offering to treat her to dinner and help her "find" Lestat, but he wasn't too pleased. He filed a defamation suit that was eventually thrown out by a civil district judge. Rice later moved to California and Straya shut down, but locals still haven't stopped laughing over this bloodsucker beef.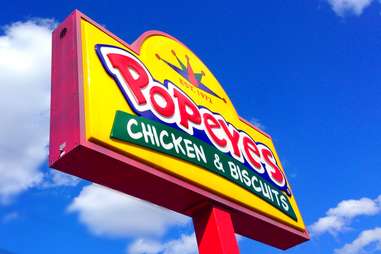 6. They went through a lot of name changes
Copeland's first chicken restaurant was called Chicken on the Run, because it was "so fast you get your chicken before you get your change." But people weren't into Copeland's food, so he switched over to a Louisiana Cajun-style recipe and rebranded as Popeyes Mighty Good Fried Chicken. Once that gained some traction, Copeland changed the name yet again to Popeyes Famous Fried Chicken. Eventually they were Popeyes Chicken & Biscuits, before their latest rebranding turned them into Popeyes Louisiana Kitchen. If you were wondering why they never picked up an apostrophe in all those name changes, Copeland always joked that he was "too poor" to afford one when he started out -- and the tradition apparently stuck.
7. They got some big names to sing the jingle
Popeyes famously enlisted Dr. John to sing their "Love that chicken from Popeyes" slogan when it first debuted in the '80s. But they also got Fats Domino and Rockin' Dopsie, Jr. & The Zydeco Twisters to sing in commercials over the years -- and then got all three acts to perform at the company's 30th birthday party. Your own 30th birthday party has never seemed sadder.
8. Popeyes had to buy their own recipes back
Just last year, Popeyes made weird news items nationwide for buying their own recipes for $43 million. It turned out that Copeland's family still owned the goods, even though Al relinquished control of the company in 1992, and had been charging the chain an annual royalties fee of $3.1 million. Now, Popeyes still has to pay the Copeland estate for spices, but at least they finally managed to acquire the world's most expensive index cards.
9. Ellen DeGeneres and Aubrey Plaza were both commercial stars
Though they're at polar ends of the cheer spectrum, Ellen and Aubrey have at least one thing in common: pre-fame Popeyes commercials. While Aubrey's ad for butterfly shrimp aired in the aughts, Ellen's is giving off strong '80s vibes.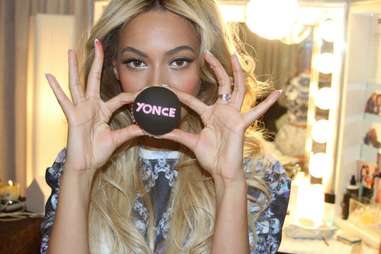 10. And they've got a slew of superfans
Baseball pros like Hank Aaron have proven their admiration by buying franchises. (Or, if you're Adam Jones, with a Popeyes birthday cake.) UFC fighter Daniel Cormier's so into that chicken, his opponents have taunted him with it and he featured it in a Meghan Trainor parody that he for some reason felt compelled to make. But their most famous fan is probably Beyonce. She talked about getting a free chicken for life card on Oprahback in 2003 and was even rumored to have had it at her wedding to Jay Z. This cupcake above is not from Popeyes, but we're sure Beyonce's got a combo stashed somewhere in the back.
Kristin Hunt is a Food/Drink staff writer for Thrillist, and has never experienced obits quite like Al Copeland's. Follow her to eccentric millionaire biographies at @kristin_hunt.