15 things you didn't know about Dunkin' Donuts
Beloved coffee chain and Starbucks nemesis Dunkin' Donuts has been dominating the news game lately between their crazy new breakfast sandwiches and lack of response to this petition. (Seriously, DD, we're waiting.) But how much do we really know about this monolith of coffee, pastries, and inexplicably intense Boston pride? To find out, Thrillist mounted an investigation into the six-decade history of this company, and uncovered more sex stings than you'd expect. For all the glazed and powdered action you can handle, keep on scrolling.
When founder William Rosenberg opened his first donut shop in Quincy, Massachusetts in 1948, it was originally named Open Kettle. Two years later, "Dunkin' Donuts" was officially born. Here's a photo of the flagship store taken 5mins ago with an Instagram filter from back in the day.
That Rosenberg was a hustler, too. As a teenager, he once carted a block of ice to the racetrack on a scorching Summer day to sell ice chips for 10 cents apiece. Of course, this was during the Great Depression, but he still made $171, and $171 back then could buy you nearly all of central Canada.*

*not entirely true
Before they got their latest mascots Cuppy and Sprinkles (which we'd assume are also the names of two very small, very nervous dogs belonging to a Kardashian), Dunkin' was repped by this fella named Dunkie. He even got a disastrous Mr. Potato Head created in his honor.
Back in the late '70s and into '80s, DD used to sell so-called Easter egg donuts. They were chocolate-covered, sprinkled, egg-shaped donuts that came in their very own carton. The best part? They tasted way less vinegary than your actual Easter eggs. Also, you could get a dozen for $1.99. Also, THEY'RE EASTER EGG DONUTS!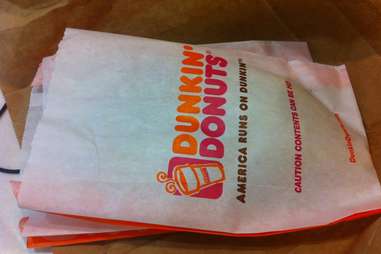 In 1977, Dunkin' pissed off the Quebec agriculture ministry (dibs on that band name!) when they refused to put French inscriptions on their bags and boxes. The French-Canadians responded by seizing and destroying over 15,000 containers from six DD stores in the area. Mon Dieu!
At the end of 2012, there were 10,500 Dunkin' Donuts stores worldwide, which includes over 7,000 franchised restaurants in 36 states and more than 3,000 international locations in 30 countries. And that's without Easter Egg donuts!
Dunkin' became a pioneer in its early days when it bucked the trend of selling only four varieties of donuts and instead offered 52 kinds, earning it a spot in the Freedom Fighter Hall of Fame.
Actor Michael Vale was best known as Fred the Baker (of "time to make the donuts" fame), but he did have a few other acting credits to his name. Just watch him haggle with Nazi dentist Laurence Olivier in Marathon Man like a pro, starting at 1:28.
International Dunkin' Donuts chains tend to get a little crazy -- and a little barf-y -- with their donut flavors. Think we're kidding? Then we invite you to taste the shredded chicken-and-chili-paste donut (Thailand), the kimchi croquette (South Korea), or this pork and seaweed pastry (China).
Oh, and who was chosen to hawk these donuts and generally represent the Dunkin' brand in Asia? LeBron James, obviously.
Al Pacino starred in a fake Dunkin' Donuts ad wherein he renames himself "Dunk-acino" in the movie Jack & Jill. How do we know you didn't know this? Because you are not Adam Sandler's relative, so you didn't see Jack & Jill.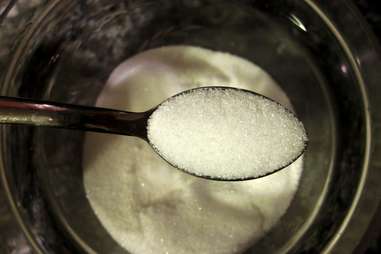 Two years ago, a woman working the night shift at a Rockaway, NJ Dunkin' Donuts was busted for street walking on her breaks, in a sting known as "extra sugar". In case you were wondering, yes, the cops are still laughing hysterically over that code name.
DD also has kickass crime-fighting employees who throw hot coffee in robbers' faces.
They Might Be Giants penned a bunch of songs specifically for DD commercials in the mid-aughts, including such timeless classics as "All Night Blowout" and "Lefty Loosey, Righty Tighty". TMBG member John Flansburgh later called it the "best gig of [his] life", so you know he got unlimited munchkins out of that deal.
Might as well call it a day, weddings, because nothing will ever top the sweeping romanticism of a Dunkin' Donuts ceremony. In 2010, one couple decided to tie the knot in a store on Route 42 South in Jersey, bringing a reverend with them to officiate and scoring a gift basket of mugs and donuts in the process. Your move, Plaza reception hall.