17 Things You Didn't Know About Truffle Foraging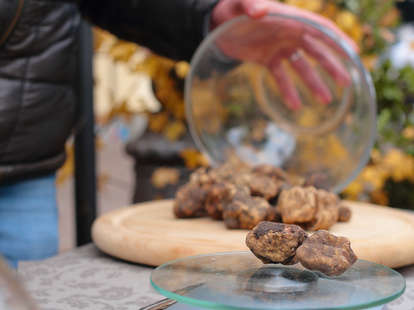 francesco de marco/Shutterstock
francesco de marco/Shutterstock
17 Things You Didn't Know About Truffle Foraging By John Marshall You probably know truffles as the thing that makes that entree expensive, but these 'shrooms, often worth more than gold by weight, are pricey for a reason: they are really hard to find. Only in a few parts of the world (primarily Italy, France, and the Pacific Northwest), delicacy-level truffles are so valuable that people will kill for them -- literally. So next time you meet a truffle hunter, say hi and thanks, because these guys deserve a serious salute.  By John Marshall
17 Things You Didn't Know About Truffle Foraging You probably know truffles as the thing that makes that entree expensive, but these 'shrooms, often worth more than gold by weight, are pricey for a reason: they are really hard to find. Only in a few parts of the world (primarily Italy, France, and the Pacific Northwest), delicacy-level truffles are so valuable that people will kill for them -- literally. So next time you meet a truffle hunter, say hi and thanks, because these guys deserve a serious salute.
1. If they weren't rare they wouldn't exist
Truffles grow on the roots of trees. As such, the host tree's roots and its truffles compete for tasty nutrients in the soil; these fruit-like fungi can't risk outcompeting its host or the truffles will die. Meaning there can never be that many. This kind of mutually beneficial tree-fungus relationship has a name: marriage. Just kidding, it's mycorrhizal (from the Greek myco meaning fungus, and rhiza meaning root). Truffles are almost exclusive to the roots of oak, hazel, poplar, and beech trees; they are finicky, growing only when the soil conditions (pH, moisture, minerals, etc.) are exactly right. In short, they are always scarce.

Continue Reading
2. There are thousands of species and you basically don't want to eat any of them
White truffles found in Italy and France are the rarest and most expensive. The rest of the $-important varieties, in order of rarity and value, are: black truffles, burgundy truffles, and Oregon white truffles, the last being the only truffle outside Europe taken seriously by chefs. So if you see "Bayonne New Jersey Truffles" on the menu, maybe steer clear.
3. It can take decades for truffle spores to mature
In France, orchards with truffle spores are called truffières, and they're responsible for anywhere from 80-90% of French truffles. But France only ranks seventh in the world for truffle-producing countries (that's after Poland!) This is due, in part, to the fact that even if you create idyllic truffle-sprouting circumstances, their presence is sporadic at best -- plus, you have to wait a couple decades after priming a tree for its roots to bear truffles.

4. French truffle foraging yields peaked around 1890
Like we said: farming is not the way, hombre.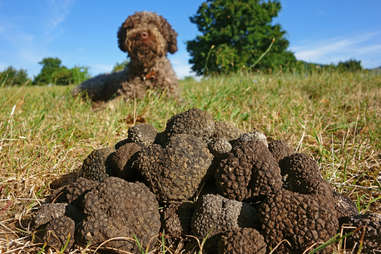 5. If they didn't stink we'd never find them
Truffles rely on animals digging them up to eat in order to spread their spores. As Jack Czarnecki, founder of Oregon White Truffle Oil and truffle foraging veteran of 26 years, points out, "Truffles have a very unique combination of aromas. This is the mechanism that attracts animals to dig them up." Basically, because they grow underground, they smell strongly, and their pungent odor is the secret to their potent taste.
6. Foragers use dogs because their sense of smell is 100,000 times better than ours
While any 'shroom-eating beast can smell their deliciousness, dogs are one of the few trainable animals that can track truffles. Their olfactory powers are measured somewhere from 10,000x to 100,000x better than ours. As James Walker, former director of the Sensory Research Institute at FSU points out, if we were to compare dogs' smell advantage to another sense, sight, and you're able to see about 1/3 of a mile away, dogs could see 3,000 miles away -- and that's on the low end of the scale, just 10,000x better.


7. And they use pigs because their sense of smell might be even better
Pigs, like dogs, have a super-human sense of smell, but they don't need to be trained to find truffles, and find them with astonishing regularity (relatively speaking), so traditionalists often argue that they make better truffle foragers. But...

8. Using pigs to find truffles has been banned in Italy since 1985
Pigs' hooves damage root systems, making it less likely the same host-tree will yield truffles another year. Italy banned their use and now, as Alana McGee, who trains dogs in Oregon to assist in truffle foraging, notes, dogs are more the norm. Pigs are way harder to train and more likely to eat the truffles after digging them up. While dogs will snack on truffles as well, it's easier to convince them to go for a finger of peanut butter instead.


9. When traditionalist truffle foragers do use pigs, those pigs are often horny
Sows are particularly adept at finding truffles, as truffles produce a compound which is chemically similar to androstenol, the most prominent sex pheromone in a boar's saliva. Lady-pigs will chase a whiff of this androstenol-like compound with piggy ferocity. Since these pigs literally lust after truffles, it can be hard to keep them on the leash (or from eating the valuable fungus).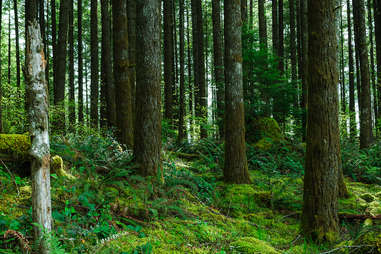 10. You can do it without any four-legged friend at all
Because we have eyes that are way smarter than dogs (we never fall for the trick where you act like you're throwing the stick but then you don't), human can check trees for neat little holes left by rodents that typically dig up nibble-worthy truffles. In the Pacific Northwest, white truffles can be found with this method and careful "raking," which is exactly what it sounds like: using a small, four-pronged rake to dig them up. The skills gleaned from mom yelling at you to clean the leaves off the lawn can pay off big.


11. Truffles are pound-for-pound worth more than gold
In 2009, white Italian truffles cost $14,203.50 per kilo at Italian markets. To put that price in perspective, a kilo of gold costs $3,7488 at present. And, because truffles are getting harder to find in most of the world, the prices are trending upwards. To borrow the parlance of our times: mo' money, mo' problems.

12. Trafficking in truffles can mean dealing with criminals
Truffle foraging dogs are frequently stolen, and a few people have even been murdered over these fungi. "A lot of the truffles that end up in stores, or in chef's hands, are harvested in an [illicit] way," says McGee. The most common law breaking in the industry is harvesting truffles out of someone else's land, which, when compared to murder, isn't so bad.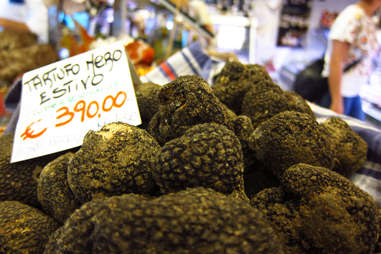 16. Last year, the world's largest truffle was sold by Sotheby's at auction
Weighing in at 4.16 pounds, this Italian-found truffle broke the record for world's largest. While some (BBC, CNN) had expected it to sell for at least a cool $1 million, it went, with the pound of a gavel, for a not-too-shabby $61,000 to an undisclosed Taiwanese buyer.


17. There's no way to tell if a truffle is ripe
Except by eating it. Smell, look, feel -- nothing reveals how ready a truffle is to eat except by chomping down. Dogs can be trained to only go after ripe fungi, but you have to trust in Fido's senses -- another reason to not hunt without one. McGee argues that not using animals means more un-ripe truffles reach the market. "It hurts the whole US industry, and has negatively impacted the reputation of Oregon truffles." Like between the murdering and horny pigs these guys don't have enough to worry about?