Meet the Chefs Pushing for More Diversity in the Restaurant Industry
Most of us can name five executive chefs. Honestly, most of us can probably name 10. But what about an African American executive chef? Did you say Marcus Samuelsson? Okay, name another.
Stumped?
It's not a trick question. Because while chefs across the country have been pushed into celebrity (if not rock star) status thanks to Netflix documentaries and Food Network competitions, they all share one thing in common: They are predominantly white.
So, where are all the black chefs?
That's the question that Soul Food Sessions, a Charlotte based non-profit, was founded on just last year. Today, it's the driving factor behind their mission: to not only increase visibility for minority chefs, but to provide a network for young people of color to break into the culinary world.
"...there is a whole lot more out there, waiting to break through and be seen."
"It's very rare that there is a black executive chef doing things on a higher level," Chef Jamie Barnes, one of the five founding chefs who created Soul Food Sessions, said. "That's one of the key things we're planning to change. To show there is a whole lot more out there, waiting to break through and be seen."
And while their mission started in Charlotte, thanks to a partnership with Coca-Cola Consolidated, they are about to expand into three other cities along the East Coast in 2018. They will partner with a local chef to develop unique menus for intimate pop-up dinners in Charlotte, Charleston, Baltimore, and Washington DC. Along the way, they plan to offer more than $10,000 in scholarships to aspiring chefs across each city.
The expanded Soul Food Sessions tour, called "The Table Is Set: A Four-City Tour Served With A Coke" is set to kick off with a reunion dinner in Charlotte June 19, where each of the five founding chefs will again prepare a meal together -- but this time, they'll be awarding scholarships to students at Johnson & Wales University.
This is possible thanks to their partnership with Coca-Cola Consolidated, the local bottler of Coke products in each of those four markets.
"It's very exciting to see the stories and see this kind of community involvement, and from the grassroots," Brian Nick, VP of Communications and Public Affairs for Coca-Cola Consolidated, said. "No one asked these individuals to turn around and help their peers. They did so because they wanted to help others and educate others. We really think these events are the kinds of things that enrich our communities, and help strengthen our communities overall."
"I always used to say we had a soapbox at first," Chef Greg Collier, another of Soul Food Session's founding chefs, said. "[Coca-Cola Consolidated] has given us a stage."
Jonathan Cooper
IT STARTED WITH A SINGLE POP-UP DINNER

For Barnes, Soul Food Sessions came out of simple frustration. Barnes is the co-owner and chef behind What The Fries, a Charlotte-based food truck that offers loaded french fries and unique burgers, a venture he runs with Chef Greg Williams, another founding member of Soul Food Sessions. While his current focus is on his food truck, Barnes is a trained chef. He received his culinary arts degree from Johnson & Wales University, and worked in not only traditional restaurants, but in fine dining establishments as well. However, when he approached other chefs in Charlotte about working with him on a pop-up dinner, he was often declined.
"Working on a food truck, a lot of people don't get a feel for my background of cooking," he says. "I got frustrated with that. So I reached out to [the other founding chefs] to see if they would be interested in doing a dinner to showcase what we could do."
"I pretty much had goosebumps for a week afterwards."
Collier hosted that first dinner at his restaurant, The Yolk, a brunch spot he runs with his wife, Subrina in October 2016. Barnes, Williams, and the Colliers worked with local pastry chef Jamie Suddoth and Chef Michael Bowling, a private chef in the Charlotte area, to create a five-course dinner that played on soul food stereotypes, or traditional dishes -- like fried chicken skins with a watermelon hot sauce, or a pound cake with caramelized butternut squash ribbons.  They only offered 45 tickets to that initial "Soul Food Session." It sold out -- and the guests gave a standing ovation at the close of service.
"I pretty much had goosebumps for a week afterwards," Suddoth says.
That one dinner spread into several over the course of 2017, featuring everything from traditional African recipes to showcasing student chefs at Johnson & Wales.
"Of course we didn't do a Gallup poll to find out whether people were there because of the food or because of the purpose. But we knew they were there," Bowling says. "So we knew there was a reason to do more and bigger events, that we could turn it into a movement and not just a one-time, pop-up event."
Jonathan Cooper
SO, WHERE ARE ALL THE BLACK CHEFS?
The number of black chefs across the country has grown in recent years, but still only 16% of chefs in America are African American, according to the U.S. Bureau of Labor Statistics. And while African Americans account for nearly 14% of all hourly restaurant employees, only 9.5% of restaurant managers are black.
All of the founding members of Soul Food Sessions said these numbers need to change.
"When I first worked in DC and Charleston and other cities, I was always the outlier," Bowling says. "I remember when I got my sous chef job when I was in DC and I was interviewing chefs and line cooks to open the restaurant with the executive chef, everybody was surprised that the executive sous chef was a minority. That hit me kind of hard."
"But over a meal and some good music, I think things are going to change."
When we asked the Soul Food Sessions founders why these statistics were so low, their answers varied. For some, they pointed to a lack of publicity and a lack of access to PR and marketing firms to get them that publicity. Others looked to the unfortunate tendency for people to only hire employees who look like them. A few mentioned that because it's so rare to see a black chef, aspiring young people may not be encouraged to pursue this field. Then, there is the simple lack of access to financial capital for those chefs looking to open their own kitchens.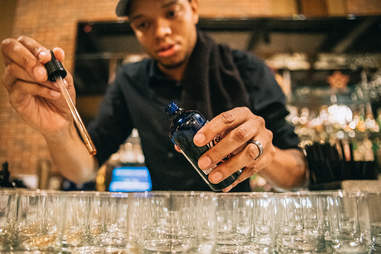 Jonathan Cooper
According to research from the U.S. Department of Commerce's Minority Business Development Agency, minority business owners are more likely to pay a higher interest rate on loans than their white counterparts, more likely to be denied credit, and less likely to apply for a business loan in the first place -- out of fear that their application will be denied.
Clearly, these aren't small problems and there aren't easy solutions. However, these are all issues Soul Food Sessions is looking to confront, be it through offering a scholarship or just setting the table for an honest conversation.
"It's going to be a slow project, because these are hard topics to talk about," Suddoth says. "But over a meal and some good music, I think things are going to change."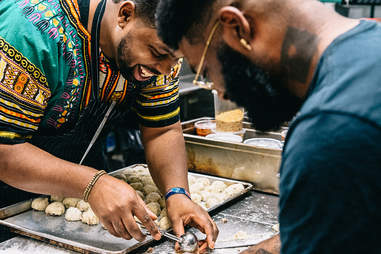 Jonathan Cooper
THE ISSUE WITH "SOUL FOOD"
When you think about soul food, you probably don't think about fine dining. Things like macaroni and cheese, fried chicken, collard greens -- most people think these dishes are reserved for home kitchens, backyard barbecues... not places with white napkins and three different kinds of forks.
While non-minority chefs are usually granted the public's permission to be fluid with their cuisine, especially in the fine-dining space, black chefs are typically pigeonholed into soul food -- whether that's their passion or not. So while changing the perception of soul food isn't explicitly in the Soul Food Sessions mission statement, is is at the forefront of the discussion they are planning to have across the East Coast this year.
"I remember when we first opened our restaurant, people walked in and just assumed we were cooking soul food," Subrina Collier said of opening The Yolk with her husband. "People went 'You got collards? You got biscuits?' and that made us push away from it, because you're not going to box me in."
It's no surprise that black chefs would have an aversion to cooking traditional soul food. Even Edouardo Jordan, one of the best chefs in the country right now, first opened Salare in Seattle, an Italian restaurant, before he turned his focus to JuneBaby, a Southern restaurant where he wanted to showcase Southern cooking "from a black chef's perspective." That's because it's a cuisine surrounded in conflict -- from slavery to long-standing racist stereotypes about fried chicken.
Chef Collier, for example, was so dead set against being "boxed" into Southern cuisine that he took his career to Scottsdale, Arizona -- aka the most "un-Southern" place he could think of. There, he started working for a Latin American chef at a fine dining restaurant, who was plating up elevated takes on Latin American classics.
"I left the South as an African American chef to not cook the food of my heritage, my ancestors," he says. "Chefs, especially white chefs, get to play with Southern food and elevate it. As an African American chef, I was kind of afraid of those things because I didn't think I could elevate it and evolve the cuisine.'
"Being in the South now is a point of pride. When I left, I felt like it was my kryptonite, now I feel like it's my sun. It's the reason I'm alive. It allows me to be a better chef. I'm reconnecting with my ancestors, I'm no longer afraid of those stories."
The reason they named their organization "Soul Food Sessions" was in part to address this issue. At their first dinner, they focused specifically on taking stereotypical "soul food" and offering a unique take on these dishes.
"Being in the South now is a point of pride... I'm reconnecting with my ancestors, I'm no longer afraid of those stories."
"Everyone has their own interpretation of what soul food is -- and no one is wrong." Barnes says. "I say if you're cooking from your heart, your upbringing… anything you cook or eat that makes you instantly remember those times, to me, that would be soul food."
Chef Kevin Mitchell, a culinary historian and the first black chef to teach at the Culinary Institute of Charleston, will join the chefs when they come to Charleston this year. Southern cooking, and its history, are his expertise. His master's thesis focused on telling the story of enslaved cooks, the recipes they spearheaded, and the history of black chefs in America.
"[Soul Food Sessions] gives people an opportunity to see that black chefs are more than people perceive us," he says. "We're more than fried chicken and macaroni & cheese -- even though that is part of who we are."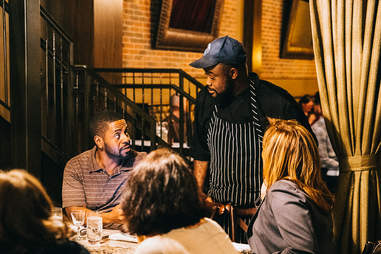 Jonathan Cooper
A PATH FOR THE FUTURE
After the reunion dinner in June, "The Table Is Set: A Four City Tour Served With A Coke" will then travel to DC and Baltimore in July, before heading to Charleston this October.
Each of the upcoming events will be small, with only about 100 tickets available. Because of that, the organization has also created a podcast, Stories from the Soul, which will discuss similar issues and be hosted by celebrity chef Gina Neely. That way, more people can hear the stories of black chefs around the country, as well as challenges in other cities, and pledge their support -- wherever they are located.
"Just like Soul Food Sessions events, Stories from the Soul discusses the challenges at the heart of the organization's mission while also sharing some delicious recipes," Neely said. "I am honored to help tell these chefs' great stories as the host for the series."
The intimate dinners and podcast are also designed to stir conversations between guests and listeners about this issue -- a crucial starting point to finding more solutions.
"I want people to see when they have these conversations, when they sit at the table, we're so much more similar than we are different," Subrina Collier said. "We're enjoying this food, we're having good drinks, I think that's where it starts."
To find out more about the Soul Food Sessions' mission, and to pledge support, visit their website.