This Seaweed Tastes Just Like Bacon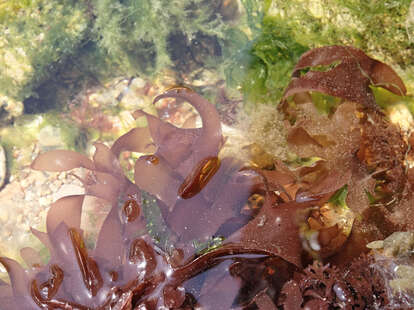 BSIP/Universal Images Group/Getty Images
Good news, reformed carnivores: you can once again enjoy the delicious flavor of bacon without returning to your old, meat-eating ways.
A research team from OSU's Hatfield Marine Science Center has patented a new strain of red marine algae called dulse that looks like a red lettuce, is full of protein, and when cooked, seriously tastes like bacon. Dulse grows along the Pacific and Atlantic coastlines and is harvested and sold in a dried form as a cooking ingredient or nutritional supplement.
"There hasn't been a lot of interest in using it in a fresh form." researcher Chris Langdon said, "But this stuff is pretty amazing. When you fry it, which I have done, it tastes like bacon, not seaweed. And it's a pretty strong bacon flavor." Bacon flavor minus the guilt? Done, we'll take it all!
Also, you can forget about that kale sweatshirt made famous by Queen B; according to Chuck Toombs, a faculty member at OSU's College of Business and part of the team working to develop the product, "Dulse is a super-food, with twice the nutritional value of kale." SOUND THE ALARM. The spin-class and lazy-dad communities may soon be dining as one.
So, when can we try this remarkable creation and ditch regular bacon forever? (In theory. Calm down.) Well, the research team has received a grant from the Oregon Department of Agriculture to try dulse out as a "specialty crop," and OSU's Food Innovation Center is working with Portland chefs to test it out as a main ingredient.
Allow us to help: dulse, egg & cheese; dulse cheeseburger; dulse-weave tacos; dulse-wrapped shrimp; dulse-wrapped bacon. Now can we have some?
Lucy Meilus is a staff writer for Thrillist. Follow her on Twitter at @Lucymeilus and send news tips to news@thrillist.com.