This Week in Gloriously Unhealthy Foods: June 15th-21st Edition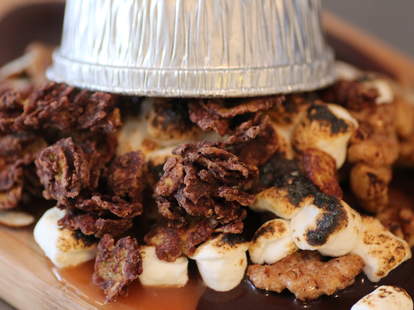 Every day you make choices. Do you opt for the salad, or go with fries? Do you get another Coke, or do you stick with water this time? No you didn't say water, stop lying. This week, we listened to your heart (the metaphorical one, not that bloody, thumping one in the middle of your chest) and made the choices for you, with your best interests in mind. Here's what we came up with:
Peanut Butter Crunch Burger
Pub 1842, Las Vegas
Just your standard burger... except that it's topped with cheddar, bacon jam, potato chips, and chunky peanut butter. In other words, it's like an Elvis, but with burger meat, potato chips, and cheese instead of those "healthy" bananas.
Wanna see their Wagyu hot dogs topped with avo, pico, and PORK RINDS??
Bacon-Waffle Sundae
Brunswick's, Atlanta
You've heard of waffles deluxe, right? This? It's waffles topped with bacon, maple-nut ice cream, and toffee chunks, then doused with bourbon vanilla sauce. It's the Breakfast of People Who Have Never and Will Never Win a Single Sporting Event, and it has forever made regular waffles deluxe woefully inadequate.
You've gotta see their chicken and waffles drizzled with black pepper gravy
Fried Avocado
Corazon y Miel, Los Angeles
Avocado is a super-food, right? Then how could it possibly make this list of unhealthy eats? Because a chef out in LA deciding to cover it in a coconut crust, deep-fry it, and serve it over mango and habanero chutney, that's how.
And check out their 2lb turkey leg, right here
The Inception Creme Brulee
The Creme Brulee Cart, San Francisco
The Creme Brulee Cart just got a new brick 'n mortar, and to celebrate they rolled out a build-your-own-brulee menu which allows you to pick your toppings. What we did is we took chocolate cornflake clusters, toasted nuts, sea salt caramel, toasted marshmallows, and hot fudge, and topped THEM with THE BRULEE. Please open more stores.
Is this all just a dream, or did we also make a Stay Puft Marshmallow Man creme brulee?
3lb Cote du Boeuf
Qui, Austin
This beast is Texas Wagyu ribeye, and it's served with sea salt, fish slat, Yuzu Kosho chili paste, mushrooms in vinegar, and an entire peach to cleanse your palate between bites, which only proves the wisdom of the advice your doctor gave you: "Fruit is great, but it should ALWAYS be used in service of enormous hunks of meat."
Whoa whoa whoa. They have rabbit prepared SEVEN ways?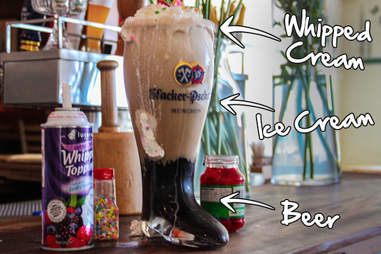 68oz Ice Cream Beer Float with 12 Scoops of Ice Cream
Suppenkuche, San Francisco
Start with 68oz of Weltenburger Kloster, a dark lager with a caramel taste brewed in a 350yr-old cloister by a 25yr-old monk (!), add 12 scoops of Smitten vanilla ice cream frozen using liquid nitrogen, then top it all off with whipped cream, sprinkles, and a cherry. Because who doesn't like to eat enough ice cream and toppings for a 6yr-old's birthday party while ALSO drinking enough beer to keep the parents running the party from going insane??
Wait, so, an editor actually DRANK this thing???