A pizza-calzone hybrid, tequila-doused dessert, and a 60oz burger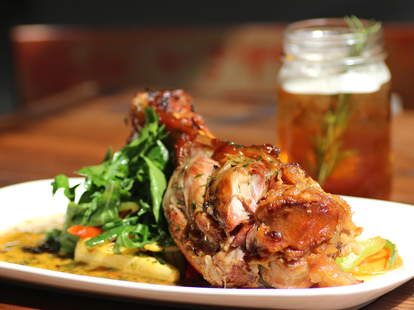 Another week has come and gone, which means you've suffered through another week of trying to eat "cayle", and then realized that you're too lazy and cheap for that to ever be a realistic possibility. But, hey, if you're gonna eat food that kills your amateur kickball career, you might as well do it right. To help with that, we've rounded up the craziest eats of the last week from around the country. Enjoy!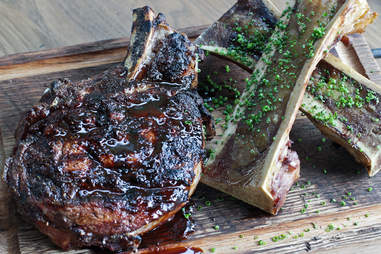 "The King"
King + Duke, Atlanta
If you want to feel like royalty, you've got to eat one kilo (that's over 2.2lbs, for the uneducated, stubborn American in all of us) of bone-in ribeye, served alongside roasted marrow bones. Elvis has not left the building, because he wanted to keep eating this.
So, what's in "The Duke"?
On-Bone Pork Osso Buco
Mason's Restaurant & Barre, Minneapolis
It's always a good sign when something is meant to be picked up and eaten barbarian-style, especially when that "something" is an on-bone ham hock with over a pound of meat.
They've also got mustard-cheese tots. Check 'em out.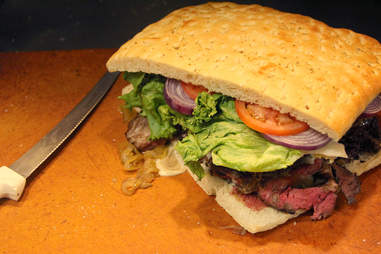 The Carving Board Burger
Bally's Preview Bar, Atlantic City
40oz of grilled-to-order Kobe beef: check. 12oz of garlic- and salt-roasted prime rib: check. 8oz of port wine-braised short ribs au jus: check. 17in x 12in sheet of Formica Bros focaccia: check. Two cups of sweet Gorgonzola fondue, additional balsamic syrup, and a family-style salad's worth of lettuce, tomato, and red onion: check. Insurmountable mountain of a meal? Challenge accepted! (Maybe bring some friends to help...)
Here's a video of how this monster gets made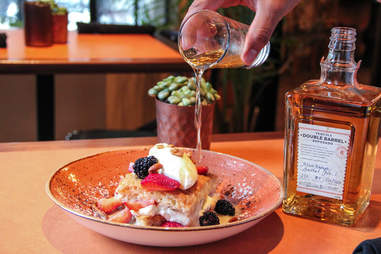 Tequila-Doused Tres Leches Cake
Meso Maya, Dallas
It's not unlike the traditional Mexican sponge cake, except this one's soaked in milk and anejo, then topped with tequila-infused whipped cream, berries, and toasted Texas pecans, THEN (if you're Rip Torn/awesome) doused with a shot of reposado.
This isn't the only thing they pour the good stuff all over...