A 3lb steak, pig ear nachos, and the Mother Of All Burgers
You're another week closer to Summer, which means you've had one more week of tending to that belly you've been carefully cultivating all Winter and Spring, which you were told by Frommer's is a mark of the highest distinction in at least two cultures. To help you, we rounded up this week's mouth-drooling-est, belly-feeding-est dishes from across the Thrillist land.
Pig Ear Nachos
Petty Cash, LA
Don't be confused by those tortilla chip-lookalikes above; they're FRIED PIG EARS, which provide the framework for the nachos and also get topped with a runny egg.
And they have a deep-fried quesadilla?!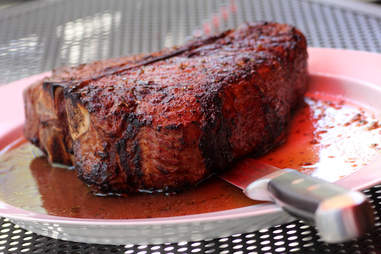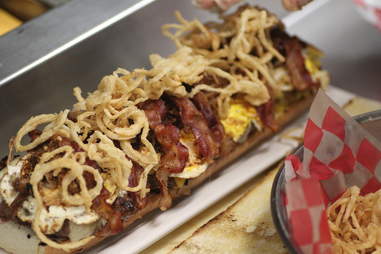 The M.O.A.B. (Mother Of All Burgers)
B-52 Burgers & Brew, St. Paul
When you take four 1/2lb patties, top them with four slices of cheese, four fried eggs, a 1/2lb of BBQ pulled pork, 12 SLICES OF BACON, and onion rings, and then stuff all that into an Italian loaf that gets branded with B-52 bomber planes, you always end up dead happy.
Are you man enough to take this thing down?
Baskin-Robbins X Dunkin' Donuts Sundae
Every Baskin-Robbins/Dunkin' Donuts Hybrid in the Country?
You pick the flavors of the ice cream, you pick the flavor of the donut, they load it up with whipped cream, nuts, a cherry, and hot fudge. The donut gently cradles the ice cream and toppings so that it's like a fat, cheap, non-Italian person's version of a profiterole!
Sure, it's not on the menu yet, but it could be soon, if you sign our petition!