From cardio-averse carnivores to the daintiest gluten-freevegetarians, pretty much everyone has a favorite sandwich shop. Maybe it's the way they slide extra capicola into your Italian, or their vast selection of fresh-baked breads, or their super-fast service even at 2am after you struck out at the bar and need to eat your feelings. Maybe it's all of that. Whatever the draw, once a spot becomes your "go-to" move, it'll hang on to that special place in your heart/stomach through jobs, marriages, and cross-country moves.
Here at Thrillist, we're no exception. We all deeply love specific sandwiches, and hold close the details of the shops that make 'em, doling the info out only when we're sure the person asking shares our passion for slabs of proteins stacked between slabs of carbs. But in the spirit of this magnificent everyman edible, we asked our editors to spin the yarn of their very favorite sandwich shops, and reveal their all-time favorite order. No logic needed, irrational personal prejudices welcomed.
Check out our favorites below, and be sure to tell us what your favorite sandwich spot is in the comments.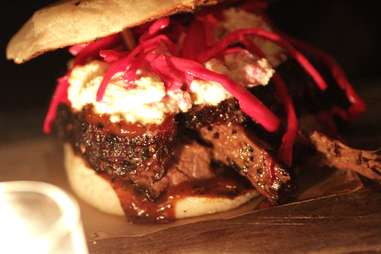 The Brisket Sandwich
New York
I eat sandwiches pretty much non-stop, so picking a favorite is not an easy task. I've had countless late-night encounters with Italian subs, cheesesteaks, and the like. I thought about going nostalgic with a homestyle roast beef from Wawa, which is almost exclusively what I ate in the summer of 1997. And I toyed with the idea of going with a lobster roll or a bacon, egg, and cheese -- but couldn't decide on a favorite.The one I kept going back to was the brisket sandwich at Ducks, which's haunted my dreams since the first time I encountered it on this cheap eats tour of the East Village. It's only available on Tuesday nights, it's relatively inexpensive, and it's packed with some of the best brisket in New York, topped with house-smoked ricotta, red cabbage, and served teetering on an English muffin spread with master fat. Have you ever had a sandwich spread with master fat? You should make it a priority. -- Andrew Zimmer, editor, Thrillist NY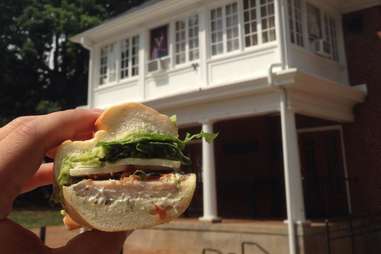 The Ednam
Charlottesville, VA
Technically known as The Market and run by Tiger Fuel (the gas company that owns the filling station out front), I didn't discover Bellair's roadside glory until deep into my second year in Charlottesville. But once I met Ednam, nothing within walking distance of campus could compare.
She is a thing of beauty: maple-glazed turkey, Havarti, crisp/not-thick bacon, sliced avocado, and herb mayo, all served up on a super-crusty baguette made fresh by local do-gooder bakery BreadWorks. As an out-of-stater and a transfer, I was late to the Bellair game, but for the next two and a half years, I put up hall-of-fame numbers eating that sandwich. Because it's not greasy (the bacon is incidental, and doesn't overpower), the Ednam is actually better when eaten sober -- an impressive benchmark for a college-town compilation. Pro tip: pair it with Kettle chips and a frosty bottle of root beer, savor the meal at one of the coveted-but-snaggable tables, and order an afternoon espresso from the Mudhouse kiosk on your way out. It's what I do, anyway. -- Dave Infante, senior writer, Food and Drink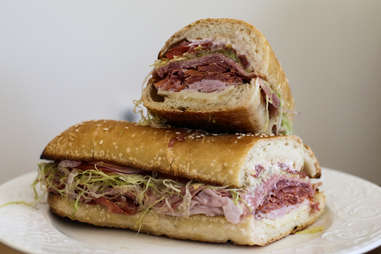 Italian Assorted Sub
Austin
An Italian sub is like a crowded party: it seems like the place to be, but once there, you just feel uncomfortable. That's how I felt about it, anyway, until I interviewed to live in a house owned by the manager of revered Austin pizza shop Home Slice. After a tour of the house, he nonchalantly offered me a sandwich that he had brought back from work. After one bite, I was ready to move in.
A heart attack is too tidy a metaphor for the Italian Assorted. It's like the final nail in the coffin of healthy cholesterol. I never truly appreciated mayo until I tasted the creamy Slip'N Slide it created on the sub's toasted sesame bread. And every type of Italian meat skids across that surface: Genoa salami, ham, dry salami, capicola... all crashing into your mouth at the same time. It's like a savory cannonball by a truly overweight dude.
Real talk: there was a direct correlation between me discovering this sandwich and needing to join a gym. But although it might've added a few pounds and lost me a few exclusive party invites, it was okay, because I knew there was always an Italian rager waiting for me at Home. -- Dan Gentile, staff writer, Food and Drink
1/2 Fried Oyster Po'boy, dressed, no mayo
New Orleans
Yes, the classic New Orleans po'boy formula is simple: crusty French bread with a chewy center, dressed (mayo, lettuce, tomato, pickle) or undressed, and some protein. (But if you don't go with shrimp, oyster, sausage, or roast beef with debris, you should really go get a second sandwich.)
But Domilise's stands out so much (in my heart/to my stomach) that I once almost signed a lease on a basement apartment that had one window and a hotplate instead of a kitchen, just so I could live a block away. Someone else signed first, and I cried. Last time I was back in New Orleans, it was unexpectedly closed for the day. I cried again. Actually, I shouldn't lie to you: I cried a lot.
They batter and fry their seafood when you order, so it's hot and crispy and so fresh. And if you're lucky -- meaning the line was wrapping around the corner and you had to wait even longer, teased by wafts from the fryer -- they might just throw a few golden pieces, still dripping with grease, onto a paper plate on the counter for you to eat while you wait to pay. The secret sauce -- uh, it's ketchup and hot sauce and, probably, love -- gets in the dressed mix here. But still add more Crystal at the table. And get a bag of Cajun Crawtators and a Barq's.
I'm not saying you will cry when you leave, but, also, you might not have a heart if you don't immediately miss this sandwich. -- Liz Childers, associate editor, Food and Drink

Barbecue Roast Beef Sub
Wellesley, MA
I've mentioned this before, but it's worth repeating. Go to Linden Deli on a Wednesday around 11:30am. Ask for Mark or Greg. Tell them Kevin sent you. They will say, "Kevin who?". Tell them my last name. They will still pretend not to know me, but they will. OH THEY WILL. Because I have eaten over 2,000 sandwiches from Linden Deli in my lifetime, and that is a low-end theory, friends.
Anyway, get the Wednesday special, which, for as long as I've been out of diapers, has been the barbecue roast beef sub, and add American cheese and hots. Watch them ladle that hot, simmering beef and cooked onions over the melty American and cold hots in the fresh sub roll, and wrap it up in white paper. Now order another one. They will look at you. "You sure you want two?" they may ask. "YES, OF COURSE I DO! I COULD PROBABLY EAT, LIKE, FOUR IF I WASN'T DIETING", you need to respond, never showing any doubt in your face, because Mark and Greg can sense that doubt. Also, that second one will be way too much food. But it doesn't matter. You'll need something to eat on Thursday anyway.
-- Kevin Alexander, executive editor, Food and Drink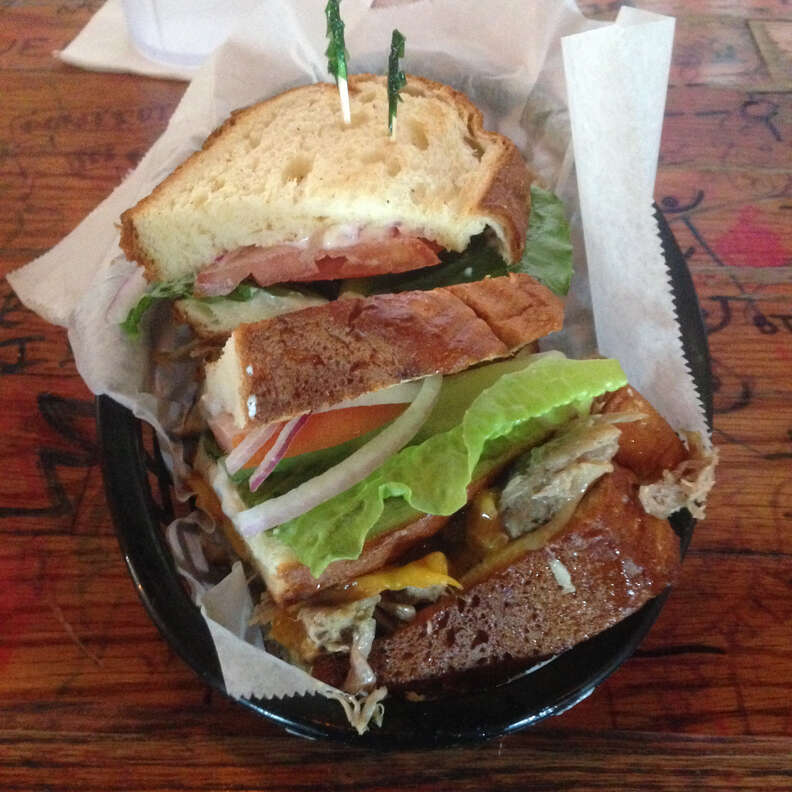 Mike's Famous Duck Club
North Charleston, SC
NYC does duck just fine, but waterfowl's not exactly its domain. Sandwiches, though? The City keeps its deli game very proper. So as a snobby writer who calls Brooklyn home, I rolled my eyes when my Charleston bartender insisted I make the pilgrimage to a dive bar tucked between warehouses North of town to eat a duck club. I know what duck tastes like. I know what club sandwiches taste like. Good, sure. Life-changing? Come on.
But after a particularly rigorous night spent hate-tasting sour beers, I needed to fortify my stomach with something greasy & substantial, so off I went to Tattooed Moose, an unremarkable, dim-during-the-day tavern that serves a beloved iteration of the classic Low Country confit concoction. Oh my. Piled high with thick, shredded hunks o' duck, applewood-smoked bacon, and hickory-smoked cheddar, this thing oozes greasy goodness from first bite to last.
Actually, even though it comes on sturdy Hawaiian bread, "last bite" is misleading -- halfway through, the club morphs from sandwich to a delicious, heaping mess that's best attacked with a fork. Eat at the bar, order a beer, and revel in the countless inside jokes about customers and employees that've been immortalized on etched, dated plaques on the back wall. -- Dave Infante, senior writer, Food and Drink
Mexican Cuban
New York
It was a cold July day, which is a thing, I swear. I was coming off a hospital-inducing kidney infection and a corresponding three days of codeine-fueled sleep, and my stomach was absolutely empty. Like, "Googled how to audition for Survivor because this is an underutilized skill" level of empty. Also, I didn't have my face on for the public, because who thinks about makeup when it feels like Chad Smith is playing xylophone on your kidneys? No one, that's who.
Yet under these dire circumstances, I mustered up the courage & strength to walk five painful blocks to get a Mexican Cuban from Barnyard. Not even Chad Smith could keep me on bed-rest once the sandwich crossed my mind. Being a Cuban, there's obviously ham and swiss tucked inside of a perfectly crisped bun, but there's also avocado (!), slow-roasted pork (!!), juicy dill pickles, and pickled jalapeños. I'd eat four Mexican Cubans on a good day, but I still managed to eat one on this horrible, no-good, very bad day. I'm proud of myself, and I'm proud of Barnyard. If you eat this sandwich, you will be, too. -- Julie Cerick, content editor, Thrillist Media Group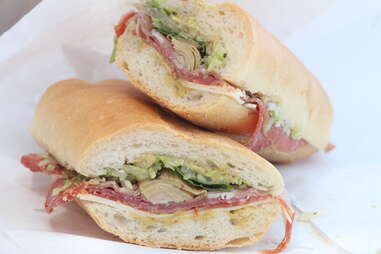 The Mr. G
Chicago
You may think what you see before you is just your typical Italian sub (itself a delicious sandwich), but this is the Mr. G, a J.P. Graziano specialty that takes the form to another level. Start with the bread: a 9" Italian roll from Chicago baker D'Amato (like JPG, this bakery's been in the game longer than your grandparents have been alive), which they bring in multiple times a day, so it's always fresh enough that it wouldn't even matter if it came with anything inside it.
But it does! Imported provolone, hot sopressata, prosciutto di Parma, and Genoa salami are all sliced fresh to make up the meat and cheese base. The lettuce, red wine vinegar, and oregano are all there to keep you in familiar "Italian sub" land, but the marinated Roman-style artichokes, fresh basil leaves, and a truffle mustard balsamic vinaigrette are there to tell you that this won't be an average Italian sandwich experience. Your first bite will confirm it. -- Matt Lynch, senior editor, Cities
Salt Beef Sandwich
London
One of the greatest meals I've ever had was a bowl of cereal the morning after a day during which I had eaten nothing whatsoever. Why am I talking about this, rather than the sandwich? Only to make the point that when it comes to food, context can be everything. And Beigel Bake IS context. First, it's open 24 hours, and that automatically means you'll be drawn to it when you're a little pickled. Second, it's in the East End of London, which means it's a ray of gloriously un-gristly sunshine in a sea of street-meat vendors. And third, despite how clearly delicious they are, a salt beef bagel is actually a weirdly difficult thing to get hold of in London.
When you find yourself in that situation (2am, three sheets to the wind, and ravenously hungry), you order this unicorn of London sandwiches, and you weep with joy as the soft, just-baked dough hits your tongue, followed keenly by a thick slab of moist, salty beef, and with a soprano note of hot mustard singing over it all. This is not just a sandwich. This is an angel massaging your taste buds. -- Jason Allen, senior editor, Cities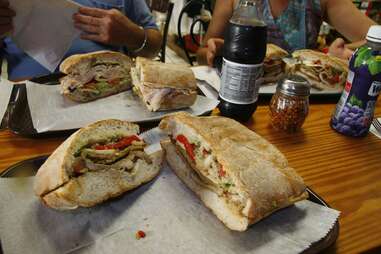 The Michelangelo
Boca Raton, Florida
Michelangelo (Italian artist/engineer) was considered the greatest living artist in his lifetime, and I have no doubt Michelangelo (the sandwich) will be considered one of the greatest sandwiches in mine. It's served up by Talia's Tuscan Table, a small, unassuming Italian cafe/market that sits neatly tucked in on the corner of a mini-mall in East Boca, next door to a Carvel where I used to draw half-assed birthday messages on Fudgie the Whale ice cream cakes while slightly euphoric.
Suffice to say, I would get hungry. And when I was afforded a break from swirling soft-serve and refilling the sprinkle tower, I'd saunter into Talia's for the poster sandwich of obesity. Betwixt two crunchy pieces of foccacia bread, swimming in marinara, sat thin-sliced chicken cutlets, charred red peppers, roasted eggplant, fresh mozzarella, and just the right amount of basil. By the time you finished the first half, you'd have serious doubts about attacking the second... I've devoured the sandwich in its entirety two, maybe three times, and after each, I felt a certain kind of shame cascade over me in sporadic waves of cold sweat and heart palpitations. But was it worth it? Totally. Recently, Talia's went under new ownership, and there have been utterings (read: Yelp reviews) that the sandwiches just "aren't the same anymore". I'm not sure where the old chef went, but wherever he is, I hope he's doling out delicious, shame-inducing sandwiches to baked college kids while keeping the peppers charred, eggplants roasted, and chicken cutlets thin-sliced. -- Alex Robinson, editor, The Thread
Bacon Cheesesteak
Princeton, NJ
My best friend from high school went to Princeton. One winter, a group of us who'd stayed in Texas came to visit him and his strange world of eating clubs and snow and smart people. The best part of the trip -- even better than breaking into a dorm cafeteria kitchen and meeting a girl with a dolphin tattooed over her vahoohoo -- was the bacon cheesesteak from Hoagie Haven. We had crazy burgers back home, but most of our sandwiches -- while large -- were not insane, and this was my first real bonkerswich. Two organ-murdering proteins working in perfect concert inside a creation that, paired with youthful delusions of immortality (the only condiment better than mayonnaise), was the greatest thing I had ever tasted.
I learned later that some people don't consider this sandwich a real cheesesteak. Not being from Philadelphia, I didn't give a crap. One summer, I shared a house in Woodstock with a Dallas friend who went to Princeton and ended up teaching there, so I asked him to bring me a bacon cheesesteak the next time we had a mutual weekend. "It's going to be gross by the time I get there, and I'm pretty sure they just use Steak-umms anyway," he said. The Steak-umm thing might be true, and the sandwich definitely suffered in transport, but in my mind it was still just as good, and I don't care if that opinion puts me in an eating club of one. -- David Blend, executive editor
The Bobbie
Wilmington, DE
Sure, now there are a million Capriotti's in multiple states, but Capriotti's first shop was in Delaware, and I grew up eating their subs. Being from Delaware, there are three things about my home state that I'm proud of: Dogfish Head, the beaches, and the Bobbie. And Ryan Phillippe. How could I forget?! C'mon! Cruel Intentions? He's incredible in that.
Anyways, the only sandwich to order is the Bobbie. Their turkey is this beautiful, shredded mess that no other sub shop does better, and it's topped with cranberry sauce, stuffing, and mayo. It's Thanksgiving on a roll, but it's good all year 'round. I order it in the summer with no shame. -- Lee Breslouer, senior associate editor, Food and Drink
Super Steak & Cheese
Flint, MI
Flint-based chainlet Big John doesn't make Philly cheesesteaks. It makes something superior: thin-sliced ribeye, grilled up with onions and placed on a seeded bun with gooey white American cheese, a tangy signature red sauce, and optional banana peppers. So, yeah, basically a Philly. But no Whiz. No wilted peppers. And no attitude.
I've loved Big Johns since I basically swallowed one whole at age 4. It remains one of the most enlightening days of my life. Since moving West, I've craved it at least once a week, and try to recreate its luscious spice blend to no avail. I constantly beg my uncle -- who I must admit owns many off them -- to reveal the secret to the spices, or just give me a bag of it so I can snort it. He never budges. I have bottles of that succulent sauce on BJ's shipped to Oregon by my parents, and it's gone in a matter of days... but only after I spar with my brother over it.
Here's how much I love that soggy, fluffy combination of cheese, slightly crisp steak, and translucent onions: every time I come home, en route to visit my dear parents, I stop at an off-highway Big John's so I can house a 16-inch Super Steak & Cheese (extra meat!)... then I lie and say I've been craving it so I can have it again for dinner. I recently discovered that my siblings do the same thing. Sorry Mom. Please send Red Sauce.
-- Andy Kryza, senior associate editor, Food and Drink
Genova Delicatessen
Honey ham & Swiss. Dutch Crunch. Everything on it.
Oakland, CA
First: Genova is in a Temescal shopping center that also houses a Bangs and Locks, a Walgreens, and an Auto Insurance Specialists. Second: the entire parking lot is completely full at all times, and no one is there for Bangs and Locks, Walgreens, or AIS.
And here's the proof: you'll have to get a number when you walk in, despite the fact that they have more than a half-dozen people making sandwiches. Don't be shocked if you're 50 back of the number being served, even at 3pm. Herein lies the beauty of this old-school Italian sub shop-cum-deli that's been around since the 1920s (and is now owned by an Italian guy who used to come here with his father growing up): waiting to see who makes your sandwich.
There's the old guy with the awesome grey mustache, there's the cute young blonde, there's the young sandwich-making gun with the dolphin tie. All of them wear ties, even the girls, and they all have their own style and pace. Everyone watching them ends up wanting one of them in particular to make their sandwich. And everyone waiting will stand there, literally sizing up who's almost done making what sandwich and how many numbers back they are, hoping and praying they get "solidly-built guy with the thin black mustache". The craziest part, though? When you actually do get who you want (this happens once every 100 trips maybe), somehow your sandwich just tastes better.
Oh, and the sandwiches themselves? Best things I've ever had in my life -- they've got 15 types of bread, all of the meat is sliced in front of you, everything is crazy fresh and portioned to perfection. The people making them though? That's what makes this place the best sandwich shop in the world. -- Grant Marek, senior editor, Cities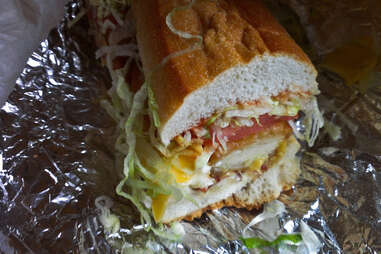 Chicken cutlet, melted American, bacon & Russian, on a hero
Huntington, NY
The staff seems like they have seasonal affective disorder, even in the summer. The shelves are full of canned beans and boxed cake mix that've been there since canned beans and boxed cake mix and shelves were invented. My buddy lopped off a solid two-thirds of his trigger finger while operating the meat slicer back in high school. But The Sandwich. Oh, The Sandwich sings.
Anyone from Long Island knows that there are many variations on this sandwich. People stick with mayo instead of the Russian, and/or go with a roll. Muenster is swapped in by people trying to impress someone, with cheese. Truly evil freaks you should avoid at all costs go baconless.
Those people are fools. The heavily breaded and heavily-er fried chicken cutlet alone probably handles your RDA of... everything. The bacon is abundant, in that perfect place where it's cooked just beyond safety, and is ~85% singed fat. The cheese curls around the cutlet, making it barely visible. But the Russian is the key -- it's homemade, creamy as all good f*ck, and has little slivers of dill that add a secondary snap to the cutlet's crunch. Let's just say this isn't an everyday sandwich. -- Ben Robinson, editorial director
Dave Infante is a senior writer for Thrillist Food & Drink and was the one who begged/forced everyone to write about their true sandwich love(s) for this piece. Follow @dinfontay on Twitter, Instagram, and Snapchat.