We Threw a Stacked Celebration of Sandwiches in NYC
This past weekend, we threw the most epically stacked sandwich celebration in recent NYC memory. It was called Hall of Heroes and there were around a dozen different sandwiches, from house-smoked Pastrami "Rubins" to egg-topped pork cutlets. And, with our mouths full of hoagie rolls and thick-cut meat, we realized we had to share the piled-high craziness with the world. Here's how it all went down:

First off, how gluttonously delicious do these look?
We invited 11 of the best sandwich-smiths in the city to bring their best example with them, so you better believe we also brought a pro photog with us to capture it. Feast your eyes: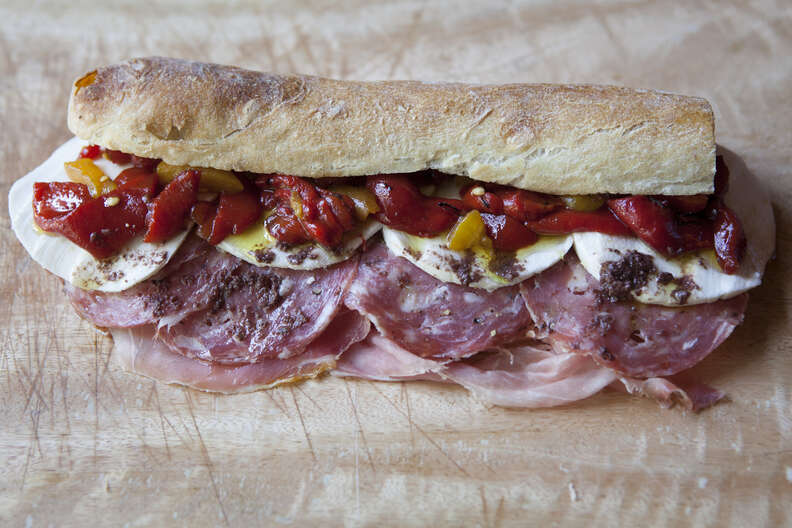 The Italian
Alidoro
Prosciutto, soppressata, mozzarella fresher than Will Smith, sweet roasted peppers, and olive paste
The Cuban
Café Habana
House-marinated roasted pork, sliced ham, swiss, garlic dill pickles, all dripping with chipotle mayo and pressed on a roll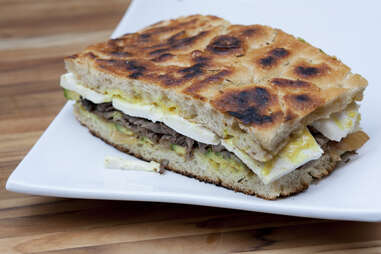 The Maine-Style Seafood Roll
Luke's Lobster
Seafood sandwiches loaded with fresh lobster, crab, or shrimp (we totally ate all three)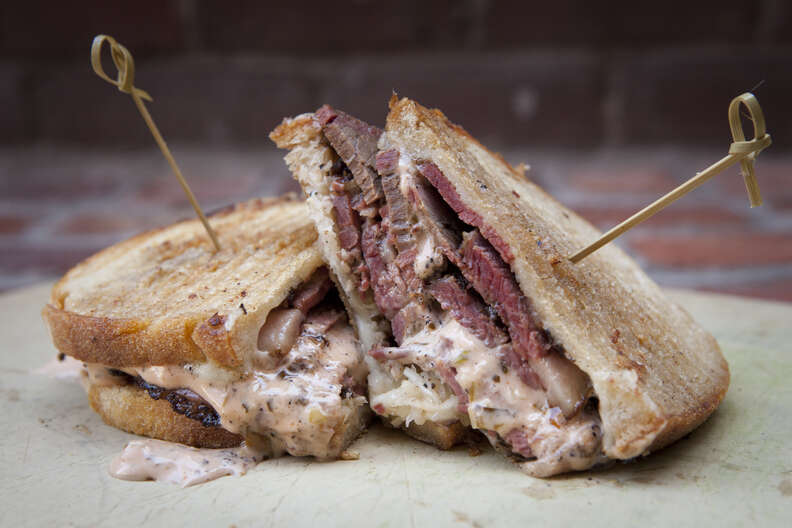 The "Rubin"
American Cut
House-made pastrami, fermented slaw, ramp Russian dressing, and Jarlsberg cheese, piled impossibly high on rye bread
The Meatloaf Sandwich
Fresh Salt
Homemade meatloaf slider piled high with lettuce, tomato, red onion, and mouth-zinging horseradish mayo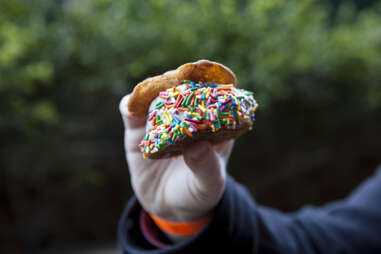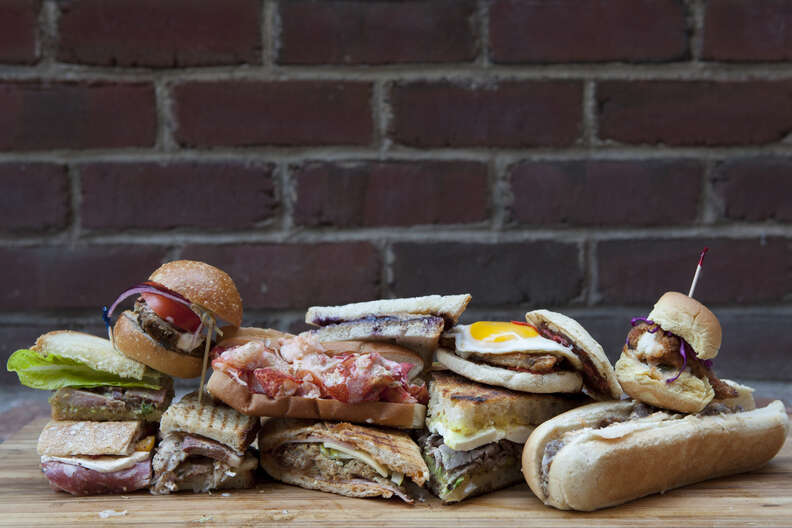 We tried to stack them all into one glorious sandwich
What's that? Eleven separate sandwiches? What if we put all of them together into one giant Frankensandwich? And then what if we tried to eat the whole thing ourselves in one sitting? Eyes, you are so much bigger than the stomach.

People got seriously into the sandwiches
The best thing about sandwiches is they don't require annoying plates, forks, and knives. You can just grab them with your meathooks, shove them into your mouth, and be on your merry way. Of course, that could result in some hilarious messiness. So we sent our photographer sneaking around the party to capture some hilarious real life examples of just that, complete with (probably) the actual thoughts going through their heads. Check it: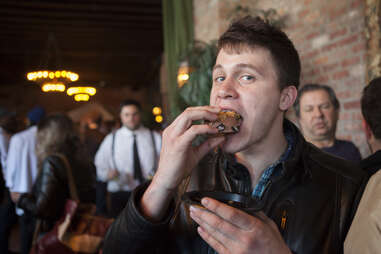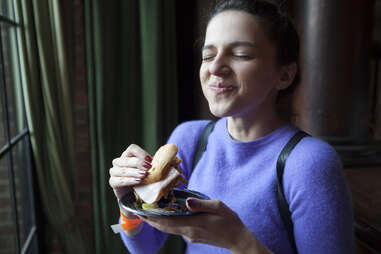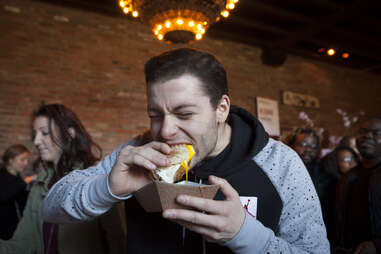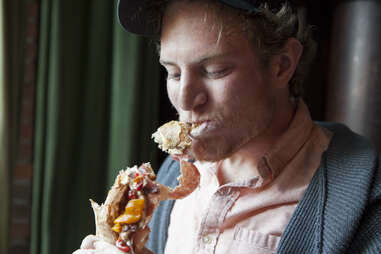 We caught up with Iron Chef Marc Forgione to ask him about his Pastrami
Representing his midtown joint American Cut, Iron Chef Marc Forgione stopped by to drop some Pastrami knowledge on us. Here's a short snippet of the convo:

Thrillist: What's the single most important thing about Pastrami sandwiches?
Chef Forgione: Oh, the meat man. Hands down. American Cut just opened for lunch in midtown so we thought 'man, we have to do this pastrami thing right.' So we make our own from start to finish. As a chef, what am I gonna do? Buy some other dude's Pastrami?

So what exactly does make your Pastrami that good?
Well, for starters, it took us about 3 months to perfect the recipe. Trial and error, trying to find that right balance of sweetness, smokiness, and how it all comes together.

What do you get that sweetness from?
It's brown sugar. We use it to crust the outside, almost like a BBQ bark. Look [Forgione grabs a hunk of Pastrami from the hot plate and waves it in front of us], you see that smoke ring? It takes a few weeks from brining into smoking and then out to service. It's seriously good just like this. Straight from your hands.

We washed it all down with a classic cola
In case you couldn't tell from above… there was a lot of food. And that means we needed a lot of drinkage to wash it all down. We invited Radeburger and Leinenkugel for beers, but we also brought Deep Eddy Vodka and 1893 (a throwback cola from the makers of Pepsi-Cola) to make some cocktails. And since throwback was in there, it made us wonder just what Pepsi was throwing back to. So we scraped together five fast facts on this fizzy classic: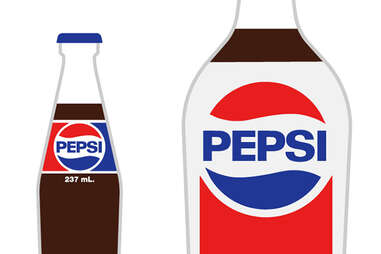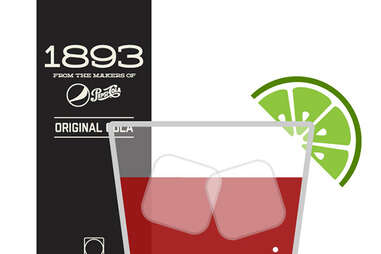 More than 1 billion gallons are sold each year in the U.S.
That's enough to fill 1,500 olympic swimming pools, about two billion two-liter bottles, and 64.5 million beer kegs.
And here are more pics from the sandwich party of the year
And what's a party without the people? Mark our words: sandwich people are the best kind of foodies. It's the perfect mix between discerning tastes and humble "take the food with you" mentality. Here's a selection of our favorite pics from the party: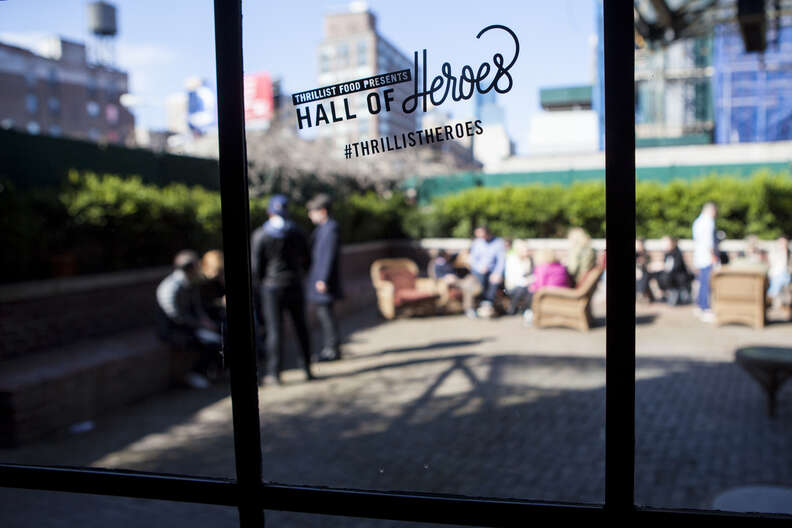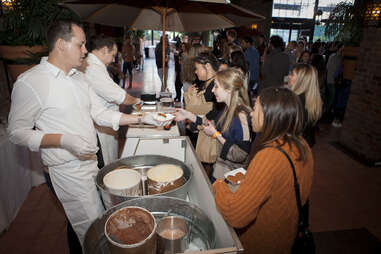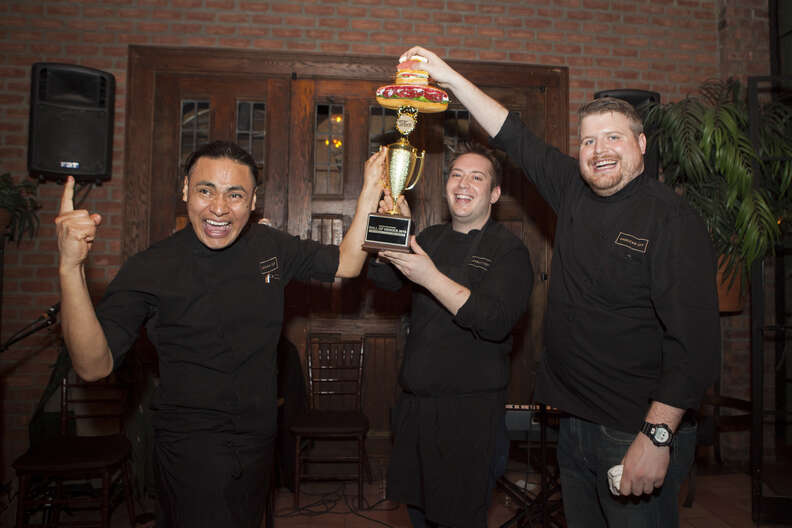 And the winner is... American Cut!