We Just Made the World's Best Beef Jerky. You Can Buy It.
By Ben Robinson @benjorobinson When I called Fogey from Three Jerks Jerky, it was with an idea: to create the best-tasting, most innovative, groundbreaking-est beef jerky ever. He loved it. Fogey and Jordan, the mad geniuses who decided that making jerky out of filet mignon was the smartest business idea ever, got to work. We schemed up flavors for weeks, and after some discards -- although maybe Combos-flavored jerky WOULD'VE been amazing -- we landed on the two set to change the world: Hamburger jerky and Maple Bourbon Churro jerky. They tested, and tested, and tested. The jerky was amazing. I told them they needed to make it even better. They did, gladly. After months of experimentation, R&D, and eating wayyy too much jerky, we're finally ready to unleash the finished products on the world. You've never had jerky this fantastic before, and never will, unless you get some of this. Road trips are never going to be the same again. -Ben Robinson, Thrillist Editorial Director
Hagop Kalaidjian
LAURA MURRAY/THRILLIST
Hagop Kalaidjian
Hagop Kalaidjian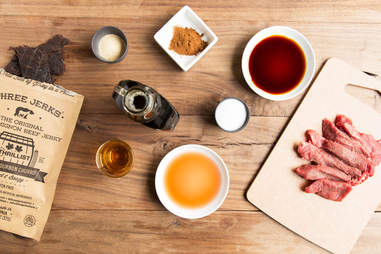 LAURA MURRAY/THRILLIST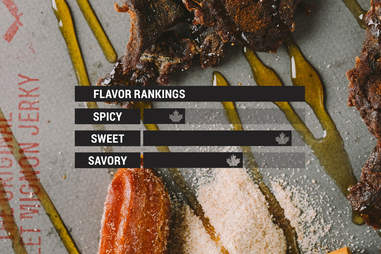 Hagop Kalaidjian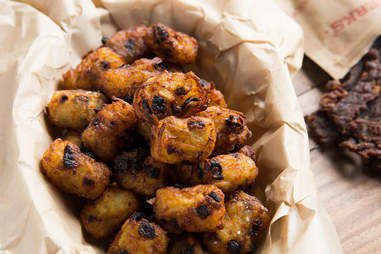 LAURA MURRAY/THRILLIST
Jerky Tots Recipe
Total Time: 40 minutes Yield: 50 tots Ingredients: 2 pounds russet potatoes, peeled 4 ounces Hamburger jerky, cut into 1-inch pieces 1 tablespoon cornstarch 2 teaspoons kosher salt 2 cups canola oil, for frying Directions: Place potatoes in a large saucepan and cover with cold water by 1 inch. Bring to a boil then simmer for 6 minutes. Drain and let cool. Shred potatoes on the large holes of a box grater. Use a dish towel or paper towels to drain as much water from the potatoes as possible. Transfer shredded potatoes to a large bowl. Stir in jerky, cornstarch, and salt. Measure 1 tablespoon of the potato mixture and roll into a short cylinder about 1 ½ inches long and ¾ inch wide. Place on a greased baking sheet and repeat with the remaining potato mixture. Heat oil to 350°F in a deep fryer or heavy pot fitted with a thermometer. Fry tots, stirring occasionally, until golden brown and crisp, about 5 minutes. Transfer to a paper towel-lined plate to drain. Season immediately with salt. Serve hot with mustard.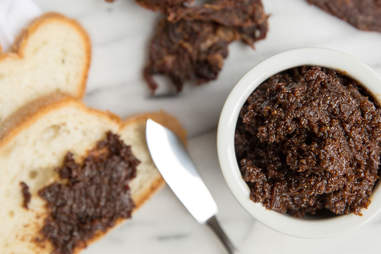 PERRY SANTANACHOTE/THRILLIST 
Jerky Jam Recipe
Total Time: 1 hour, 20 minutes Yield: 1 ½ cups Ingredients: 1 tablespoon vegetable oil 1 medium yellow onion, diced 3 cloves garlic, chopped 8 ounces jerky, cut into 1-inch pieces 1 cup water ½ cup coffee ¼ cup apple cider vinegar ¼ cup maple syrup ¼ cup packed dark brown sugar 2 teaspoons Sriracha ½ teaspoon freshly ground black pepper Directions: Pour oil into a medium saucepan over medium-high heat. Add onion and garlic; cook, stirring frequently, until onions are translucent, about 10 minutes. In a small bowl, whisk together 1 cup hot water, coffee, vinegar, maple syrup, sugar, Sriracha, and pepper.  Pour the mixture into the saucepan along with the jerky; bring to a simmer, reduce heat to low, and cook for 45 minutes, stirring occasionally. Remove from heat and let cool for 20 minutes. Transfer jam to a food processor and pulse for 2 to 3 seconds. Use immediately or let cool completely and store in a covered container in the refrigerator for up to 2 weeks.