Every year, to celebrate the glory that is knocking back raw oysters straight from their pleasantly portable shells, we team up with Oysterhood to throw a party featuring NY's best oysters. We call it Empire Oysters, and it all went down this past weekend. And if you didn't go, why should you care? Well, from downable halfshell recipes to hilarious shucking videos, let's do a little show and tell.
 
1. For starters, NY is repped like crazy
According to Oysterhood founder and co-creator of Empire Oyster Kevin Joseph, this spread of oyster farmers constitutes the most New York shellfish guys that have ever been under same roof for an event in history. Now, that's not exactly something you can fact check too easily, but with 10 completely separate oyster crews from all over Long Island and New York, it's probably pretty damn close to the truth.
Recommended Video
Send Foodz: New York City Wine & Food Festival


2. These guys can shuck oysters in their sleep (with a pasta strainer) No literally. On the way to the event, we stopped at the hardware store to pick up a few choice objects (specifically a flathead screw driver, a cheap corkscrew, and a tiny metal pasta strainer), brought them to the event, sanitized them, and asked the shuckers to see how many oysters they could open in a minute.
 
3. People scored serious expertise
Because so many top-notch shuck masters were there, the ops to score some oyster knowledge were all over the place. Farms from all over NY, and one from Oregon, showed visitors how to open up one the halfshells step by step. Wanna learn yourself? Check this out.
4. The event is good for the world
This event isn't just good for oyster-loving bellies, it's also great for the environment. Why? Well, Billion Oyster Project was in attendance, which means that every single shucked shell was set aside, trucked off to a facility in Staten Island, will be cured for a year, and will later be distributed into the bays and sounds around NY. These shells will be commandeered by tons of tiny oyster larvae as a place to chill, absorb nutrients, and grow their own shells (otherwise most would sink into the sand and die). But more oysters don't just mean more raw bar fun -- an adult oyster can filter as much as 50 gallons of sea water each day, giving us all cleaner water. Now if only they filtered dirty dishes.
 
5. There were 20,000 oysters served
For real. According to Kevin Joseph, at Empire Oyster, more mollusks were served in three hours here than Grand Central Oyster Bar does in an entire weekend. But if those numbers don't impress you, perhaps these will:
6. There were 10 obscenely indulgent dishes
On top of the oyster farmers, we also called up 10 master seafood chefs from around the city to come, prep their best dishes, and pit them against each other using votes from oyster scarfers. Think: Kimchi-topped east coast halfshells, lobster-broth-and-oyster bisque, and beer-battered fried oysters (more on those later). Here's how tasty it all looked: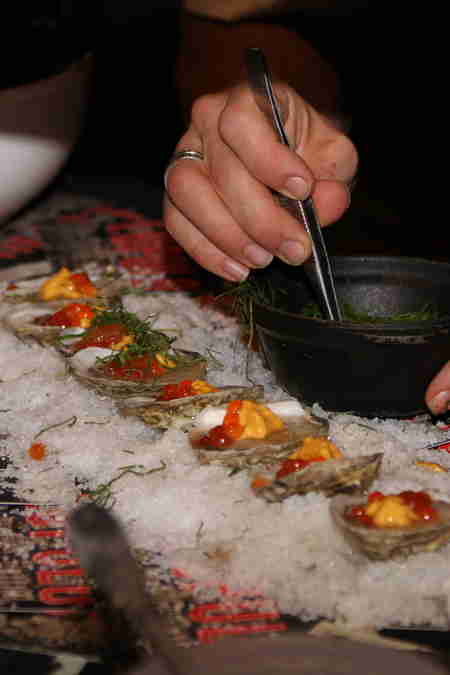 Island Creek Oyster Cru with uni, smoked king salmon roe, and shiso
Oyster Salad with kimchi, chive, and Korean pear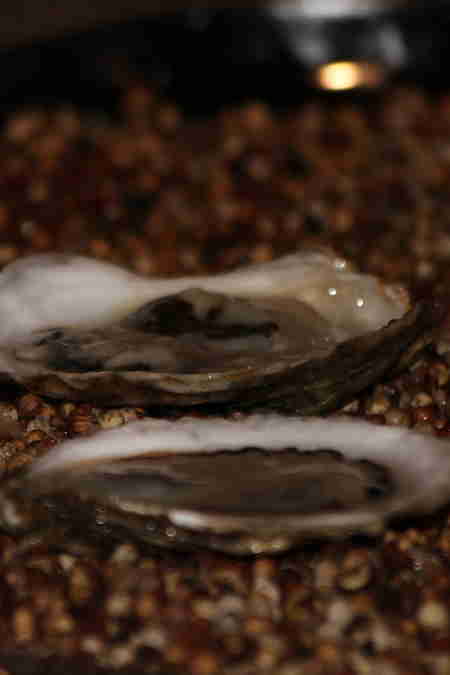 Montauk Pearl Oysters with fermented radish mimonette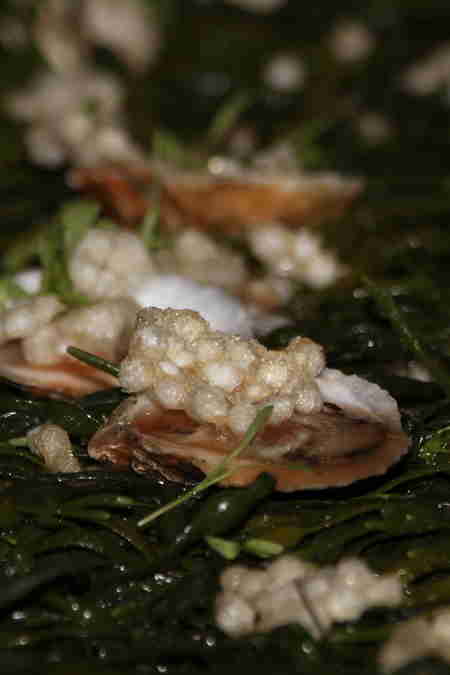 Oyster on the Half Shell with cilantro, chili, and tapioca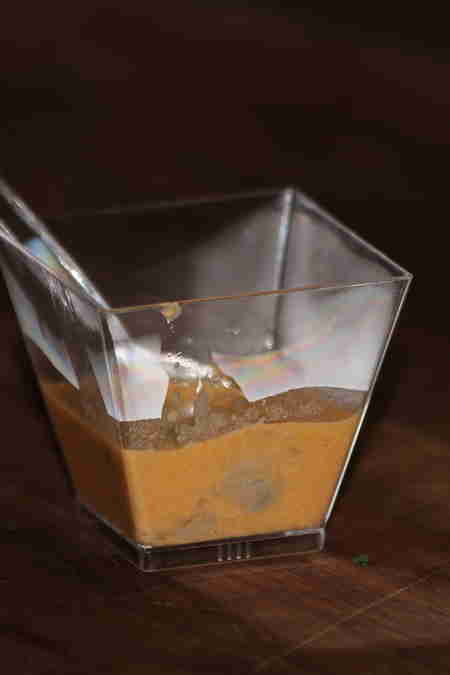 Oyster Newburg: lobster broth, shallots, sherry, tomatoes, and cream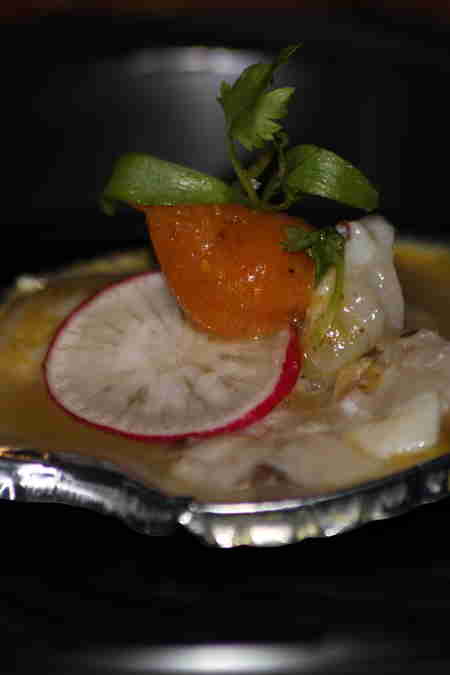 South American Oyster Ceviche with black garlic, squid ink, tapioca pearls, chili, and green onion

7. Craft mixologist Giovanni from Mesa Coyoacán nailed the refreshmentsOn top of those 94 cases of Model Especial suds, we called up expert mixologist Giovanni Gianni from Mesa Coyoacán to whip up a specialty cocktail. Check the handy video above, and use the recipe below to make it yourself:


Michelada de Piña

Ingredients:

12 oz. Modelo Especial
½ oz. hot sauce
5 dashes Maggi Jugo
1 oz. fresh lime juice
1 oz. fresh pineapple purée
Splash of orange juice or water
Rim salted with: salt, sugar, chili powder, and hibiscus powder

Directions:

Dip the rim of a 12 oz. glass into lime juice, then into the salted rim mixture.
Fill glass with ice, and combine lime juice, pineapple, hot sauce, and Maggi Jugo.
Top with Modelo Especial.

Ricardo Salazar

8. Greenwich Project used Modelo Especial to make a fried oyster

And not to be outdone, chef Carmine Di Giovanni of the Greenwich Project used Modelo Especial to whip up his own concoction: an infinitely poppable deep-fried, beer-battered oyster. And again, snag this recipe for yourself:
 

Deep Fried, Beer-Battered Oysters

Ingredients:

1 can Modelo Especial
3 cups flour
1 tsp salt
1 pinch cayenne pepper
1/2 tablespoon baking power
2 tbsp chives

Directions:

Combine all ingredients except flour in a bowl to mix.
Dredge shucked and de-shelled oysters in the flour, then dip into the beer batter.
Fry at 350 degrees for 3-4 minutes.

Thrillist

9. There were killer tunes by a jazz crew with serious chops

Because no event with shells and champagne would be truly complete without a little smooth jazz, we brought New York band Joaquin and the Hot Knives to the party. And these guys can absolutely shred. Check them out.