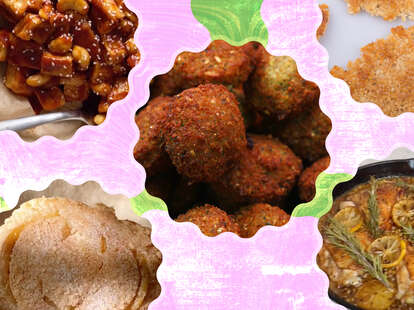 Image by Chineme Elobuike for Thrillist
There's no denying that TikTok has become a hotspot for cooking inspo, offering up everything from bite-sized tutorials to life-changing kitchen hacks. But while it might seem like the app is all about virality—capturing whatever crazy trends the kids are up to these days—it's actually a lot more nuanced. Beyond baked feta pasta (which, by the way, I've made a dozen times), there's a whole other algorithm set to the most innovative recipes from around the world, made by everyday home cooks.
So after you've tried your hand at Emily Mariko's sensational leftover salmon rice, take a look at these other, simple-yet-special recipes. This month we're leaning into fall flavors, like cardamom, rosemary, and of course, pumpkin pie spice. The mini pie recipe featured below is not only adorable, but perfect for a low-lift Thanksgiving dessert. And if you're looking for an unexpected snack idea, might I suggest scorched rice?
This ASMR-inducing video really sells the making of homemade falafel as a truly sensory experience, with popping cardamom pods, sizzling falafel, and steaming pita bread. Suitable for a weekend project, this recipe takes a lot of care and attention, but the result looks unmatchable.
I love the technique of frying chicken thighs on a pan for crispness, and then finishing it in the oven for flavor. And since all the elements cook in one pan, there will be minimal clean-up. In my opinion, there's nothing quite like the taste of a caramelized lemon, and that acidity paired with the buttery chicken makes for a perfect match.
Last Thanksgiving, I made a pie from scratch and attempted to weave a lattice crust. It was so hard, I nearly cried. So this year, to save me from tears, I will be testing out this mini pumpkin pie recipe. The filling is remarkably simple, while the pumpkin shapes add a charming touch. And the fact that they are palm-sized makes them so much easier to eat and share.
This orange cashew tofu looks restaurant-quality, but doesn't have the added sugars that a regular takeout item would. I'm guilty of always putting my stir frys on top of rice, but incorporating lettuce wraps is a fun and nutritious way to switch things up. It makes for the perfect, weeknight meal, using ingredients you probably already have sitting in your pantry.
When I was a kid, I'd ask my mom to scrape the bottom of her aluminum rice pot to get the slightly burned rice that stuck to the sides. This crispy rice was probably very bad for my teeth, but I loved the way it caramelized with whatever oil my mom added. In Ecuadorian households like mine, this is called "cocolon," but reading the comments on this TikTok, I am so happy to see that cultures everywhere enjoy this treat.
Jessica Sulima is a staff writer on the Food & Drink team at Thrillist. Feel free to email her your favorite TikTok recipes.