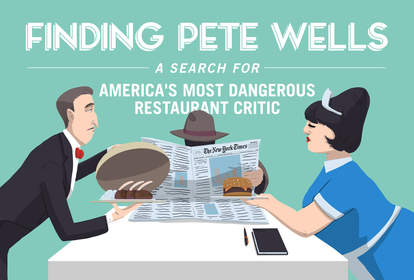 Finding Pete Wells: A Search for America's Most Dangerous Restaurant Critic
It's a Thursday night in March, and Pete Wells definitely might be in Pasquale Jones. PJ is an eatery on Mulberry Street in Manhattan, and its curriculum vitae suggests that it's uniquely qualified for a Pete Wells review: open a month, packed every night, a sister restaurant to Charlie Bird, which he's already reviewed (one star, "surprisingly erratic: tremendously likable one moment, strangely off-key the next"). I'm eating with my college roommate, Frank. I tell him to keep an eye out.
"For Pete Wells?" he asks, in between bites of a delicious clam pizza I think Wells might like even more than the one at the North End Grill (two stars, 2012, re-confirmed in 2015, a clam pizza that might be "better than Franny's").
"Of course for Pete Wells."
Using tradecraft I learned watching the movie Spy Game, I scan the restaurant, concentrating on four- or five-tops, as I know from my research that Pete Wells will be at one of those. I count 22 white men aged 40 to 60 sitting at tables. Of those, 14 are at four- or six-tops. I excuse myself to use the restroom, and walk slowly around, making sure to glance in mirrors (tradecraft!). Twelve men can be excluded right away for various reasons (build, complexion, being Chipotle CEO Steve Ells, etc.), but two require a closer look. I'm nearly convinced one of them is Pete Wells, until he opens his mouth and heavily accented French comes out.
When I get back to our bar seats, Frank is staring at me.
"What the hell is this about?"
***
This, friends, is about New York Times restaurant critic Pete Wells. Pete Wells is worth looking into, mainly because people seem to regard him in one of two ways: 1) as the greatest, most entertaining, modern, and hilarious restaurant critic in the history of The New York Times (the most influential position in American food criticism), the person who finally convinced the Gray Lady to get with the times, a lighthouse of innovation and creativity in the foggy world of elitist old-school food critics. Or 2) a food sophist with internet savvy and no idea what to do with stars or ratings; a man who cowardly singles out places with out-of-town owners, so when he sticks his knife in, he doesn't get any blood on him; a food tourist with no real appreciation for what goes into the inner workings of a kitchen; a superfluous Old World professional in an amateur critic's New World; and quite possibly a secret member of a food proletariat quietly using his position to destroy the last vestiges of true fine dining in this country. And so, in an effort to figure out which, if any, of these takes is accurate, I studied his background. I talked to chefs and other restaurant critics. I read every single thing Pete Wells has written for the Times, and every other piece or interview I could find on the internet. And naturally, while I was in New York, I invited him to dine with me. Or, more accurately, asked if I could tag along while he ate. And when he politely declined (er... sadly ignored my repeated inquiries), I did what most front-of-house managers at new restaurants in New York do every night: I went looking for Pete Wells.
Jason Hoffman/Thrillist
Becoming the Times restaurant critic is a little bit like going into witness protection. Traces of you suddenly become scarce, especially pictures. In the few pictures of Pete Wells currently floating around the internet, he looks slightly disheveled, with an uneasy smile over a chin slowly being absorbed by his neck.
Pete Wells looks like a comedian. He looks like a comedian's comedian, the type who doesn't really care when his set is, and doesn't even seem to be telling the jokes to entertain the audience. And he is actually funny. Amongst the Ted Talk knockoffs that the Times Video section calls "Times Talks," there is a fascinating 15-part series in which three of the previous Times restaurant critics appear to discuss all sorts of things surrounding that job. Pete Wells, who is sitting off-camera somewhere, repeatedly makes the audience and other critics laugh, much harder than anyone else. He is self-deprecating and witty, the perfect dinner guest. Who refuses to have dinner with me.
Because of the lack of easily accessible information about Pete Wells, researching his past became a parlor game of sorts. You'd get a clue from somewhere, and have to fill in the rest of the blanks. For example, in May 2013, Wells tweeted: "My HS principal in Rhode Island went to court to keep a gay couple out of the prom. Today the gov is signing a same sex marriage law." Knowing he went to high school in the late '70s, I searched for major LGBT court cases in Rhode Island around that time, and sure enough, in 1979, Cumberland High School student Aaron Fricke sued principal Richard B. Lynch to try and get an injunction to allow him to bring a same-sex date to prom.
Once I knew what years Pete Wells attended Cumberland, I found a site that scans old high school yearbooks, and charges alumni to basically re-order them. Though it didn't have Pete Wells' senior yearbook, the 1979 yearbook was available. And so, $7.50 in PayPal charges later, I knew Who's Who Among Freshmen ("Jane Hoey: some people do little throughout high school, and then some people do everything. Jane is one of the latter."), the difficulties faced by The Clipper Chronicle ("pressures of meeting costs and the lack of a dedicated advisor"), and then on page 184 of 304, in two pictures in the section discussing the year's musical, this:
And though there's only so much to ascertain from the photos (Pete Wells did musicals in high school!), the ads in the back of the yearbook provided a little sliver of a window into Pete Wells' culinary experiences, and left me with a lot of questions: was he a Cumberland Root Beer Drive-In guy, or more into the beefy delights of Stanley's Hamburgers? Did he and his theater friends all pile into a car, blasting "Take the Long Way Home" by Supertramp as they cruised down Mendon to hit Koffee Kup, or get New England-style pizza from a Greek family at Cumberland House of Pizza? Were summers spent wandering out of the newly opened Ice Cream Machine and crossing 114 to freak themselves out at Haunted Hill? Was Shamrock Cafe a place where trouble found you? Did he and his best friend ever cross the Mass border to split a Washington Apple at Colestone Pancake Restaurant in North Attleboro and find themselves in one of those conversations you remember for the rest of your life? Did he sunburn easily?
I asked Pete Wells all of these questions and more in an email, but he never replied.
After Cumberland, Pete Wells attended the University of Pennsylvania. In an article from a 2004 Penn Gazette unfortunately titled "Taste Quakers," the author talks about the many food writers who've come from Penn, but specifically mentions how Pete Wells (history major, class of '85) lived in an off-campus house nicknamed Beulah's Supper Club with Betsy Andrews (former executive editor of Saveur, and a frequent guest at his review dinners, according to a source who worked at the magazine) and Lisa Futterman (a cheesemonger and food writer). He wrote about "sensory-deprivation flotation tanks that promised hallucinatory experiences" for the Penn Press, taught himself how to cook, and gorged on cheap Philly eats like "pork sandwiches, olives and cheese from the Italian market, cheesesteaks from Geno's or Pat's, and soft pretzels from the Reading Terminal Market."
After college he worked as a freelance fact checker at The New Yorker (I'm assuming this is where he met his wife, the novelist Susan Choi, as she, too, was a fact checker there) and Vanity Fair (a claim he corroborates in his Beatrice Inn review), but also started writing for Time Out New York and Food & Wine, where he eventually came on as an editor, before going to Details. The story includes a quote from fellow Penn alum and GQ food critic Alan Richman: "Pete [Wells] could be the best food writer in America if he keeps at it," the usually insufferable Richman says. "He can flat-out write."
While we're at it, here are three more compliments:
"He talks in copy," says New Orleans Times-Picayune restaurant critic Brett Anderson. "He says smart things that you can put right on the fucking page and it would look like good writing."
"Without question, those that knew Pete in his early years, knew that he'd ascend to the highest levels," says James Beard Award-winning chef John Besh, whom Pete Wells profiled in a 2003 story for Food & Wine.
Author Gary Shteyngart: "Anything Pete Wells writes, I read like the almighty truth."
In 2004, while at Details, Pete Wells freelanced his first story for the Times, a punch recipe. And then two years later, a book review. Not long after that, he joined the Times as the food editor, and began writing Dining Briefs for the blog. His first was for a place called Natsumi on W 50th St, which served sushi pizza, which is gross. During this time, his pieces were all over the place: he wrote stirringly about Chicago-based Alinea chef Grant Achatz's sickness (and Achatz himself many more times, including his real-estate hunt and how he was shopping a memoir) and also compassionately about his own son Dexter and his battles with severe food allergies in his "Cooking With Dexter" series for the Times Magazine. Most of his work found its way into the Styles section, which has always been the more experimental Island of Misfit Toys for the Times, but not (usually) in a bad way, necessarily. "I think Pete's voice is a magazine writer's more than a newspaper man's voice," says Anderson. "There's more of a mandate to entertain the whole time, and I think you can see that in his writing."
Though only a guest critic at the time, the first Pete Wells Restaurant Takedown™ in the Times took place in September of 2009. The recipient was Gus & Gabriel Gastropub (now closed). Punches were not pulled. "After all, almost every chef in town is experimenting with techniques for building a better burger," Pete Wells said, hammer in hand. "Mr. Psilakis may be the only one to have perfected a new technology that magically strips out all the taste." He went on. "The skin on what is advertised as 'crispy chicken' was as crisp as a balloon, and the biscuits on the plate were wet and doughy, as if the cook had decided halfway through that he would rather make dumplings."
After reading that, you couldn't help but be intrigued. Who is this critic interloper, and why can't I stop reading him? Sam Sifton, to his credit, was a formidable modern critic in his own right, mixing in current culture references, and writing in an entertaining style. But you can't deny a critical unicorn his spot in the lineup for very long. At the end of 2011, Sam Sifton was moved to national editor, and Pete Wells was named the 12th New York Times restaurant critic. Ever.
***

A brief history of the newspaper restaurant critic: in May of 1962, the New York Times food editor Craig Claiborne announced that every Friday he'd publish a listing of New York restaurants "recommended on the basis of varying merits." At the time, other publications had printed restaurant recommendations, but they were mostly cozy affairs in which the writer was either married to the proprietor or (probably?) having sex with the proprietor or just given everything free. In order to do the job fairly, Claiborne created rules for himself: be objective, be anonymous, dine with three other people so you can order lots of dishes, wait several months to go until it's got its shit together, go back three times. In 1963, he added the star system. Reviews were short and to the point, more service than style, but still they resonated, and within a few years every major newspaper had a restaurant critic following these guidelines.
In 1968, Gael Greene became the restaurant critic for New York magazine, and wrote with voice. People seemed to like that. The Times took notice and hired Mimi Sheraton in 1975, and she changed the game again, jumping off of Greene's more flowery, descriptive style to do longer reviews that sought to give context as well as describe all the foods she was eating. From there, nothing worth mentioning happened again until 1993, when Ruth Reichl, who got the Times job after nine years with the LA Times, brought her literary voice, went to more diverse and varied restaurants, and pissed off the critic she replaced at the Times (Bryan Miller) by giving out three stars to a "SoHo noodle shop." After that, Miller famously wrote a letter to the Times accusing her of "destroying the system." He seems nice.
Enter 2003. Food blogs start to appear on the internet, reviewing restaurants much earlier than newspapers. The rules, as they'd stood forever, break. Restaurants are forced to adapt, and start doing "friends and family" soft openings and "preview meals" for critics. The Times maintains its several-months-open policy for major restaurant reviews, but adds its own Diner's Journal blog. For restaurants, the proliferation of social media, the quick reviews, the food bloggers, the 24 hours news food cycle, and the ascent of chefs to celebrity status ironically means they're starting to face some of the same issues of the publications that cover them: create buzz, get people talking, and try and separate yourself out from the normal chatter or perish. And for someone like Pete Wells, hired as the food-section editor to oversee the Diner's Journal during this transition, you can't help but take some of those lessons with you into the big-boy critic job.
***
Pete Wells is definitely in The Lucky Bee. It's farm-to-table! Southeast Asian! Someone from Fat Radish is involved! There are ferns! I walk in, because Pete Wells and I need to share some coconut-braised short ribs and whole shrimp, and I'm not leaving until we do. I look around as the hostess asks if she can help me. I look for a man of Pete Wells' build, tangentially aware that I only think I know Pete Wells' build. I have a rough idea what his chin looks like. And I feel like I have a pretty good sense of his aura. But no luck. I wonder if he's in the bathroom, having drank too many of Rhode Island's famous Del's Frozen Lemonades before he got here, but no. Pete Wells is not here. I shake my head at the hostess slowly, so she sees my anguish, and leave.
Jason Hoffman/Thrillist
It didn't all start with Guy Fieri. Pete Wells was officially on the job as the restaurant critic for the Times for 11 months before his infamous guillotine chop on the TV chef's Times Square eatery. And during that time, he fired off a number of literary harpoons at everyone from Hakkasan ("The real problem is that its prices are too high for extremely restrained portions of food that is, in too many cases, about as interesting as a box of paper clips.") to Le Cirque ("Le Cirque classics like steak au poivre, Dover sole almondine and even the famous chocolate soufflé lacked conviction. New dishes lacked rationale. Nearly everything lacked seasoning.") and the 21 Club ("To get the violence over quickly: a game platter, with venison, a boar chop, house-made bacon and rabbit sausage, was as cold as if it had been carried all the way from the hunting lodge.")
I reached out to all these establishments for comment on Pete Wells. None have responded.
Then it happened. On November 13th, 2012, under the headline "As Not Seen on TV," Wells published a review of Guy Fieri's American Kitchen & Bar in Times Square. The review is 50 sentences long. Forty-nine of them are questions. Within hours of the publication online, the review had gone viral. Lines like "Did panic grip your soul as you stared into the whirling hypno wheel of the menu, where adjectives and nouns spin in a crazy vortex? When you saw the burger described as 'Guy's Pat LaFrieda custom blend, all-natural Creekstone Farm Black Angus beef patty, LTOP (lettuce, tomato, onion + pickle), SMC (super-melty-cheese) and a slathering of Donkey Sauce on garlic-buttered brioche,' did your mind touch the void for a minute?" made Wells' name ring out in non-food-media circles. As a piece of art, it was masterful. "It was a high-wire act," says Anderson. "You had to see if he could still write that way all the way to the end."
Fieri (whose people won't talk to me about Pete Wells either) obviously saw it differently. "He came in with a different agenda," he said on a morning talk show. "It's a great way to make a name for yourself, go after a celebrity chef who is not a New Yorker." And, to be honest, that goofy bleach-blonde bastard has a point. What was Pete Wells doing going to his shitty tourist trap in the first place?
"In my opinion, that was a review generated by the internet," says New York magazine restaurant critic Adam Platt. "Because no one was talking about that restaurant in the food circles I inhabit. It was the New York food aristocrats' lordly view of Guy Fieri and the lower restaurant echelon. It was entertaining and effective, but it's not like the Times readers were going there to eat those grim-sounding burgers anyway."
And on the flip side, it's not as if Fieri's core demo is going to be swayed by Times reviews. Do you think a person who looks at Fieri, looks at that Times Square location, and is like, "Yep, this'll work," is also posting on Chowhound?
The answer is no. I know this because I headed up to Times Square and, for several hours, stood outside of Fieri's restaurant, which could best be described in an elevator pitch as what might happen if Ruby Tuesday did sex with an unkempt Ed Hardy store. My goal was to read some of my favorite excerpts from Pete Wells' piece to patrons leaving the restaurant and ask them what they thought. Turns out, the majority of people leaving Guy Fieri's do NOT want to stop and talk to a random guy on the street in Times Square asking if he could read them something. Neither of the two couples who did stop (one from the Midwest, one from the South) wanted to reveal anything beyond their first names. And they definitely didn't know who Pete Wells was.
"So that old fat Yankees pitcher reviews restaurants now?" said "John."
"No, sir," I said. "You're thinking of David Wells. This is Pete Wells."
"Oh," he said a little glumly, and I felt like I'd let us all down.
***
Having closely read all his reviews, you start to pick up on some Pete Wells-ian themes. For one, he fits in the internet vernacular like he's fluent in a language he only begrudgingly speaks ("My one-sentence review of Lilia for the too-long-didn't-read crowd: Missy Robbins is cooking pasta again."). Platt puts it in a different way, "Like many of us, he spends lots of time complaining about the adverse power of the internet. But he's also been very good at exploiting that power with the places he chooses to review."

Second, he does have a bit of populist in him. Monitoring the restaurants he's chosen as Critics' Picks, the simple concepts done remarkably well, succeed. Uncle Boons, Parm, Mighty Quinn's, Mission Chinese, RedFarm, Dirt Candy, etc. Needlessly expensive places draw his ire. Note his language in the first line of his Hakkasan review: "At first, a hostile takeover did not appear to be the best solution to the problems of Hakkasan, the multimillion-dollar exercise in Orientalism one block off Times Square." Or his pointed observation about the wealthy families eating "comfort food for millionaires" at Crown on the UES: "Before it was reduced to handing out reservations on OpenTable, that restaurant operated as something close to a private club. Crown is more like a public dining room for locals who've given the cook the night off. Before 8 p.m., families eat wordlessly, girls ballerina-straight, boys slumped in their blazers, parents plodding their way through a cozy Burgundy."
I contacted all of these restaurants hoping to talk at length about Pete Wells. Was he right about them? Did they change? Do the wounds inflicted by Pete Wells still ache? What are his hands like? Sort of paw-like? But they wouldn't talk to me either.
Which leads us to Per Se. The Thomas Keller New York flagship, which garnered four stars from Sam Sifton in 2011, and four from Frank Bruni in 2004, was knocked down to two by Pete Wells this past January in another review that pinged around the internet. It was a completely different kind of viral moment for Pete Wells, because, in a sense, he was just doing his job as a critic. But that sort of a review -- of a restaurant from someone inviolable, with Adamantium-fused restaurant bones like Thomas Keller -- sent shockwaves through the fine-dining community, on both sides.
"I look at that review from a chef's perspective, having worked in those kitchens where we're doing three-Michelin-star food and you're putting in all this effort -- 18-hour days, six days a week," says Glen Ellen Star chef/owner Ari Weiswasser, a veteran of French Laundry, Daniel, Picholine, and Corton in NYC. "And really the only reason you're willing to get up in the morning and do that day after day is for the pride of being part of something special. You take those stars away, and take away the pride of being in that kitchen, it kills the kitchen." Weiswasser recalls working at the fine-dining restaurant Gilt in 2006 when Frank Bruni reviewed it. After he gave it a disappointing two stars, "within four days after the review, everyone was gone."
Platt, for his part, says that there is deeper meaning to suss out if you give it a close read. "The New York Times is the keeper of the four-star flame. And [Pete] Wells basically officially put a stake in the heart of fine dining. His message was, 'Who has time for this?' And by the way, who's going to pay 1,000 bucks for this? I don't think that's something the Times critic has expressly said before."
The irony of the New York Times restaurant critic potentially putting the final nails in the coffin of old-school fine dining is as rich as those people who eat at Crown when their personal chef is off. But if anyone can pull it off, it's Pete Wells. "He has a foot in both [the old and new] worlds," says Platt. "If something isn't relevant, he lets you know why. His descriptions are vivid, and you can feel his ire. It penetrates everybody's distracted consciousness. I think his viralness is just getting more viral-y."
***
So where does this all end? Where will the judging eyes of history place Pete Wells when he finally removes the napkin he's classily tucked into the top of his shirt with his paw-hands and places it on the table for the last time? And why, for the love of everything precious in this world, won't he tell me?
There is no disputing he saves his harshest critiques for out-of-town chefs and chains (no matter how upscale). But is that because he's biased, or is it because those places really are shitty and don't deserve the silly high prices they charge? Maybe Pete Wells just can't abide bullshit. Bullshit like exorbitantly priced fine dining getting complacent. Or celebrity-chef restaurant factories funded by outside investor money with menus developed by marketing droids. Or old-monied clubby "scenes" where the food you eat matters much less than the table you occupy.
A restaurant review is, after all, a service for the reader, right? And if Pete Wells has found a way to provide that service in an entertaining fashion, cobbling together lines that are shared and dissected with the same glee and wonderment as rap lyrics, it is hard to find real fault with that.
And yet. In talking to chefs you get a real sense that it is a bit of a terrifying prospect that this one man from Cumberland, Rhode Island -- by hitting shift 8 on his keyboard a certain number of times -- can give you job security or take it away. Can make you rich or break you. This has always been the case with modern restaurant critics. But with Pete Wells there's a suspicion that the man's need to entertain can often result in excessive collateral damage, more so than with past critics. The more damage, the more readers and shares. This is the internet's incentive system. This is what makes Pete Wells so dangerous.
***
Pete Wells is not in Dirty French. He reviewed it 17 months ago (two stars, "Dirty French is one cocky restaurant. It can also be an immensely enjoyable one.") and so it sits in that middle ground between reviews. I am standing at the bar, looking forlorn, trying to think of where he might be. He wasn't in Lowlife (one star, "Fussiness this extreme would be out of place at Le Bernardin."), or Wildair (two stars, "Sometimes, though, younger siblings who follow the rules can still pull off some quiet subversion.") and I didn't have the heart to see what was happening at Señor Frog's ("I was having my second Frogasm of the night when dinner got weird."). I order a drink and look at the pretty people across the bar, casually being very handsome and cool, and a line drifts into my consciousness: "I skulked through this slender crowd feeling like a beagle among greyhounds."
You'll never guess who said it.
Sign up here for our daily Thrillist email, and get your fix of the best in food/drink/fun.
Kevin Alexander is Thrillist's national writer-at-large and thinks he'd have been a Stanley's Hamburgers guy. If you are Pete Wells, DM me: @KAlexander03.