Anthony Humphreys/Thrillist
How many times has a restaurant messed up your favorite standby order even though it's such a staple every kitchen should know how to do it perfectly? Really? That's a lot of times! We tapped five experts representing five menu favorites -- calamari, wings, fish & chips, a classic Caesar salad, and delicious, delicious nachos -- and asked them what most restaurants do wrong, what they should be doing instead, and what one question you can ask your server that will reveal whether you're likely to be disappointed or overjoyed.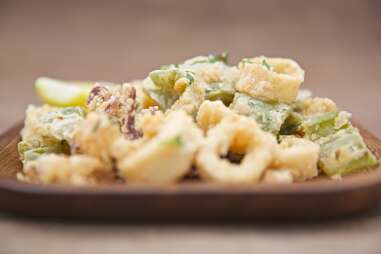 Fried Calamari
Experts: Francis Garcia and Sal Basille
Cred: Owners, Artichoke Basille's Pizza; stars, Pizza Masters on The Cooking Channel
Cousins Sal and Francis don't make calamari on their show or in their pizzerias, but they're fourth generation restaurant guys who formerly ran their family's well-known Italian joint on Staten Island, and they do still fry up squid on the holidays for the most demanding customers around -- that same family. Needless to say, they've got some strong thoughts on where many kitchens go wrong:
They're not using clean oil. Since calamari's flavor is so delicate, it'll take on the flavor of whatever was frying previously.
They're not using a neutral oil (e.g., soybean oil, vs. the more flavorful peanut oil). This could cause the calamari to take on the flavor of the oil itself.
The coating's too heavy. Breadcrumbs weigh down the rings. All that's needed is to drag the squid through some milk, toss it in a little wheat flour, and shake off the excess.
They cook it too long. Five minutes in the deep fryer is all it needs to get that little snap. Longer than that, the rings get rubbery. As for the tentacles, they're supposed to get dropped in at the very end -- they cook very quickly and if they're left in the oil too long, they'll just disintegrate.
They overcrowd the fryer, causing everything to stick together or be unevenly cooked.
They don't say calamari right. It's pronounced Gah-la-maahd.

What to ask your server:"Do you buy your calamari breaded and frozen?"
It's not enough to just ask, "Does it come frozen?" because some of the best spots will buy it frozen, but raw, which doesn't diminish quality. But if it arrives breaded & frozen it'll be weighed down by crumb coating, and will sink to the bottom of your stomach.
You could try asking if they fry in separate oil, but they'll probably lie to you, so here's another tip: The best time to order fried calamari is before 6pm, when a kitchen is getting ready for the dinner rush and the oil will be at its freshest. Sometimes it's good to be an old person who eats early.
Chicken Wings

Expert: Clark Crook
Cred: Co-Owner of Bar Bill Tavern, East Aurora, NY
"East Aurora" might sound like a Chicago suburb, but it's actually just outside of Buffalo, and Bar Bill is its shrine to wings -- Crook estimates they go through 400lbs of them on an off-day. Here are his thoughts on why so many wing joints will never fly as high as his:
They use frozen chicken. "Frozen wings contain water and it's very difficult to get them crispy," he says, but a lot of places simply don't produce enough wing volume to justify buying fresh.
Their oil isn't hot enough. Super-hot oil causes the skin to crisp up immediately and seal in all the juices -- and seal out more oil.
They don't sauce properly. Every piece should get a paint job, brushed with an equal and generous amount of sauce. "What most places do is shake them in a bucket so the wings at the bottom are soggy and the ones on top don't have enough sauce," says Crook. This results in disappointment not even Taylor Swift could shake off.
They use Ranch, which is NOT the new bleu cheese. Crook himself crumbles enough to make 5-8 gallons of dipping dressing daily. "We convert a lot of ranchers because they've never had buffalo blue cheese. Once they get a taste, they're done, there's no going back."

What to ask your server:"Are your wings fresh or frozen?"
Crook isn't a stickler for traditional sauce -- his bar serves up plenty o' varieties -- but he stresses that even "a good sauce can't make a badly cooked wing better." And again, it's hard to cook frozen well.
Nachos
The Expert: Adrian Cruz
Cred: Years and years manning Texas kitchens before heading to Mountain View, CA, to become chef de cuisine for Cocina Central
For Cruz, traditional nachos consist of tortilla chips, refried beans, pico de gallo, and ground beef, though he suggests upping that ante with mouth-melting shredded meat. After that, toss on whatever else you like -- guacamole, crema, other hot pepper sauces -- as long as you don't violate these nach-nos:
Supermarket chips. They're way too weak to carry the burden of toppings. Cruz buys fresh homemade tortillas from a market, then cuts them up and fries them at the restaurant. The chip-thickness difference is… significant.
Whole beans. They just roll right off the chips! Refrieds, on the other hand, stick to the chips and help other toppings stick as well. Real team players.
Processed cheese sauce. Come on, man. Use real cheddar, or real cheddar-jalapeno, or whatever, as long as it's real.
Over-topping. Even the strongest chip can crack under the pressure. If you can't see the chips peeking out through the toppings, you've gone too far.
Old-ass pico. The pico must be fresh, and it should be chunky, to balance the richness of the rest. It can be made with non-traditional ingredients (Cruz likes pineapple), but the freshness has to happen.

What to ask your server:"Do you use fresh vegetables on your nachos?"
If they answer yes, they might have no idea what they're doing, because outside of the pico everything should be pickled. There's just something wrong about fresh broccoli or carrots on nachos. Ask yourself this: "If I want fresh vegetables, why am I ordering nachos?"
Fish & Chips
The Expert: Damian Parker
Cred: Co-owner, British Chippy, Buffalo, NY, and a real live English person to boot
Originally from Yorkshire, Parker and his wife Vicky started their "taste of home" empire with the wildly successful English Pork Pie Company before opening a shop dedicated to this more-ubiquitous-in-America classic. Here's where many places go Pete Tong (that's Cockney slang for "wrong"):
They use panko or other bread crumb coatings. Silly Americans! Proper fish & chips needs a batter, not bread.
Their oil isn't boiling enough. As with wings, the oil has to be HOT in order to create a seal on the outside of the chips and stop the oil from seeping into the potatoes (making them less fattening!), and to seal the fish's outside coating of batter, creating a pocket for the fish to steam in. (Note: Damian doesn't actually use oil, he uses beef drippings, sorry pescatarians.)
They serve sides of crisps (potato chips) instead of chips (fries). It's like we don't even speak the same language.
They offer coleslaw and ketchup. These things just don't exist in England. Proper condiments are salt and vinegar for the fish and brown gravy for the fries, er, chips.

What to ask your server: "Do you use beer in your batter?"
"Beer-battered" is fun to say, and not a terrible thing to do, but it's not a true chip shop practice, because many aren't licensed to sell beer and there's no point buying it just for novelty batter value. If your spot says say "no," there's a better chance they're observing chip-shop tradition and not less authentic pub practices.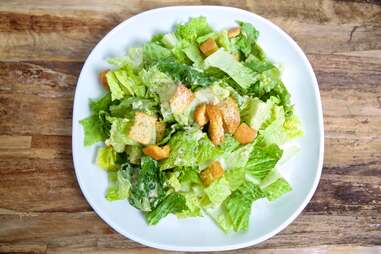 Caesar Salad
The Expert: Tony Tammero
Cred: Vice President of Culinary Operations, The Palm
The rigors of the Caesar set a high standard for restaurants to probably not live up to, especially busy restaurants. Back in 1973, Tony Tammero figured out a way for the rapidly expanding Palm to more efficiently make the famed salad without compromising quality -- and they're still using that method to this day.
Here's how the average hack is failing to follow Tammero's guidelines:
They don't use quality ingredients, the most important being Reggiano Parmesan cheese -- nothing else will do if you want max flavor. Fresh, unpasteurized eggs also make a world of difference when it comes to taste, but we'll come back to that.
They take shortcuts. Garlic and anchovies are key ingredients, but they are to be tasted, not seen (so, mincing = bad; commercial grade food processors = good). Some places even use mayonnaise as a base or swap out the Tobasco for white vinegar. For shame.
They don't understand the subtlety of the ingredients. Pure olive oil is right. Extra virgin is wrong -- too pungent. Romaine hearts are right. The greens are wrong -- too weak for the weight of the dressing.
Their assembly's improper. You've got to start with cold, crisp, sturdy Romaine hearts. Next, add croutons and THEN dress the salad. Once the leaves are evenly coated, plate it, then add the Reggiano so it doesn't end up on the bottom of the dish. It's also best to work in small batches if possible, never making more than two salads at once in the same bowl.
They under-dress. It's not all their fault: So many customers ask for less fattening, "lightly dressed" salads it's become policy at many spots -- but not at The Palm, where you can have your Caesar dressed their way, or get a dry salad with dressing on the side.
What to ask your server:"Do you use unpasteurized eggs?"
If yes, you know the place is serious. Unfortunately, it's not fool-proof because some cities' health codes prohibit using unpasteurized eggs. Also, some places let their customers' fear of salmonella play Brutus to a properly egged Caesar. This makes Tony sad.

Mara Montalbano is a contributor for Thrillist. She gets really excited to see scallops on a menu, but isn't crazy enough to order them from a place that serves breakfast all day. Follow her here.