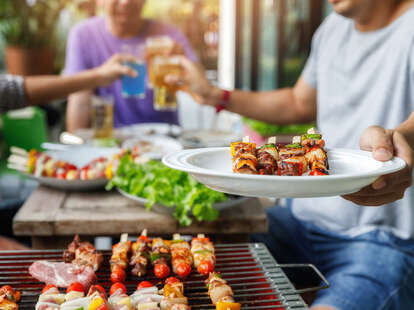 KorArkaR/Shutterstock
KorArkaR/Shutterstock
Grab the charcoal, set up the paper lanterns, and hit play on your summer playlist: Cookout season is here. While hosting a backyard barbecue may seem like the introductory course to entertaining, there is an art to doing it right. Enter these 11 cookout tips. You'll be able to wow guests with the menu, keep them content through any sudden storms, and even upgrade your backyard entertainment. Now, all you need to do is send out invites.
Upgrade your grill toppings
Everyone loves burgers and dogs at a cookout, but plunking down bottles of ketchup and mustard and calling it a day feels a little meh in our current foodstagram reality. So, take it up a notch and impress guests with a simple gourmet toppings bar, inspired by some of your favorite fancy burger joints. Set out items like mango salsa, cabbage slaw, jalapeños, and blue cheese and let people go nuts. For traditionalists, swap plain iceberg for butter lettuce or green-leaf lettuce and a rainbow of heirloom tomatoes. To guests, it'll feel more creative, and the only prep work you'll need to do is some slicing. If you really want to wow, make your own barbecue sauces and marinades for chicken and shrimp, too.
Don't forget about dietary restrictions
And by that, we mean think beyond grabbing a few tofu dogs to appease your vegan friends. Start by making sides that don't have mayo as the base, such as a potato salad with olive oil and vinegar, or a sweet and savory fruit salad, like one with watermelon, mint, and roasted tomatoes (you can also serve some feta on the side). To really up your game, try making a few veggie burger patties on your own—as a fresh, homemade version will always outrank store-bought. Be conscious of other restrictions as well: Put extra lettuce leaves out to act as buns for those who can't eat gluten, and include a non-red meat protein on the menu, too. Nothing says "upscale cookout" like seafood, and utilizing the grill to steam clams in a cast-iron pot or roast salmon can produce delicious results.
Stock the bar with summery mocktails
When it comes to setting up your cookout's bar, be inclusive. Providing a mocktail option for guests will have everyone feeling great and celebratory, especially those who choose not to imbibe. To make it feel special, stock the bar with fancy iced teas and seltzers, and add in some fresh fruit garnishes.
Keep paper plates from blowing away, but make it fashion
Thanks to social media influencers making even the most casual get-togethers look like magazine-photo-spread-ready events, the days of weighing down paper plates and napkins with whatever you have on hand are long gone. Instead, keep guests from chasing after paper products during a windy day by storing plates in a dish rack to show off the festive designs. It'll pull double duty as decor and secure plates and cutlery against gusts of summer breezes—all while keeping everything looking tidy on your table.

Much like those nostalgic red, white, and blue popsicles that were summertime staples when you were younger, these new Smirnoff flavors will be your go-to adult beverages this summer. We're especially loving the Red, White & Berry flavor—it's infused with notes of cherry, citrus, and blue raspberry that's refreshing on its own or served with your favorite cocktail.
Please Drink Responsibly. The Smirnoff Co., New York, NY
Be prepared for weather and bugs
Summer weather can go from tropical paradise to tropical storm in the course of a few minutes, but that doesn't mean your party needs to come to a halt. If the forecast calls for a heatwave, put out a basket with sunscreen, bug spray, and a few misters. Prepare your entryway for a stampede of guests escaping a sudden thunderstorm by situating a sturdy outdoor mat, shoe rack, and plastic bags right by the door, so you're not cleaning up a mudslide later. It's also a good idea to keep a few umbrellas on hand (beyond one for shade), which can help if there's just a light drizzle.
Use a label maker for cups
Accidentally drinking out of someone else's cup ranks on the list of "things you'd prefer to not do at a party" just ahead of "getting stuck by the cooler talking to Steve from accounting." But writing your name on a cup with a marker isn't going to stand up to sweaty palms on a hot summer day. Instead, whip out a label maker: The labels will stick on and stay put for the whole party, you'll be able to read them clearly on colored cups, and guests will get a kick out of printing their own hilarious nicknames.
Keep a meat thermometer handy
Hosting a cookout requires some basic food safety knowledge, because no one wants to be the reason their team is out sick with food poisoning on Monday. That means cooking meat to its proper temperature. To get an accurate reading, remove the meat from the grill, give it a minute to rest, and stick a thermometer in the thickest part of the cut (be it a steak or chicken thigh) or the center of a burger. If the reading puts you in the clear, let the meat sit for a few minutes more before serving. For reference, a medium-rare burger should read 140 degrees, chicken is 165 degrees, and hot dogs are precooked.
Yes, you should have a seat for every guest
This point is hotly contested, especially if you're hosting in a city or have a smaller yard. But, comfort should come first at a cookout, so do take into consideration how much seating you have available when deciding how many people to invite. If you have more friends than places for them to sit down (or at least a reasonable ratio), host a BYOC party—where guests are asked to bring along an extra lawn or folding chair. Or, establish conversation areas outside, where seating is grouped together comfortably. Simple folding chairs can also be rented from most party supply stores, so there's no need to spring for a brand new set.
Cheat on the dessert
At a cookout, dessert always takes a backseat to what's coming off the grill, so utilize a store-bought sheet cake here rather than turning on your oven in the summer heat. These sheet cakes can be a blank canvas for seasonal fruit, such as peaches, apricots, and white cherries, or whatever other summery decorations you can dream up for a picture-perfect dessert. To start, use a butter knife or spoon to carefully remove the typical grocery store cake decorations (no fondant flowers needed here!) and lay out your own fruity design, or garnish with a warm-weather-themed cake topper to give it that homemade touch. Your guests will never know the difference.
Make the most of your guest RSVPs
There's a reason why you send back your dinner choice on a wedding invite, and it's so the caterer knows exactly how many steaks/salmon filets/etc. to prepare. Take inspiration from all those summer weddings and utilize the same tactic for your cookout. Give people their menu (read: grill protein) options upfront, and ask them to send back their choices (in a text, not an RSVP card). Day of, make a few extra of each item so if a guest changes their mind, you're covered—but you won't have to worry about running out of burgers.
Ditch the usual outdoor entertainment
Cornhole is great, but to have a truly upgraded cookout, you need to think outside the board. Turn your backyard into an outdoor movie theater by setting up a projector. Once the sun goes down, you can stream summer blockbusters, or even keep them playing all day on low volume as a backdrop for the party. The best summer cookouts don't need to pull double duty as a pool party, either: Just set up a Slip 'N Slide, because even adults love them. Of course, there are always water balloons, too—just keep them far away from the grill.