Celebrate Peak Tomato Season with This Goat Cheese Galette
Chef Claire Thomson's new cookbook is dedicated to the juicy summertime fruit.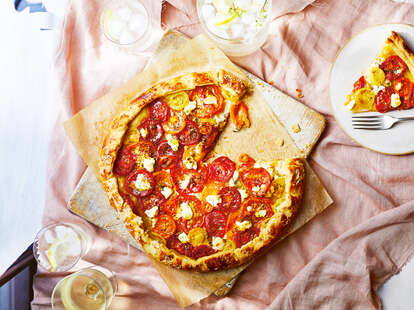 As far as the "szns" go, tomato is certainly up there. Summer is here, and that means slicing into juicy, heirloom tomatoes, tasty enough to enjoy on their own (maybe with a sprinkle of salt). But once you reach the dog days, you might find yourself with an overabundance. That's where UK-based chef and author Claire Thomson's cookbook, Tomato: 70 Recipes Celebrating the Extraordinary Tomato, comes in.
Thomson's cookbook, however, is not dedicated solely to fresh tomatoes. She also pays equal attention to canned tomatoes, which are preserved at prime freshness to allow cooks to enjoy the fruit year-round. "I always wanted this to be a book of two halves: fresh in the summer and tinned, canned, or processed for the winter months," she says. "It's the versatility of tomatoes as an ingredient that sets it apart."
Thomson makes it clear that there's no right or wrong way to eat a tomato. While some might find it sacrilege to bake a summer tomato, for example, Thomson turns the idea on its head with an effortlessly elegant tomato and goat cheese galette. When you bake a fresh tomato, you caramelize the skins, draw moisture, and further intensify those peak flavors.
This galette is great for its no-fuss nature. The more rustic-looking, the better, so don't strive for perfection. In this recipe, Thomson provides the option of using store-bought pastry dough without compromising on flavor. Simply sprinkle the dough with grated parmesan, then fold the pastry over itself a few times to create layers of cheese.
You can even throw in some freshly ground pepper for a warming spice, or freshly picked thyme. "I love giving people hacks to jazz up their cooking," she says. "Store-bought shortcrust pastry can be quite boring."
As for what gets tucked inside, the recipe calls for shallots softened with butter, soft goat cheese, and, of course, fresh tomatoes. Thomson advises picking up different sizes and colors, to enhance the visual component.
"For a perfect tomato in the summertime, I want it to be ripe, but still have good tension to the skin—not too squashy," Thomson explains. "I want it to taste sweet, with a fresh juicy acidity, to have a deep, umami savoriness to it, and to have a perfume, too—scented sweet and slightly spicy all at once—and when given a pinch of good salt and a slug of good olive oil, to be the perfect mouthful."
Adding a sprinkle of sugar on top will allow the tomatoes to fully caramelize and obtain a darker color in the oven. And while simplicity is key with this recipe, Thomson recommends adding whatever fresh herbs you have in your garden. Complement the galette with a leafy salad, dressed with a lemon-dijon vinaigrette, and you've got yourself an ideal summertime lunch.
Tomato and Goat's Cheese Galette Recipe
Yield: 4 servings
Ingredients:
1 ounce (30 grams) butter
3 shallots or 1 onion, thinly sliced
3 thyme sprigs, leaves picked and chopped
Plain (all-purpose) flour, for dusting
10½ ounces (300 grams) shortcrust pastry
1¾ ounce (50 grams) Parmesan or another hard cheese, grated (shredded)
5½ ounces (150 grams) soft goat's cheese
12 ounces (350 grams) tomatoes, thinly sliced (a mixture of colours and sizes is nice)
Olive oil, for drizzling
Pinch of caster (superfine) sugar
1 egg, beaten, to glaze
Salt and freshly ground black pepper
Directions:
1. Melt the butter in a pan over a moderate heat. Add the shallots or onion, season well with salt and pepper and fry for about 5-10 minutes (depending on whether you're using shallots or onions), until soft and just beginning to brown. Remove from the heat and stir in the thyme. Put to one side to cool.
2. Lightly flour a work surface and roll out the dough to a rough rectangle about ⅛-inch (3-millimeters) thick. Sprinkle with the Parmesan, then fold the pastry over itself four times to create four layers of cheese. Wrap the pastry in baking paper and refrigerate for about 10-15 minutes, to rest.
3. Preheat the oven to 190°C/170°C fan/325°F/Gas 3.
4. Lightly flour your work surface and roll out the chilled pastry to a rough circle about 11¼-inch (28 centimeters) in diameter and about ⅛-inch (3-millimeters) thick.
5. Transfer the pastry circle to a baking sheet lined with baking paper and coarsely grind black pepper over the top, giving it a final roll to press the pepper into the dough.
6. Add the cooked shallot or onion in an even layer, leaving a 1½-inch (4 centimeters) border around the edge. Sprinkle the topping with salt and pepper and dot most of the goat's cheese over the top.
7. Add the tomato slices and drizzle with olive oil, sprinkle over the sugar and season with salt, then dot over the rest of the goat's cheese. Fold the edge of the dough over the tomatoes to create a 1½-inch (4 centimeters) crust.
8. Brush the crust edge with the beaten egg and put the tart in the fridge for 15 minutes to rest.
9. Bake the galette for 40-50 minutes, until the pastry is crisp and golden and the tomatoes are very soft and starting to colour.
10. Remove from the oven and allow to cool for 5 minutes before serving.
Recipes excerpted with permission from Tomato by Claire Thomson, photos by Sam Folan, published by Quadrille Publishing, July 2022