A Top NYC Food Photographer's 5 Favorite Spots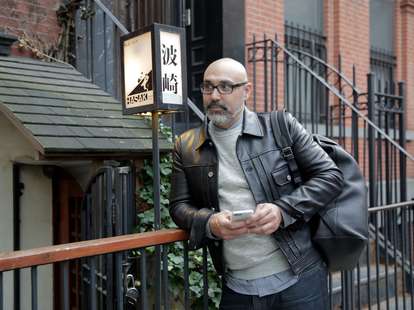 Anthony Humphreys/Thrillist
Andrew Scrivani is a photographer, director, and writer whose Instagram feed is 100 times more delicious than yours. Fact. Taking pictures of food all day also makes you an authority on where to eat it, so we got Andrew to take us around his favorite haunts in and around his hood, Manhattan's East Village, and give us his top five food photography tips along the way. To make sure he looked as good as the plates he photographs, we dressed him up in gear from Coach's new fall men's collection, and… resisted the urge to artfully sprinkle him with crumbs.
511 Grand Street
Any eating marathon, wait, any undertaking, must surely begin with a shot of caffeine, and Ost has been bringing it at its second location (the other is at 12th St and Ave A) since January 2014. While both are solid for their Eastern European-style pastries, and Intelligentsia coffee, frequently served with how-do-they-do-that leafy swirls on top, Andrew prefers this, the cozier iteration. "The original is great, but this is such an inviting, casual space. They also have the best almond milk lattes in the biz."
Protip 1: Night time? Forget it
"If you are really serious, then only go to places where you can photograph food during the day, when the light is good. And bring the food to the best light in the room, without being obnoxious."
Sure, it looks like a straight-up diner, if gross underestimation is your thing. But to stick to the hungry man would be a mistake at this Dominican-Caribbean joint, when the wings, shrimp, and pepper steak are off the charts. Also, papaya shakes. "This place has been here for a long time and is just consistently good and represents the neighborhood. The food seems even more delicious when the bill arrives."

Protip 2: Hold the phone (flash)
"Never, ever use a flash... especially with your phone."
"Authentic" and "ramen" are an increasingly rare combination these days, but Minca's founder, Tokyo native Shigeto Kamada, set up shop to address his own despair at the lack of. His blink-and-you'll-miss-it joint takes ramen back to its roots as a no frills commuter food, with some of the best noodles, gyoza, and sake in town, with zero scene attached. For best effect, eat standing up. "I challenge anyone to make it to the bottom of a bowl and do anything but nap afterwards."

Protip 3: Bring white bounce cards
"They help push the light back on your subject. Or just use the menu, if it's white."
If you're in the habit of sullying pasta Bolognese with Boucheron, you'll find no takers at Il Posto Accanto -- a wine bar/restaurant that doesn't grate on demand. "If you want cheese," says Andrew, "the waiter will come over with the appropriate pairing, and downright refuse to add anything else." "This is my go-to spot," he adds. "My Cheers bar. And it has been here for more than 20 years, which is no small feat considering what this block was like back then. I love the versatility -- you can treat it as a wine bar, and have small plates, or go for the full restaurant experience. Regardless, everything here is absolutely top-flight."

Protip 4: Think context
"Find the scene, not just the pre-eaten plate. It's a lifestyle moment, so capture it that way."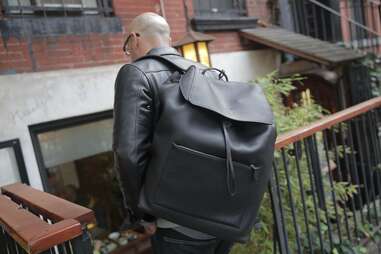 Hasaki has been quietly serving up Edomae-style sushi with a subdued, insiders-only vibe since 1984, and needs no reservations system thanks to its steady repeat clientele. $50 will get you one of the best omakase (chef-selected menu) in the city. "Hasaki has some of the best tempura in town, and its sushi is super fresh and high quality. It's not super imaginative or gimmicky, but they do the classics and they do them really well."

Protip 5: Choose wisely
"Don't photograph in bad light, or food that tastes great but looks drab, or is badly plated, etc."

What he's wearing: The Manhattan Backpack in pebble leather, and the Leather Jean Jacket.