Cole Saladino/Thrillist
Cole Saladino/Thrillist
Mexico's Most Underrated Sandwich Is a Delightfully Decadent Carb Bomb
Fried chicken, chilaquiles, and bread... oh my
There is a sandwich in Mexico City in which you can have your bread and tortilla, too. It's served on the classic, crusty bolillo roll, onto which goes a substantial scoop of soft, lingering chilaquiles (stale tortillas that are quartered, fried, and then simmered in salsa, here red or green); a meat like chicken Milanese; crumbled queso fresco; and other toppings like onion.
This is the torta de chilaquiles, a sandwich that's such a carb-on-carb bomb that it should probably come with a "buyer beware" warning. On this engineering feat, the chicken Milanese is well-fried if not attention hogging, the chilaquiles prickly hot and forgiving in texture, and the sandwich one big, deliciously cohesive mass of starch. It's a filling monstrosity that's little known outside of Mexico -- something that needs to change as soon as possible.
I first came across the sandwich while staying in La Condesa, when I walked by a street vendor -- several times -- that had too long a line to either not lead to good food, something interesting, or at least food.
That vendor turned out to be La Esquina del Chilaquil, the two decade old stand where the unenlightened are converted to this sandwich society. Run by Perla Cristina Flores Millan and family members including her sister Catalina, the lines are always really long. That was the case when I took action one morning and it was already two dozen people deep.
Then the ladies ran out of their chicken --- "pechuga!" one shouted up to an adjacent apartment --- but the customers waited it out until more chicken finally came down. When I got to the front, I rewarded myself with two sandwiches. The plan was to save the second, maybe for my friend, but then I ended up eating most of it (before passing out.)
I was pushed along my path of self realization through carbs by a friend of a friend named Santiago Suarez, co-founder of the trendy Mezcal Amores and host of its Vogue-approved "secret desert mezcal festival." What I didn't know at the time was that this sandwich had achieved a particular kind of status: That of "icon" of the city, as the American-born chef-owner of Cicatriz Scarlett Lindeman put it to me; "a big epicenter of this movement" of lower-brow food according to Mexico City native Guillaume Guevara; and, again, "a modern icon of street food" according to the Mexico City journalist David Santa Cruz.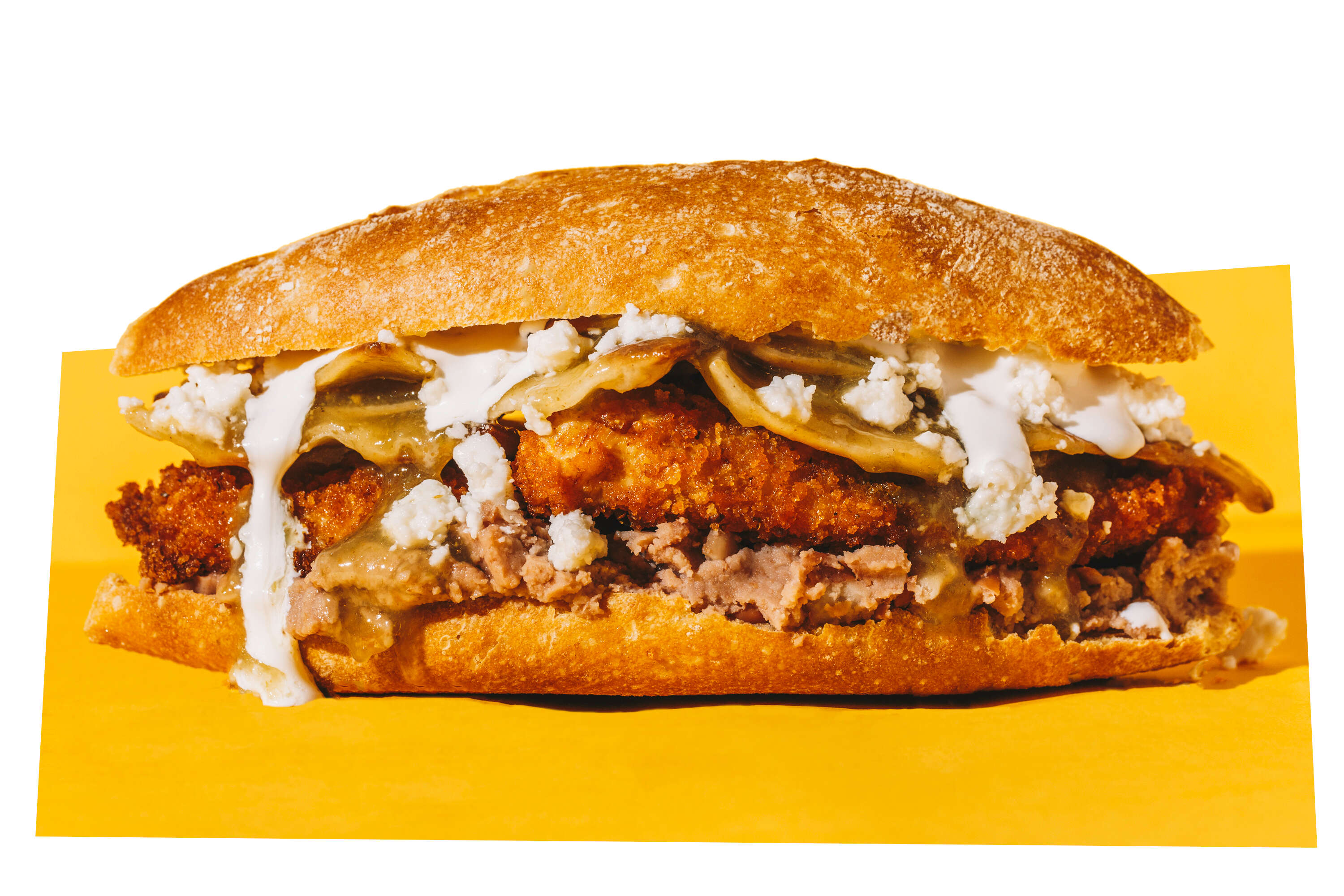 It wasn't always this way, and as Santa Cruz tells it the stand has become increasingly popular in the last three to four years.
"It was never considered gourmet, if anything it was really blue collar. Something happened in the last 10 to 20 years," says Guevara, who ran the recently closed Mexican specialty store Miscelanea in New York. (He occasionally served the sandwich as a special at his shop, and it's also on the brunch menu at Bushwick's La Loncheria.) "Now it's a status symbol. And somehow the torta de chilaquiles created that phenomenon where it's like 'oh you're in the know.'"
In an article for Vice, Santa Cruz wrote that the torta de chilaquiles has gotten attention for being a "culinary abomination:" a combination other Mexicans see as unnatural. Santa Cruz sees see it in another light. During a radio show, he says, he and the indigenous poet and journalist Mardonio Carballo decided it was an ultimate expression of Mexican identity. "We concluded that the tamale sandwich and the chilaquiles sandwich are the perfect metaphor of Mexican mestizaje or that mestizo construction of Mexicanness," he wrote to me. As Guevara puts it, it's a way of expressing realness. "It shows that they have some street cred. You're with the people, in other words," he says.
The now nearly 40-year old Guevara might've grown up in Mexico City, but he didn't grow up eating street food. "Mexico as a society is so fragmented. That wasn't really something you did back then. If you could afford not to eat there, you just wouldn't do it," he says. Nowadays, he does eat the sandwich when he goes back home. There's a stand outside his mom's home in the ritzy neighborhood of Polanco, which he says is always busy not quite so famous, and in that neighborhood the restaurant Catamundi fancies it with short rib. Other places in Mexico City where you can find variations on the sandwich include Los Chilaquiles de Coyoacán and Puntarena.
"It is just a delicious bite of something you would never think would work... and it works."
Most believe the torta de chilaquiles is a creation of La Esquina -- though Milan and her sister first told Santa Cruz they got the recipe from their grandmother. That was when he wrote about them in 2011, when they told him their grandmother Doña Nati was the first tamalera in Condesa. "They decided to sell the tortas de chilaquiles as she made for them for school lunch when they were children," he explained.
At least one Mexico City native I know has his own origin theory for the sandwich.
"I think a crazy drunk just put 'em into a bread and suddenly it became popular," says Carlos González Noriega, who owns the restaurant La Burguesa, told me. "It's common that people with not that much money and time to eat, just take one of those for breakfast and work for the rest of the day and handle the workload or studies without stopping to eat."
Noriega's crazy drunk theory parallels, if less elegantly, what the writer Jay Caspian Kang once wrote about the Korean taco: that it's "too simple" to really have been invented. Chilaquiles on bread is, likewise, an obvious solution to a persistent need for a lot of carbs on the cheap. More concretely, Santa Cruz says that he knows for a fact that the family behind La Esquina can't claim to have invented the sandwich. "My grandma also made tortas de chilaquiles for us when we were kids. And I don't think she invented them," he says.
The chef Jorge Vallejo of Quintonil, considered one of Mexico City's very best restaurants, also recalls it from his youth. So does the chef Fabian Von Hauske, who also grew up in Mexico City before landing in New York. He says it was both served at his high school cafeteria and eaten by his father. "This sandwich has been around for ages, I think," Von Hauske says. "I know my dad would talk about having had it in after parties for weddings and such."
What La Esquina did invent, Santa Cruz says, is making the sandwich with milanesa and cochinita pibil. The basic version is just onion, cheese, and cream; if protein was added, it was egg or simple chicken. Epiphany or no, La Esquina is associated with the sandwich for good reason. It is the place that popularized it, that does it very well, and brought it to centerstage in the marketplace of sandwiches. It's popularity is evident in the 32,000 fans it has for its Facebook page.
Now, La Esquina is being given the spotlight in the first cookbook by one of Mexico City's most famous chefs: My Mexico City Kitchen by Gabriela Cámara, who serves delicate raw fish and lots of grilled things at her trend-setting, elegant Contramar. The source for the book's torta de chilaquiles recipe? La Esquina, which the chef writes "is a must-have for many of my regular visitors." Cámara goes so far as to both name the stand and give its address --- quite a distance to travel for the carbo-oddity.
"It is just a delicious bite of something you would never think would work," says Cámara. "And it works."
Sign up here for our daily Thrillist email, get Eatmail for more food coverage, and subscribe here for our YouTube channel to get your fix of the best in food/drink/fun.
Chris Crowley is a staff writer with New York Magazine's Grub Street, where he edits the Grub Street Diet and writes about highballs and other important matters like the pizza at Ops.