Paid Content For
Frito Lay
Totally Unexpected Tips for Boosting Barbecue Flavor
Paid Content For
Frito Lay
Barbecue's one of the more tradition-bound cuisines in the world -- it's part of what makes it so special -- but that doesn't mean there's no room for tips & tricks to separate your giant hunks of meat from the pack. We hit up experts in the field for their tried-and-true (and left-of-field) advice on injecting as much flavor as humanly possible into every bite. From smoke manipulation to adding wood chips to your marinade, these are the weird and wonderful ways the pros do it.
Pay homage to your favorite cocktail
Elizabeth Karmel, founding executive chef of NYC's Hill Country Barbecue Market and co-owner of Carolina Cue To-Go, says you shouldn't just drink cocktails while barbecuing, you should should cook with them too. "A Bloody Mary makes a fabulous marinade because of its savory flavors," she says. "A tequila sunrise is one of my favorites for chicken, and to add a Caribbean flavor to shellfish or vegetables I'll make a Bahama mama marinade. A Jack and Coke is also one of my favorites." If you want to keep it really simple, Elizabeth recommends mixing a can of Guinness with a bit of olive oil to add incredible flavor to a flank steak or tri-tip.

Grab the mayonnaise
Rob McDaniel, chef of SpringHouse restaurant in Alexander City, Alabama says Alabama 'cue is all about the white stuff. He starts with Duke's mayonnaise as the base. "Then I turn it a little sideways by substituting pickled jalapeño juice for the vinegar and add some diced pickled jalapeño to boot," he says. The additional heat and zip goes great with smoked chicken. "Chicken is a lean meat so the addition of the Duke's-based sauce helps keep everything nice and juicy, and adds some zing to the flavor. I normally give chicken a good coat of sauce the last 30 minutes or so, then serve more on the side for those sauce junkies out there." It also goes well with smoked brisket. "The creamy, slightly fiery sauce is really great compliment to a salty, crusty bark."
Smoke judiciously
That smoke is an essential component of barbecue flavor is a no-brainer. Another no-brainer? It's way harder to achieve on gas grills, which have large wide vents in the back to prevent excess heat buildup. "That's why built-in smoker boxes in gas grills work so poorly." says Steven Raichlen, host of Project Smoke on PBS (his same-titled book comes out May 10). "But here's a simple work around. Lodge hickory, oak, or other hardwood chunks between the Flavorizer bars or ceramic bricks or rods, under the grate of your gas grill, directly under the food. The rising smoke hits the food and actually gives it a mild smoke flavor." Regardless of cooking method, Amy Mills of 17th Street BBQ in Murphysboro, IL and owner of OnCue Consulting has this word of warning: "Different woods impart a different amount of flavor, and a common tendency is to over-smoke meat. Meat stops taking on smoke at about 140°, so if you continue to pile on wood and smoke, it will lay on top of the meat and it can be overpowering. Learning to burn a clean fire, with clean smoke is important, too. Smoke that's black and acrid will not taste good."

Skip the grate
"Cook your steak or corn (in the husk) directly on the hot embers," says Raichlen. "You'll get incomparable smoke flavor and the process looks cool." This also works great for making charred vegetable salsa, he says.
Hungry for barbecue but also seeking crunch? Lay's has just added even more smoky/saucy/tangy flavor to their classic Barbecue Chips -- because while "more cowbell" might be debatable, the wisdom of "more barbecue" is indisputable.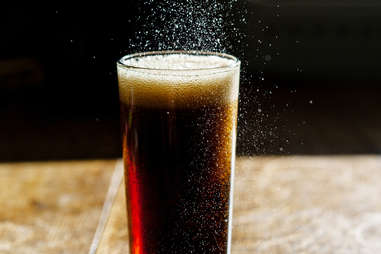 Balance salt with cola
Large cut meats take a large amount of salt to carry through the entire cut once it's cooked, cut or chopped, says Chris Lilly, of Big Bob Gibson Bar-B-Q in Decatur, Alabama. Sometimes this makes for a very salty bark, which some people like, but others, not so much. "To accelerate building a great barbecue bark and to intensify flavor, but not saltiness, try adding cola to your baste or spritz during the cooking process," says Lilly. "The sweet liquid will caramelize quicker and counter a salty dry rub in a delicious way."

Don't burn all the wood chips
Instead, make like chef Tim Love of Lonesome Dove Western Bistro in Austin and Fort Worth, Texas and add wood chips directly to the marinade to add an extra level of smoke to the meat.
Warm the sauce
Jeff Love of Mable's Smokehouse & Banquet Hall in Williamsburg, Brooklyn cautions to never underestimate the importance of sauce temperature. "We make our own sauce from my grandmother's 100-year-old recipe," he says. "It's a secret, but one thing she always did was serve it warm." Love recommends heating your favorite barbecue sauce to bring out its nuances. "You're essentially waking up all of the savory flavors," he says. "Imagine your favorite pasta sauce being served right out of the fridge versus hot off of the stove. It's like night and day."