No matter which one of Trader Joe's 460 locations you shop in, it's usually chaos. The shelves are filled with delicious foodstuffs you'll cram into your cart, and the aisles are filled with people who won't get out of your damn way! It's a bit stressful sometimes, and all those people aren't helping. Here's a look at who you are guaranteed to find at Trader Joe's when you're just trying to get a week's worth of groceries for $20.
The Sampler
She asks for a sample of everything. Then she leaves within 30 minutes because that's when her lunch break ends. She is smarter than all of us.
The Ashamed Wine Snob
She's just "browsing," but really she is on the hunt for the most expensive-looking bottle of cheap wine she can find. She'll bring the wine to dinner parties and crack jokes about how this is the best she could do on such short notice. Part of her wishes TJ's wasn't so obvious about putting its damn name on everything. She could probably trick her friends into loving this Two Buck Chuck merlot if they thought it actually cost more than $2. She often wonders how much of a pain it would be to Photoshop a wine label.
The Hippie
This New Age-looking douchenugget loudly asks every employee whether something's Fair Trade. It's not, fuckface. How do you think this place is able to charge $2.99 for basically everything in the store?
The Clipboard Activist
He always asks you if you have a minute for the environment. You do not have a minute for the environment. You will never have a minute for the environment. When the coastal city you live in gets sucked into the sea, you will always regret not taking a minute. You had a minute. You totally did.
Broke-Ass College Students
Because they're crammed with four other sleep-starved Snapchat addicts in a dorm room the size of a jail cell, the only available cooking implement around is a microwave oven. Their food budget each week is approximately $15. That luckily buys three whole frozen meals from TJ's! Those frozen concoctions have enough salt and fat to keep them alive on the nights they don't house 40 half-price wings at the campus dive bar.
Your Mom
My mom, too. If your mom lives within a 50-mile radius of a Trader Joe's, she shops there. She'll bring home snacks you never knew existed, because moms have a sixth sense for what you'll want to eat when you visit home. If your mom is anything like my mom, all those snacks will probably be from this list.
The Demon Spawn
She's adorable with her bow-legged baby steps, pushing that miniature cart around the store… and right into your damn Achilles tendon. Does TJ's sell branded painkillers?
The Fearless Flyer
This old lady is way too busy looking at the store's weekly ad to pay attention to where her cart is going. When the Demon Spawn grows up, she becomes this woman.
The Woman in the Sample Line Who Apparently Used to Play Hockey
You let her hunched-over stature fool you, and you paid the price. She body-checked you for a bullshit cracker with mediocre room-temperature cheese on it. You'll be sore for days, but ultimately? Worth it. Free cheese is free cheese.
The Stress Ball
Anyone clearly hating the fact that no aisle is labeled while rubbing their Achilles because of that gosh dang kid in aisle… what aisle was it again?!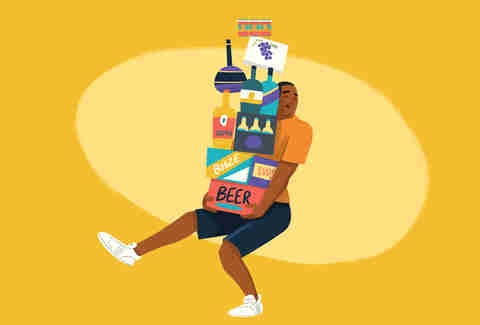 The Boozehound
If TJ's had a frequent shopper card, he'd have earned plenty of free bottles of Two Buck Chuck by now. He has somehow had most of the beer sold at Trader Joe's too, because who is he to turn away a bottle of "craft" beer that costs $1.17?! While it certainly isn't the best wine or beer in the world, it still gives him just as much of a buzz as that $15 chardonnay tripel from a fancy craft brewery. It just costs $13.83 less.
The Fighting Couple
They are always fighting. In the lobby of a movie theater. In a bar. In a booth at a restaurant. At the gym, while running next to to one another on the treadmill. And now in the checkout line in front of you at Trader Joe's. "I thought you said you got the orange chicken." "You said you were going to get it." "Wait, don't we have it at home already?" "Go get it now before we have to check out." "It's too far away." "Maybe you could run faster if you went to the gym more with me." "Why do you make everything about you?" They've been together for five years and will never break up.
Anyone Who Tells Themselves They're Coming in to Buy One Thing
He did it! He went in and got the honey-roasted almonds and is leaving now! Let's just ignore the fact that he's also walking out with a cart full of Baconesque popcorn, Hatch chile mac & cheese, and Candy Coated Chocolate Drops. He is pissed at himself.
The Yoga Fanatic
After she spent the afternoon dropping $58 on a Love Tee and $118 on a pair of Hot Like Agni Pants (these are real names of actual Lululemon clothing, people), that doesn't leave much in the ole budget for, you know, food. So she skips buying the organic arugula at Whole Foods and buys the exact same organic arugula (except for its packaging) at TJ's. She's not proud of herself, but she has to make sacrifices somewhere.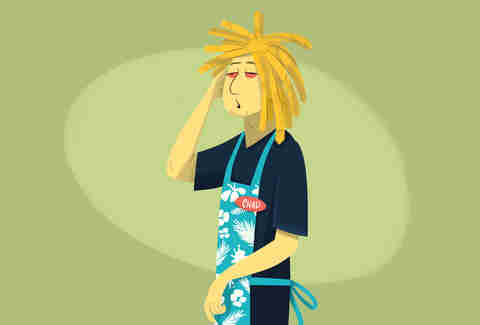 The Clerk Who's Just WAY Too Damn High
Checking out takes twice as long, but at least you get a free contact high from them. And it's nice to interact with someone in a good mood.
The Clerk Who Isn't Nearly High Enough
OK, he definitely wants to go home. But overall, he's also in a pretty good mood. Why are all the employees here so damn happy?! Are they all hopped up on TJ's painkillers?
Paleo and Keto Eaters Looking for a Fix
Two bags of almonds. Check. One thing of organic ground beef. Check. Three bags of frozen organic cauliflower rice. Check. One bag of organic sweet potatoes. Check. One pack of bacon. Check. One jar of organic coconut oil. Check. One jar of almond butter. Check. One box of free-range chicken broth. Check. One bag of frozen breaded mozzarella sticks hidden in her shopping cart that no one has to know about. Check.
The Guy Who Mistakenly Thinks Everything in the Store Is Healthy
He's a dude who really wants to be the epitome of health. He reads men's magazines and clips out the workout routines. He has a pantry overflowing with protein bars. He loves green juice! And when he sees a USDA Certified Organic label on a product at Trader Joe's, he lights up. But here's the problem: Not everything in the store is organic. Or healthy. That explains why he's walking out with a 4lb chocolate bar thinking he just did his body a favor.
Trader Joe
Wait, is he here?!?!?!?!
A Curly-Haired Writer for a Website Who Is Browsing the Aisles With a Nutritionist
He goes to Trader Joe's like it's his job, because it is his job. People give him weird looks as they watch a nutritionist calmly explain to him why the hummus is not a great snack choice. Apparently it's high in calories compared to other hummus brands and it has a few too many additives. He has a weird job. OK, maybe this one is only relevant to me.
Sign up here for our daily Thrillist email, and get your fix of the best in food/drink/fun.