Trader Joe's Best Frozen Meals, According to Employees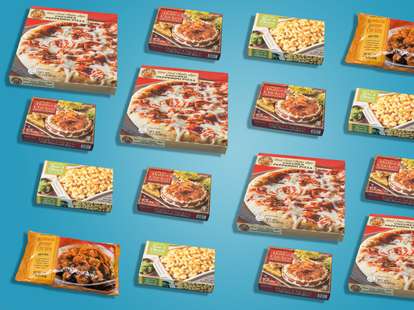 Trader Joe's has such high-quality frozen foods that it's basically unmatched in the supermarket world -- it's 2016 Steph Curry, and other chains are Wizard-era Michael Jordan (for you non-basketball fans, Curry is very good, and Jordan used to suck). None of the brand's items have any of the artificial preservatives or strange ingredients you find in nearly every other frozen food on the market. But above all else: everything tastes delicious.
The signature frozen foods range from meat pies to soup dumplings to pizza. But what's worth your precious freezer space? Well, since no one has tasted more of what's in the store than the employees, we surveyed a bunch of Trader Joe's finest to find out their favorite frozen meals. We left out basics like frozen berries and vegetables, because while that stuff's useful, it's also boring. Keep this article in your phone: you'll also want to use it as a shopping list.
Editor's Note: Prices might vary from location to location... but not by a lot.
Butter chicken
Price: $3.69
The chicken tikka masala might be one of TJ's most popular frozen Indian meals, but we got the inside word that the butter chicken is even better. According to our Hawaiian-shirted friend, there's little to no heat with it (most of the frozen meals are on the mild side), but that he prefers the taste overall. Expect a creamy tomato sauce that has an Indian flair. And you still get a heaping portion of basmati rice.

Kung pao cauliflower tempura
Price: $4.99
This newish entree spices up and fries the heck out of some cauliflower. One worker told us to grab basically any frozen rice (organic jasmine, or even cauliflower rice, if you're super into that vegetable), and throw this in with more stir-fry veggies for an easy dinner.
Mandarin orange chicken
Price: $4.99
You probably have it in your freezer right now, as it's seemingly the most popular item and definitely the most recommended. If you've eaten it, you know why. It's like Chinese takeout, but better, with tender hunks of chicken covered in a tangy orange-ginger sauce. Also, you should clean your freezer out. You're never going to reheat that lasagna your mom dropped off three months ago.

Shiitake mushroom chicken
Price: $5.99
Trader Ming's dropped this purple package of goodness about a year ago, which was described as having a "sweeter, Teriyaki-like" sauce on it (for the record, it's a ginger-soy sauce). The official TJ marketing says it's "soy-sauce marinated, dark-meat chicken combined with Shiitakes, edamame, and green beans."
Hatch chili mac & cheese
Price: $2.99
The frozen mac & cheese has been a TJ's staple since at least 1850 (not an exact date, but it's close), so it makes sense that it comes with the employee stamp of approval, what with its advertised smoky heat, which you usually only get when you cook at home and forget to turn the burner off.

Shepherd's pie
Price: $4.29
Spring might be the season du jour, but when the temperatures drop at night, it's hard to say no to a "nice and hearty" meal. One employee we talked to said it's like eating a "beef stew, but with mashed potatoes on top." Sold.

Paneer tikka masala
Price: $2.99
Another highlight in the line of frozen Indian meals, this won points because it's vegetarian, contains spinach basmati rice and a delicious Indian cheese, and if you pair it with some naan, which you can also buy at TJ's, "it becomes a solid dinner."
Bibimbap bowl
Price: $3.49
Even though most TJ's food doesn't have much heat to it at all (unlike that one Sandra Bullock/Melissa McCarthy movie), this comes with a spicy chili sauce that has a "little bit of a kick." The Korean-style dish includes beef, carrots, spinach, and a side of the aforementioned sauce. No bloopers reel, though, also unlike that terrible movie.

Vegetable panang curry
Price: $2.99
Thai flavors abound in this vegetarian-friendly dish with brown + jasmine rice, green beans, panang sauce, Thai chili, shallots, coriander, garlic, and basil. One of our sources said he used to eat it for lunch so often he got burnt out on it. We'll take that as a ringing endorsement.
Wood fired Naples style uncured pepperoni pizza
Price: $4.99
One employee manning the sample stand told us to swing by the pizza section for "my new favorite pizza we sell." And that pizza has exactly 18 slices of uncured pepperoni, according to TJ's. Just $4.99 gets you a four-cheese bonanza (provolone, fontina, Moneterey Jack, Parmesan) layered on a wheat-flour dough.

Chicken balti pie
Price: $5.99
What the hell's a balti pie? The employees we spoke do have no idea, but they love it regardless. Basically, it's a stuffed pie with cornmeal-ish crust that'll taste better if you heat it up in the oven. One worker we spoke to said it's similar to a chicken pot pie, but with curried chicken inside that's not too spicy. Also, the crust is all-butter. So basically: it's Paula Deen-approved!
Sign up here for our daily Thrillist email, and get your fix of the best in food/drink/fun.
Lee Breslouer is a senior writer for Thrillist, and digs that paneer. Follow him to TJ's tips: @LeeBreslouer.