Sure, Trader Joe's is great for cheap, healthy staples like eggs, but it's even better for cheap, sugary snacks that make you too full to eat cheap, healthy staples. But what's the best snack on the endless shelves? Well, we surveyed a crack team of employees who have eaten more of the store's food than you ever could in your lifetime to name their favorite snacks on the shelves, from new items to tried-and-true classics you might be skipping over. Buy all of these and your junk-food pantry will never look better.
Caramel + cheddar popcorn mix
Popcorn lovers should give this "sweet-and-salty" combo popcorn a shot. It's only about a year old (not the actual popcorn in the bag... the product itself), and its big draw is that unusual-yet-incredible flavor combination. At a place where snacks get discontinued with seeming reckless abandon, the fact that this is still on the shelf is a testament to the power of sugar and cheese.
 
Organic Corn Chip Dippers
They're like Fritos. But organic. Which doesn't necessarily mean they're healthier. But it definitely means they're really good for dipping in guac.
Peanut butter-filled pretzels
"I've eaten these since I was a kid," one source told us. He explained that his mom would allow for one special treat whenever they'd run errands, and this was always his pick. There's no super-fancy Speculoos in these, but the combination of peanut butter and pretzel makes for a classic TJ's snack.
 
Trail mix cookies
Tucked into the vast array of cookies available at any TJ's are the tiny trail mix cookies, though they're so tiny they should be called "cookie bites." But don't let the size fool you: they pack a ton of flavor. "I tried these once, and I loved them," said one employee. "I like dark chocolate because it's a little more bitter, and not super sweet. These are just sweet enough -- they've got cranberries and [are sweetened with] honey." Fun fact: the cookies are also packed with pumpkin + hemp seeds.
Salsa verde
Is salsa even a snack? It's usually nestled in with the chips in the snack aisle, so we're going to call it one. But if you want to go ahead and transition it from snack to key meal ingredient, one dude recommended cooking it with slow-cooked chicken or pork, with a little cilantro and onion. For the less-refined cook, jam a chip in it and call it a day. Or, if you're really shitty at kitchen stuff, just eat it with a spoon.
 
Milk chocolate-covered peanut butter pretzels
Yes, this is the second peanut butter + pretzel snack in this article. But the TJ's worker who showed us these backed their excellence so hard that she told us to put some other pretzels we already had in our cart back on the shelf. "There's peanut butter inside the pretzel, and then it's covered in chocolate," she said. Hard to argue with that.
Gluten-free Crispy Crunchy Ginger Chunk Cookies
While we're generally wary of any product hyped as "gluten-free," one worker was adamant that they're worth your hard-earned dollars. "They're awesome," she said. "They're gluten-free, but you can't tell. I was pleasantly surprised." We're guessing that's due to the sweetened, dried ginger pieces in all of the 14 sizable cookies crammed into each bag.
 
Grand Slam Snack
"Like Cracker Jack, but awesome" was the selling point on this one. And it's pretty apt: it's not just caramel popcorn, it's also got a handful of peanuts, cashews, and other nuts inside. And that nut mix is a better prize than some crappy plastic trinket.
Roasted plantain chips
A newer addition to the snack aisle, the plantain chips are a hit with serious bite. Oh, and they're only $1.99 a bag. TJ's appears to have a thing for cheap banana-like fruits.
 
Movie theater popcorn
One of our guys says this "tastes just like being at the movies," which means whenever you open a bag, someone with a grating voice talks nonstop behind you for two hours and then takes $15 from your wallet.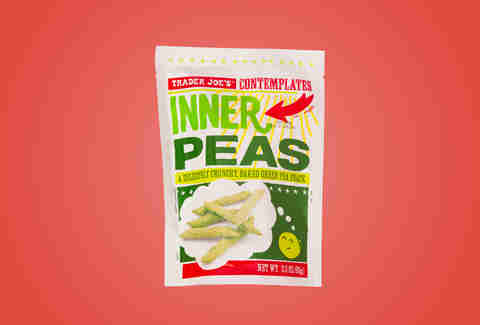 Contemplates Inner Peas
The bag says these are a "crunchy baked green pea snack," which sounds like a phrase a healthy yoga mom would use to unsuccessfully convince a fussy 4-year-old to eat them. But when they were described as "crispy like a potato chip, but healthier for you," we were excited to get down(ward dog) on a bag.
 
Dried baby bananas
A tiny package that looked dwarfed by basically everything else in the "New Items" section were the "Dried Baby Bananas," which is not a particularly appetizing name. But one TJ's employee told us to look past the name... and how it appears. "They're really good," she said. "They look horrible, but they're packed full of potassium. And they're sweet." On the upside, they're only $1.99 (again with the cheap bananas), and if you truly hate them, TJ's will let you return food pretty easily!
Sign up here for our daily Thrillist email, and get your fix of the best in food/drink/fun.
Lee Breslouer is a senior writer for Thrillist, and is legit addicted to those trail mix cookies. Follow him to cookie crumbs: @LeeBreslouer.