Frannie Jiranek/Thrillist
The New Trader Joe's Products You Need in Your Life
Trader Joe's is the only supermarket where it's just as easy to fill your cart with purple ice cream as it is fermented non-dairy, vegan milk beverages. It's a magic wonderland for an adventurous eater… or just someone who wants to eat a ton of new junk food. We tasted all the grocer's new eats and interviewed TJ's employees from across the country to determine all the new food you've gotta buy right now.
(Editor's note: the names of employees were changed, as they are not authorized to speak on behalf of the chain.)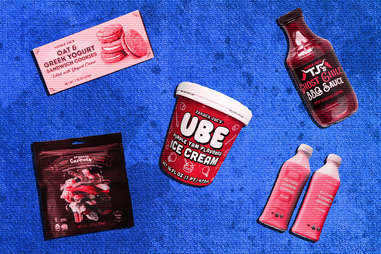 Frannie Jiranek/Thrillist
Remember those wild, bygone days of… 2017? That's when dessert spots like Cafe 86 opened and specialized in
ube everything
. It's a purple yam
popular in the Philippines
, and a couple years after its social media-friendly hue splashed across Instagram, the dessert finally hit freezers in TJ's. " It's not very strong; it has a pretty mild flavor," says Taylor in the Portland, Maine location. "The info we have says it tastes like a mix between pistachio and vanilla." It's your new favorite summery tropical treat.
Oat and Greek Yogurt Sandwich Cookies
"I could eat a whole sleeve," notes Sean from a Miami, Florida store. There is no higher praise to a cookie. Considering the chain's storied history of
releasing top-notch cookies
, this looks to be another slam dunk. "They're soft and chewy and don't taste like Greek yogurt at all," he says. "Imagine a soft cookie with a creamier center than you might find in a Jo-Jo." If you grew up hungering after Little Debbie Oatmeal Creme Pies, this might be the adultified version you never knew you needed.
There are but two ingredients in this: organic carrots and sea salt. It's at this point that you could be expected to raise an eyebrow at the inclusion of such a boring product onto this list of shiny new food at Trader Joe's. But you gotta try these. "They're very crispy," echoes Taylor in Portland, Maine. Yes, Taylor. Yes they are. They're crispy like a potato chip that for some reason tastes like carrots, and with way more flavor than a boring, starchy potato. You could easily throw these on the side of a sandwich and eat 'em like chips, and not miss a "real" chip one bit.
This BBQ sauce is gonna
boo-urn
on the way down according to Atlanta, Georgia's Pat. "I'd give it an eight out of 10 [in terms of how spicy it is]," she says. "It's sweet and spicy." That's because the base is sweetened with pineapple juice concentrate, ensuring eating it won't be an unrelenting, brutally spicy ordeal. It's also a versatile sauce. "[The other employees and I] had it on BBQ beef, hot dogs and chicken sausage," she says. "It pairs well with all of it."
Trader Joe's has a famously generous policy towards sampling and returning items (as in, they will let you both sample and return almost anything in the store), and Bobbi of Reno, Nevada, made sure to remind me of this. "It's a hit or miss item," she says. "A lot of people are buying it!" It'll be a hit if you're open to a vegan version of kefir -- a fermented milk drink that can taste a bit sour. Thankfully there's a delicious, slightly sweet mango version that can be just as easily spooned in a bowl and eaten like yogurt or blended into a smoothie. It's yet another way to get your daily fix of probiotics without having to eat
yogurt endorsed by Jamie Lee Curtis
.
Frannie Jiranek/Thrillist
Organic Sparkling Apple Cider Drinking Vinegar (Cucumber + Mint, Strawberry + Basil)
Bobbi in Reno also had good things to say about this new, healthy option in the refrigerated section. "One of my coworkers says she drinks it every single day and loves them," she notes. "She said it's easy to digest because it's not super vinegary and is easy to take down that way." Bobbi's coworker isn't wrong -- while drinking plain
apple cider vinegar for the numerous health benefits
can feel like a chore, sipping this does not. The Cucumber + Mint tastes like a housemade, non-alcoholic soda in a fancy cocktail bar, and it features a minty, refreshing finish.
There was a time when Keebler's Soft Baked cookies were the Maybach of snacks in the supermarket aisle. They're a soft, pillowy option to contrast the crisp, crumbly standards that ended up all over your shirt before you even took a bite. Elizabeth in Cary, North Carolina says these soft baked cookies are also in their own class. "They're pretty legit," she says. "I love me a soft cookie. I think [the other employees and I] ate three to four bags the night they showed up in the store." Expect a healthy amount of peanut butter flavor in these, as TJ's says it's a full 25% of the recipe.
Pouring coconut milk into coffee is not a great idea, and we say that from personal experience. But integrating coconut
cream
into coffee is a fantastic one, and that's clear when talking to Pete from West Des Moines, Iowa. "I've probably bought 25 of these," he explains. "It's really smooth and creamy, and it has a great coffee flavor without any intense bitterness." Oftentimes non-dairy milk can overpower coffee and leave you with an unpleasant aftertaste, but TJ's avoids this problem with coconut cream. Instead, you get a slightly sweet cold brew coffee option that's perfect for a morning pick-me-up. It's so creamy you might have to drink 25 cans before you realize it's vegan.
While you're looking for Ube Ice Cream to stash in your cart, keep your eyes peeled for another new entry in TJ's frozen dessert section: Peanut Butter Blondies. "They're good," says Pete. "It's kind of like a brownie, but with peanut butter instead of chocolate, and a strawberry jam filling." It's not overly fruity, as peanut butter is the star of the show here. And even better, the prep required to eat these is minimal. "Let 'em thaw out, and they're good to go," he says. Once time does its thing, you'll be snacking like a champion.
Sign up here for our daily Thrillist email and subscribe here for our YouTube channel to get your fix of the best in food/drink/fun.
Lee Breslouer is a writer and editor based in Colorado who has a freezer overflowing with riced cauliflower stir fry. Follow him to freezer burn @LeeBreslouer.