This Is Hands Down the Best Cookie at Trader Joe's

Although Joe-Joe's aren't America's best-selling cookie, they're certainly the most popular option at beloved grocery store chain, Trader Joe's. People go crazy for Joe-Joe's. And I get it -- they're delicious sandwich cookies that are a Trader Joe's-ified version of Oreos, which as we all know are America's real favorite cookie. They come in different flavors, with seasonal delights like pumpkin in the fall and candy cane during the holidays. Occasionally, they are enveloped in chocolate or fudge, making them an even more indulgent cookie. They're everything you love about oreos but somehow falsely feel better-for-you because they're coming from the celebrated chain (yes, "many people believe TJ's = healthy and organic").
What people don't know is that the best cookie at Trader Joe's isn't the mango-infused Joe-Joe, sticky sweet with tropical flavoring. They aren't the peanut butter filled Joe-Joe's either. In fact, the best cookies at Trader Joe's aren't Joe-Joe's at all. They're dunkers -- more specifically, the Oatmeal Cranberry Dunkers with White Fudge Drizzle.
First of all, dunkers are ingenious in their shape. It's all in the name: these cookies are intended for a dip in a cool bath of milk. Dunkers, well, dunk, so beautifully. They don't crumble when submerged in a glass of milk or a warm cup of tea. They're also long enough that your fingers remain dry throughout the duration of your cookie snacking -- a double win.
Secondly, the Oatmeal Cranberry Dunkers are really balanced in terms of flavor. They taste like a snowy day spent inside, accompanied by the comforting smell of cinnamon, vanilla, and winter baked treats. The white fudge drizzle isn't overly sweet, but a welcomed addition in contrast to the tart cranberries. Plus, when dunked in something warm, the fudge becomes melty and creamy -- an enjoyable contrast of the crunchiness of the cookie.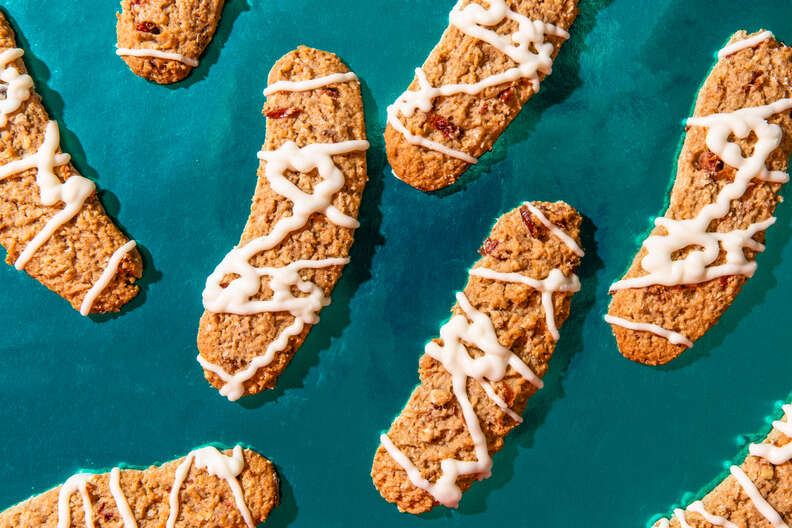 This cookie, truly, is like magic -- it really has the ability to transport you to a different season. But even with its wintry flavoring, it's delicious any time of year -- perfect with a cup of coffee to start your day or as an after dinner treat. Thankfully, the cookies are available all year round.
If cranberries, oatmeal, cinnamon, and all things good aren't really up your alley for some unexplainable reason, the other dunkers are delicious as well. There's a classic chocolate chip variant, a chocolate chip coated in chocolate (for my fellow chocolate fiends), and the latest dunker: a hot chocolate version, loaded with marshmallows and chocolate chunks. If you really want to take your dunking to the next level, perhaps dunk a hot chocolate dunker in hot chocolate.
Sandwich cookies are great and all, but dunkers are the true unsung heroes of Trader Joe's cookie selection. While other cookies may be falling short, these guys are definitely dunking on 'em.
Sign up here for our daily Thrillist email, get Eatmail for more food coverage, and subscribe here for our YouTube channel to get your fix of the best in food/drink/fun.
Kat Thompson is a staff food writer at Thrillist and cookie dunker enthusiast. She likes dunking cookies in milk, tea, coffee, hot chocolate, milkshakes… the list goes on. For dunking suggestions, please tweet her @katthompsonn.