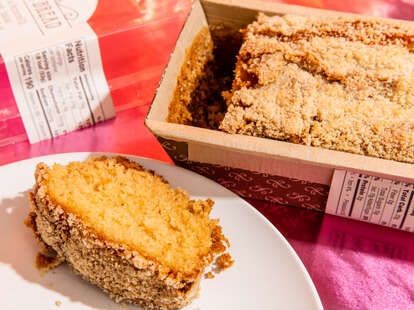 Photo by Cole Saladino for Thrillist
I was only trying to buy my usual groceries—you know, some cranberry oatmeal dunkers, a bottle or two of Thai curry sauces, a bag of frozen gyoza—when something caught my eye as I was waiting in line. I know Trader Joe's does this on purpose: placing delectable looking items to peruse while you wait to checkout, fully knowing that the pancake bread is going to flag you down and ask to be taken home with you. It definitely worked on me.
I've heard whispers of this cult-loved baked good on the internet and admit I was curious—is it fluffy like a pancake or bready or dense like a pound cake? Does it taste like maple syrup or pancake syrup? How buttery is it? Would I never need a stack of pancakes again? I needed answers.
Pancake bread, undoubtedly, is a brilliant invention. It's a loaf cake—definitely more similar to a pound cake, coffee cake, or banana bread—that's topped with a brown sugar and cinnamon crumble. Trader Joe's advertises it as "a twist on a buttermilk short stack," and it definitely tastes like a denser, cakier version of the fluffy pancakes you know and love from your favorite diner. Though it was a bit crumbly when slicing into it, the cake itself was so moist and tender, and each bite was seeped with the true taste of pancake syrup—without being nauseatingly sweet. The flavor also reminded me of childhood favorite cereals, like Honey Smacks and Honey Combs (though the loaf doesn't actually contain any honey).
I know the whole point of getting pancake bread is to capture the spirit of buttermilk pancakes in a conveniently packaged and portable loaf, without actually having to make a batter or set up a griddle. That being said, I truly think grilling slices of this pancake bread in butter, or popping it in a toaster would only make it an even better snack. An ideal scenario would also include toppings of fresh whipped cream, caramelized bananas, or fresh berries.
The only minor complaint I have about TJ's pancake bread is that the crumble on top was a little bit sparse; it could have done more. My particular loaf didn't have big enough clumps of sugar, butter, and flour, and we all know that crunchy toppings are pretty much the best part of any coffee cake or crisp.
Overall though, Trader Joe's pancake bread is a massive success story. The dense texture is wholly welcomed, the toothsome flavor is reminiscent of lazy weekend mornings, and the price point of $3.99 is enough to make me retire my dry mixes and pans for good. If you spot a loaf of this in the baked goods section on your next trip to Trader Joe's, be sure to pick one up to completely change your breakfasts and snack times.
Kat Thompson is a senior staff food writer at Thrillist. Follow her on Twitter @katthompsonn.