Easy Thanksgiving Recipes You Can Make From Stuff at Trader Joe's
One-stop shopping, plus Hawaiian shirts.
Photo: Cole Saladino for Thrillist
On paper, Thanksgiving is a serene and calm day of relaxing with friends, feasting, and definitely not talking about politics with your uncle who thought Wild Turkey was a great appetizer for roasted turkey. But anyone who's ever cooked Thanksgiving dinner knows that it's all-out insanity that starts days before with a trip to a packed grocery store. Then, probably, another grocery store for the crap you forgot. Then another, because you forgot the roasting pan.
Screw that. With a combination of relaxation, minimal effort, and tastiness in mind, we've concocted six delicious recipes using nothing but ingredients you can get at Trader Joe's, including yummy pre-made items and pre-cut, pre-washed, and even pre-cooked veggies. That means you'll hardly break a sweat in the kitchen, which means more time to wind down with and enjoy that Wild Turkey.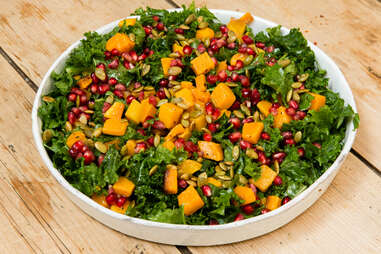 Kale salad with roasted butternut squash, pomegranate, and pumpkin seeds
Many Thanksgiving feasts treat the salad as an afterthought—probably because chopping and peeling stuff like squash is a massive pain. This kale salad is loaded with Thanksgiving favorites—pumpkin seeds, roasted squash, and sugary maple syrup among them—plus a little spice and pomegranate seeds. It helps that it's extremely easy to assemble. Salad might just be your new favorite course. RECIPE HERE.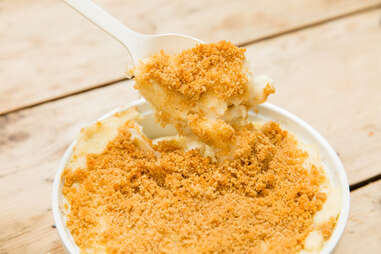 Scalloped mashed potatoes
Fact: Mashed potatoes suck to make. They're either too chunky because you didn't boil the potatoes long enough or too loose and gummy. This recipe reduces the time and effort involved with Thanksgiving's favorite side by incorporating pre-made Trader Joe's scalloped potatoes and frozen mashers, resulting in a buttery, cheesy bounty of starch. Just like mom used to make, if your mom hates peeling potatoes all day. RECIPE HERE.
Cornbread stuffing with bacon, sage, and mushrooms
How do you take something as simple and easy as stuffing mix and make it even better without taking away that "simple" part? The answer involves bacon—obviously—plus mushrooms, sage, and a fancy French word for diced vegetables (mirepoix! Man, that sounds smart!). RECIPE HERE.
Sweet potato biscuits
Sweet potatoes take many forms at the dinner table, but seldom do they take the shape of biscuits. Super-easy biscuits. With "fancy" maple butter to boot. You'll never opt for dry and plain rolls again. RECIPE HERE.
Honey-roasted pumpkin ravioli with brown butter
Vegetarians tend to get the short end of the stick at Thanksgiving, which sucks because that stick is usually actually a bone dripping with gravy. This recipe starts with pre-made seasonal ravioli, gets sexy with brown butter, and ends with ardent carnivores being tempted to drop the drumsticks. If pumpkin isn't your thing, Trader Joe's also has butternut squash ravioli that would work just as well here—or you can choose from one of the other 13 varieties of ravioli out there. RECIPE HERE.
Pumpkin tart with triple ginger snap crust
Look, pumpkin pie's great. But its presence at dessert is about as predictable as a Nicholas Sparks book. This gingersnap tart is like the bad-boy cousin to pumpkin pie's sweet-but-boring familiarity. If it were a movie, it'd probably be played by Ryan Gosling. RECIPE HERE.
Sign up here for our daily Thrillist email and subscribe here for our YouTube channel to get your fix of the best in food/drink/fun.
Melissa Locker is a writer in New York and only eats marshmallow Peeps. Follow her on Twitter @woolyknickers but don't follow her in real life.